What Happens to Black Friday Now That Target and Walmart Are Closing for Thanksgiving?
Holiday shopping will likely look a lot different this year, thanks to the coronavirus pandemic.
For starters, some retail stores are already planning to be closed on Thanksgiving Day, essentially axing the more recent tradition of holiday sales beginning on the eve of Black Friday. After Walmart recently announced its decision to close its stores on Thanksgiving Day in light of the coronavirus crisis, Target revealed on Monday that it plans to also give employees the holiday off.
"The investments we've made in our business and our incredible team have enabled us to move with flexibility and speed to meet guests' changing needs during this global pandemic," Brian Cornell, Target's CEO, said in a statement. "This year more than ever, a joyful holiday will be inseparable from a safe one, and we're continuing to adjust our plans to deliver ease, value and the joy of the season in a way that only Target can."
So, what does this mean for Black Friday, which is the biggest in-store shopping day of the season? In the time before COVID-19, superstores like Target opened doors on Thanksgiving Day, or at the crack of dawn the following day, to service anxious shoppers looking to cash in on holiday discounts. That likely won't be the case this year.
But while Target shoppers won't be able to get a headstart on Thanksgiving, they'll still get to enjoy seasonal discounts. This year, the retail giant is planning to roll back prices beginning in October. And the sales—which will be honored in-store and online—are expected to last throughout the entire holiday season.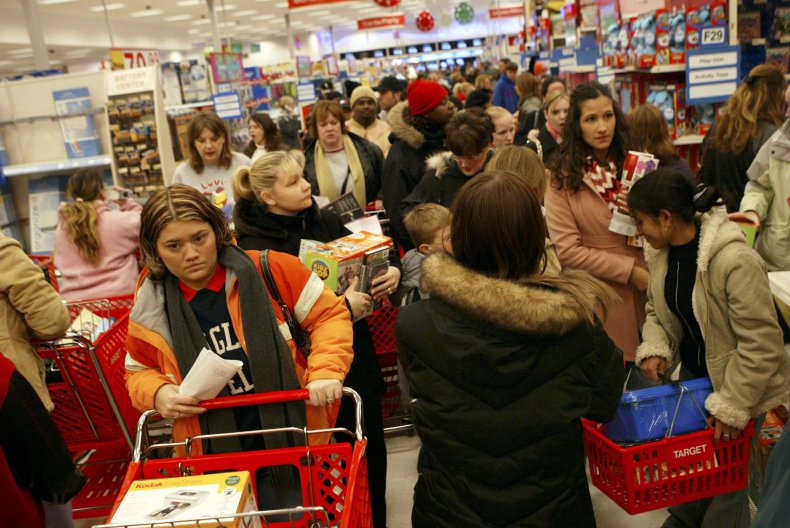 "Historically, deal hunting and holiday shopping can mean crowded events, and this isn't a year for crowds. That's why our biggest holiday deals will be available earlier than ever, so you can shop safely and conveniently without worrying about missing out on deals that usually come later in the season," Target said in a press release. "This season, you can count on getting extra-big savings without the extra-long lines, with plenty of opportunities to score the best deals on the hottest items both before and after November 26."
In addition to starting holiday sales weeks earlier than usual, Target will expand on services like 
Drive-Up, Order-Up, in which customers can place orders online and get packages delivered to their vehicles in a designated car-pickup area. The company is also hoping shoppers take advantage of its same-day delivery with Shipt—a service that Target said grew 278% in the first quarter of the year, due to swarms of people placing orders online at the onset of the pandemic.
Macy's is also planning to up the ante on curbside pickup throughout the holiday season in an effort to prevent big crowds in stores. "We didn't have that last holiday season. First off, the speed and the safety of curbside pickup, we think that's going to be huge for this holiday season if they're [customers] not comfortable to walk into a store," Jeff Gennette, Macy's CEO, told Business Insider last week.
When it comes to Macy's Black Friday sales, shoppers can expect to see major discounts and reduced prices in-store, as well as online, as early as the first of November, giving customers the benefit of a longer holiday shopping season.
"We expect it to start in full force after Halloween," Gennette added. "We have a very strong game plan about how we're going to keep this trend of digital going. That's going to be huge for this holiday season."
Although Walmart has yet to reveal its plans for Black Friday sales, the stores' closing on Thanksgiving means that folks won't be flooding aisles on Thanksgiving evening at 6 p.m. ET, the time that Walmarts opened up for customers last year. The retail chain said it would release its schedule for Black Friday later in the year.
The pandemic and changes in shopping habits are predicted to result in lower Black Friday turnout compared to previous years, but the shopping holiday is still just as important as ever. So retailers should still recognize it, even if the occasion ends up turning into a season-long sale, Neil Saunders, the managing director of retail at GlobalData, suggested in an email to Newsweek.
"What retailers need to do is try and inject more excitement, which might be difficult this year with everting that is going on," he said, noting that stores should follow early sale models being implemented by Target and Macy's.
He added: "At stores, retailers will need to manage capacity in their stores carefully—which means having plenty of space outside where consumers can wait safely and comfortably. It will likely be cold in large parts of the country, so retailers will need to consider that if they want shoppers to wait outside of their stores for long periods of time. Another thing retailers can do is to try and drive more shoppers online."
Updated 7/27/2020, 3:48 p.m. EDT: This story has been updated to include comment and analysis from Saunders.