What You Need to Know About Filing For Unemployment
Unemployment claims are surging as businesses across the U.S. close their doors because of the coronavirus pandemic.
Last week, more than 280,000 Americans filed for their first week of unemployment benefits—a 33 percent spike from the week before. The Department of Labor reported that the increase is "clearly attributable to impacts from the COVID-19 virus."
The number of confirmed coronavirus cases in the nation has exceeded 35,000, with at least 473 deaths, according to the latest data from John Hopkins University's Coronavirus Research Center. The outbreak was declared a pandemic by the World Health Organization, and President Donald Trump has declared a national emergency to combat the virus.
The pandemic has caused several states to shut down all nonessential businesses. California, Illinois and New York, which combined account for more than a quarter of all economic output in the country, have asked all their residents to stay home. In the hospitality industry, hundreds of thousands of workers have already been laid off or furloughed, and millions more could be affected as the outbreak continues.
Both federal and state governments are easing requirements to help more people gain access to unemployment insurance during the outbreak. Here's what you need to know.
What Makes You Eligible for Benefits
"Unemployment insurance is there for workers who are out of work, whether temporarily or permanently, through no fault of their own," said Andrew Stettner, a senior fellow at the Century Foundation, a public policy research group.
The program is available to wage or salary workers who have been on the job for six months or more.
"That's a lot of people in this situation that can be eligible," Stettner added. "Even if you're someone whose employer had said they're just temporarily closing or keeping you on the system but not giving you as many hours, all those workers are eligible. You don't have to be totally separated from your job."
During the outbreak, the federal government is allowing states to amend their unemployment laws. They can now pay benefits if an employer temporarily closes or halts operations because of the coronavirus; if a worker leaves a job because of risk of exposure or to care for a sick relative; or if an individual is quarantined with the expectation of coming back to work once the quarantine period is over
Many states have already expanded eligibility to include workers who don't have access to paid leave or who may not meet any requirement involving availability to work, such as those who have been quarantined.
"Eligibility is expanding in states rapidly. New legislation will likely expand eligibility dramatically, so people who don't think they qualify right now, double-check. There's a really good chance that by next week they will qualify," said Michele Evermore, a senior policy analyst for social insurance at the National Employment Law Project.
How to Apply
To get benefits, you need to file a claim with the unemployment insurance program in the state where you were employed. The process varies by state, but claims can usually be filed in person, by phone or online.
It generally takes two to three weeks after you file a claim to receive your first check. The payment will be delayed if you give incomplete or incorrect information. It's also important to know that you have to call in or go online every week to renew your claim.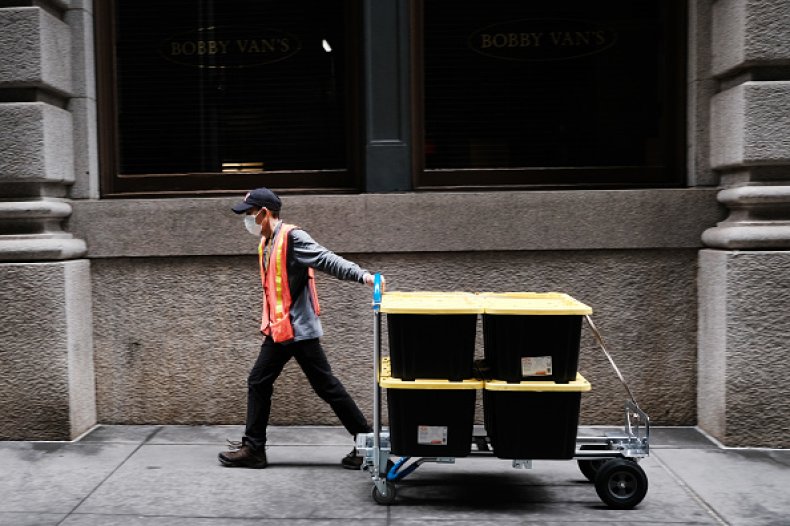 How Much You'll Get Paid
Typically, unemployment insurance will replace about 45 percent of your lost income. The national average benefit is roughly $380 per week.
If you haven't lost your job completely but your hours have been reduced or you work part-time, you may be eligible for unemployment insurance but you won't receive the full amount.
"Generally, if you are working part-time and you're making less than $400 per week, you're probably going to be eligible for something. You may only get $100 or so, but you're going to get something," Stettner said.
How Long Benefits Last
Most states have an unemployment package of 26 weeks, though at least eight have reduced that time frame. Missouri and South Carolina pay benefits for 20 weeks, Arkansas will pay benefits for 16 weeks and Alabama for 14 weeks. Four states—Florida, Georgia, Idaho and North Carolina—have a sliding scale that depends on unemployment levels.
Once you have exhausted the benefits package, you may be eligible for extended benefits. States generally offer 50 percent of the normal duration. So states that offer 26 week will usually give 13 additional ones, but in places like Alabama it would be only seven additional weeks.
But if the unemployment rate goes up significantly or Congress passes legislation on unemployment benefits, workers may be able to go from state benefits to extended federal ones. In the last recession, for example, up to 72 weeks of additional unemployment benefits were made available to workers. But right now, we don't know how much those federal benefits will be.
"I would suspect that this isn't going to be a short-term challenge for the economy," Evermore said.