What's Next for Julius Jones After Execution Is Halted?
The conditions Oklahoma Governor Kevin Stitt placed on the commutation that blocked Julius Jones' scheduled execution are "unusual" and "unprecedented," according to legal experts who spoke with Newsweek.
Jones, 41, was scheduled to be executed Thursday afternoon. He was convicted in 2002 of the murder of Paul Howell, who was killed in 1999 when Jones was 19. While Howell's family has said they believe Jones is guilty, Jones has said he did not kill Howell.
As the date of Jones' scheduled execution neared, his family and legal team called upon Stitt to step in and commute his sentence. The Oklahoma Pardon and Parole Board earlier this fall recommended Jones' death penalty sentence be changed to life in prison with the possibility of parole.
Hours before Jones was to be put to death, Stitt announced an executive order commuting Jones' sentence to life in prison. Under the conditions of Stitt's order, Jones "shall never again be eligible to apply for, be considered for, or receive any additional commutation, pardon, or parole," the decision said.
The governor's order received a mixed reaction from Jones' supporters and legal team, who expressed relief that he would not be executed and disappointment with the conditions of the commutation.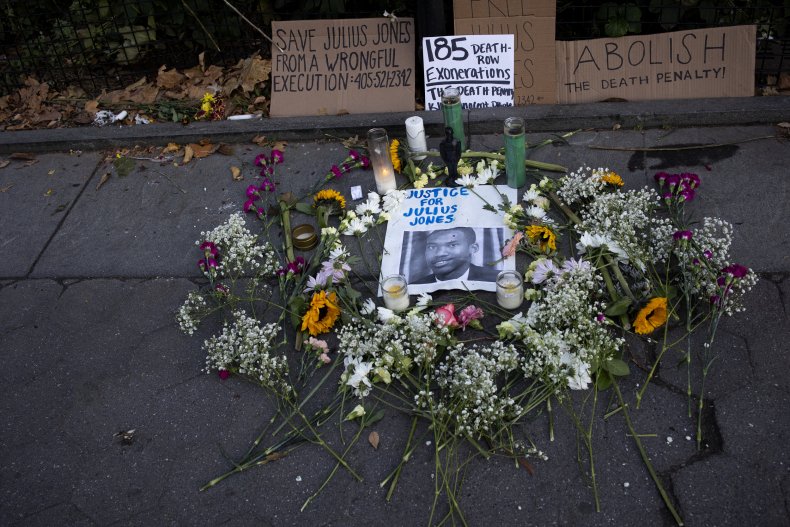 Amanda Bass, an attorney for Jones, released a statement Thursday addressing Stitt's decision that was shared with Newsweek. The statement read in part: "While we had hoped the Governor would adopt the Board's recommendation in full by commuting Julius's sentence to life with the possibility of parole in light of the overwhelming evidence of Julius's innocence, we are grateful that the Governor has prevented an irreparable mistake."
Jones's mother, Madeleine Davis-Jones, said in a statement shared by the Justice for Julius coalition that she was "thankful" Stitt stepped in to block the execution but said she planned to continue striving for his release. "I still believe that every day Julius spends behind bars is an injustice, and I will never stop speaking out for him or fighting to free him," she said.
Robert Dunham, the executive director of the Death Penalty Information Center, told Newsweek it was anticipated that any commutation in Jones' case would come with conditions.
"We had a hunch that if the governor was going to grant clemency, it would be with conditions. And that's pretty much what happened," Dunham said. Even so, he called the conditions that were outlined in Stitt's order "unusual."
Tyler Box, a founding partner at Overman Legal Group, also described the conditions included in the commutation as "unprecedented."
"I'm not aware of any clemency that's been granted with such stipulations," Box said.
Stitt's decision just hours before the scheduled execution has raised questions among members of the public regarding what legal options, if any, are now open to Jones, who has over the years maintained his innocence.
Both Dunham and Box were hesitant to speculate on how Jones' legal team might proceed due to the unusual nature of the conditions included in Stitt's order. Criminal defense attorney Ed Blau also did not speculate on the specifics of Jones' legal future when speaking with the Oklahoma City-based KFOR-TV.
Blau told the station that since Jones received a commuted sentence from Stitt, "he can't request another one."
Dunham told Newsweek that, "absent some extraordinary circumstance," Stitt's order seems "to foreclose a future pardon." He added it would "at best be extraordinarily difficult for any future governor to unilaterally issue a pardon."
Blau suggested it might be possible for Jones to seek a pardon from a future Oklahoma governor once Stitt leaves office. "I think it's an open question as to whether or not a governor can tie the hands of future governors in whether or not somebody can be given a pardon," he told KFOR-TV. The state's attorney general could, however, try to step in if a future governor seeks a pardon for Jones, he said.
Box said that if any new evidence arises in Jones' case, it could also present his legal team with options moving forward.
"I don't know what the family or his supporters have to lose by continuing the fight," he told Newsweek. "But I think that at least while Stitt's in office, probably all that they could do as a legal remedy is any post-conviction relief based on any new evidence that was uncovered."
When Stitt is no longer serving as Oklahoma's governor, Box said Jones' legal team could explore requests for another commutation or pardon. "I don't see where it could negatively impact him," he added.