When Does Final Week of Johnny Depp, Amber Heard Trial Live Stream Begin?
After more than a month, the trial of Johnny Depp vs. Amber Heard is finally coming to an end this week.
The trial began on April 11, 2022, and viewers have been captivated by startling revelations from the actors' marriage. Depp sued his ex-wife for $50 million in loss of earnings after she wrote a 2018 op-ed for The Washington Post stating that she is a survivor of domestic abuse. After Depp sued Heard for defamation, she countersued for $100 million.
Social media has been alight with people discussing the trial and hundreds of clips from the proceedings have gone viral as millions of people tune in every day to watch the live stream from the Circuit Court in Fairfax County, Virginia.
Here's everything you need to know about how to watch the final week of proceedings in the Depp vs. Heard trial.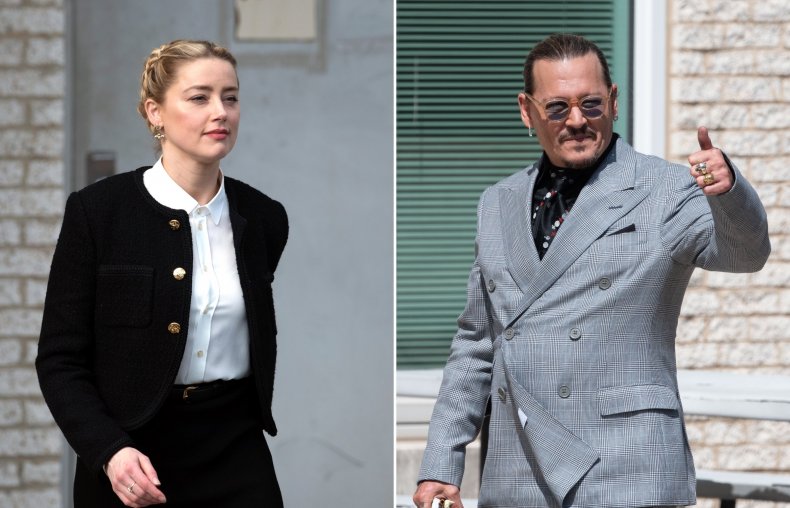 When the Final Week Begins
As it has most weeks since the trial began, court proceedings will resume on Monday morning.
Depp and Heard return to the Virginia courthouse on Monday, May 23 at 9 a.m. ET. Heard's legal team will continue to make their case with continued testimony from witnesses they call. Depp's team will have the opportunity to cross-examine the witnesses.
How to Live Stream the Depp vs. Heard Trial
The YouTube channel for the Law&Crime Network has scored millions of views for its continued video coverage of the trial.
The channel clips up key moments from the trial and broadcasts live streams from each day of the trial. These videos can last between seven to nine hours in length, with each one available to go back through now.
When the court reconvenes on Monday, Law&Crime Network will once again have a live stream available for what will be Day 20 of the trial.
When the Trial Will End
Judge Penney Azcarate has stated that this will be the final week of testimony, with closing arguments expected to take place on Friday, May 27.
Each week of the trial has run from Monday to Thursday with Fridays off so this will be the first time during the trial that the court is called in at the end of the week. That date is subject to change depending on what happens in the days leading up to Friday. Originally, the closing statements were scheduled for Thursday, May 19, but the end date was extended so that significant evidence was given extra time to be considered.
There is currently no deadline imposed on a verdict. The jury will be sent away to deliberate amongst themselves after they've heard the closing arguments on Friday.