When Will Verdict Come in Johnny Depp, Amber Heard Trial?
The fraught legal battle between Johnny Depp and Amber Heard is ending today after a week of testimony from rebuttal witnesses and from both Depp and Heard themselves.
Depp, 58, is suing his ex-wife, Heard, for $50 million over an op-ed she wrote for The Washington Post in 2018, claiming it damaged his career.
Heard, 36, didn't name Depp in the article, which was titled "I spoke up against sexual violence—and faced our culture's wrath. That has to change." His lawyers argue it was obviously about him.
The actress has also countersued for $100 million for damages, with her attorneys arguing that her article about domestic abuse was in the public interest.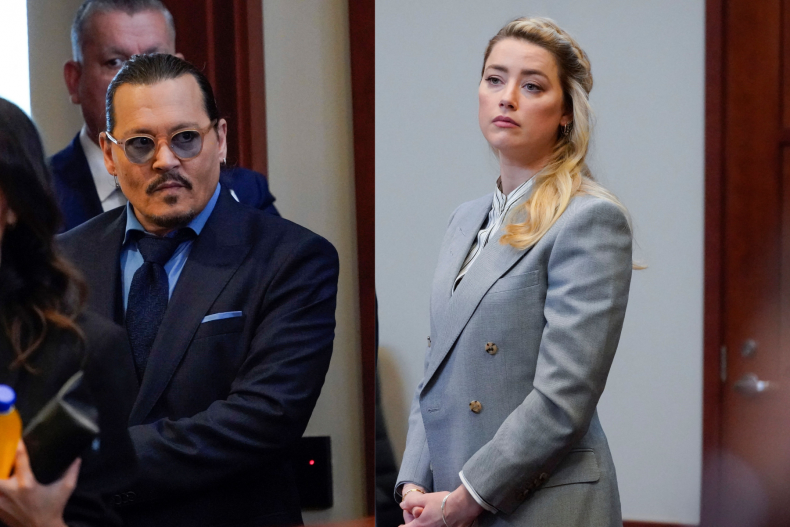 The trial has seen audio recordings of the couple's volatile arguments played for the court, with graphic details of Depp's severed finger injury and Heard's alleged bruising being among the key moments so far.
The courtroom in Fairfax, Virginia has also heard testimony from a number of expert witnesses, as well as celebrities like Paul Bettany and Ellen Barkin.
Heard and Depp were married from 2015 to 2016, and both have accused each other of being physically violent during their relationship. They deny each other's allegations.
When Will the Verdict Come?
The trial has been aired live daily Monday to Thursday and is expected to last six weeks in total. The proceedings are scheduled to conclude on May 27, when closing arguments from both sides will be heard.
Heard testified on May 4 and 5. The court was then adjourned for a week, before resuming on Monday, May 16, with more testimony from Heard, and subsequent cross-examination.
Judge Penney Azcarate has confirmed that jury deliberations will begin as soon as the closing arguments are wrapped up on May 27.
It's impossible to tell how long the jury will need to deliberate before they reach a verdict.
The jury will be giving their verdict on whether Heard did defame Depp in her 2018 Washington Post article.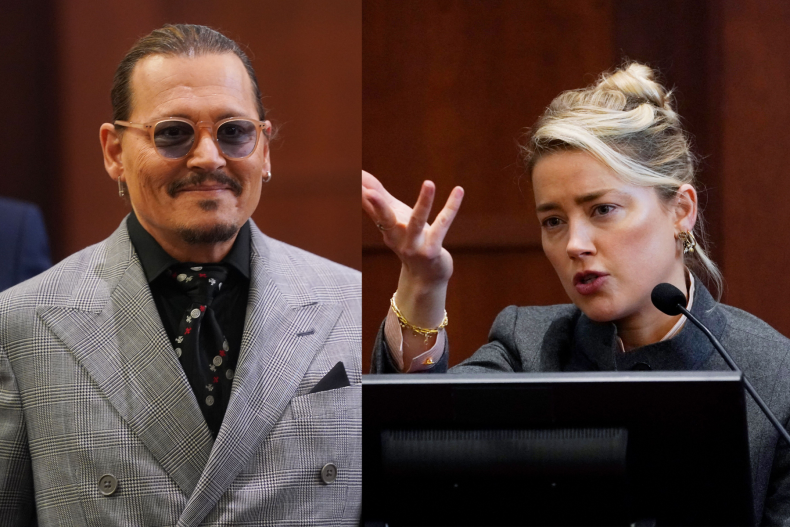 Closing Arguments
Judge Penney Azcarate addressed the jury ahead of the closing arguments and explained to jurors the issues they need to consider when making their deliberations.
Depp's lawyer Camille Vasquez addressed the jury first. The attorney pointed out that it was six years ago today (May 27, 2016) when Heard filed for her restraining order against Depp.
"And In doing so ruined his life by falsely telling the world she was a survivor of domestic abuse at the hands of Mr. Depp," Vasquez said. "We ask you to give Mr. Depp his life back by telling the world that Mr. Depp is not the abuser Ms. Heard said he is, and hold Ms. Heard accountable for her lies.
"What is at stake in this trial is a man's good name, even more than that, what is at stake in this trial is a man's life. The life that he lost when he was accused of a heinous crime, and the life he could live when he is finally vindicated."
She went on to say: "There is an abuser in this courtroom, but it is not Mr. Depp. And there is a victim of domestic abuse in this courtroom, but it is not Ms. Heard."
Heard's lawyer Ben Rottenborn began his closing argument by asking the jury to "think about the message" that Depp and his lawyers are sending to the Aquaman "and, by extension, to every victim of domestic abuse everywhere—if you didn't take pictures, it didn't happen."
He continued: "If you did take pictures, they're fake. If you didn't tell your friends, you're lying. And if you did tell your friends, they're part of the hoax.
"If you didn't seek medical treatment, you weren't injured. If you did seek medical treatment, you're crazy.
"If you do everything that you can to help your spouse, the person that you love, rid himself of the crushing drug and alcohol abuse that spins him into an abusive, rage-filled monster, you're a nag.
"And if you finally decide that enough is enough... and you have to leave to save yourself, you're a gold-digger."
The attorney added: "In Mr. Depp's world, you don't leave Mr. Depp. And if you do, he will start a campaign of global humiliation against you. A smear campaign...
"He will do everything he can to destroy your life, to destroy your career."
How to Watch the Johnny Depp, Amber Heard Trial Live
The Johnny Depp/Amber Heard trial is being streamed live online by a number of outlets.
On YouTube, viewers can tune into the live streams when the trial resumes later this month on Sky News, Law & Crime Network, and Court TV. Viewers can also watch the proceedings live on the Law & Crime Network and Court TV websites.
Newsweek is covering all the breaking stories from the Fairfax County courtroom on our live blog.
Update 05/27/22, 9:49 a.m. ET: This article was updated with additional information.