'When They See Us' Star Jharrel Jerome Talks Inspiring Role as Korey Wise For New Netflix Series
Korey Wise was just a 16-year-old boy looking out for his friend Yusef Salaam,15, when he voluntarily traveled to a New York City precinct on April 20, 1989.
Unbeknownst to both boys, authorities were looking for suspects in the vicious attack and rape of a female jogger in Central Park the night before. Police conducted a sweep in Harlem neighborhoods and took a number of black and Latino boys fitting a certain description to police stations for questioning. Wise didn't fit the profile, but Salaam did. Wise's concern for his buddy drove him to accompany Salaam anyway.
What followed was a prolonged and violent interrogation, police coercion, false "confessions" and convictions of Wise, Salaam and three others—Raymond Santana, 14; Kevin Richardson, 15 and Antron McCray, 15. Known as the Central Park Five, all of the teens were wrongfully accused of raping 28-year-old investment banker Trisha Meili.
The incessant media coverage painted the boys as monsters. President Donald Trump, a real estate broker at the time, used them as a means to promote reinstated death penalty laws. They were all convicted for the crime.
As outrage surrounding case ensued, the voices of the accused were never included in the public discourse. There were no interviews of family members. The perspective of those involved didn't make front-page news.
Aside from Ken Burns' 2012 documentary—which was mostly just a timeline of the historical facts surrounding the attack, the case and the eventual 2002 exoneration of the Central Park Five—no one has actually heard the men's side of the story since their lives were cataclysmically changed in 1989.
That changes when Netflix releases When They See Us, the highly anticipated Ava DuVernay-directed series on the Central Park Five, told from their and their family's perception. The four-episode series, releasing on the streaming giant on Friday, provides a glimpse into the suffering the young boys endured from the moment they were picked up by police throughout the years they spent behind bars and, for some, the hardships they faced as registered sex offenders following their return home.
It's hard to escape pangs of heartbreak while watching each member of the Central Park Five's story unravel on the small screen. However, Wise, played by 21-year-old Jharrel Jerome on the Netflix show, experienced a unique kind of tragedy that will likely bring viewers to tears.
Unlike the others who were placed in juvenile centers in New York, Wise was sent to Rikers Island to serve his sentence. He was subjected to insurmountable abuse, violence and extended periods of time locked in solitary confinement during the 12 years he spent behind bars at various maximum-security prisons across the state. Despite his circumstances, though, Wise maintained his innocence, even when chances of parole and early release were offered in exchange for a guilty admittance.
Jerome carries the role brilliantly, but there's no sugarcoating the heaviness of playing a real person who suffered so much. In an interview with Newsweek, Jerome, who first broke out in 2016's Oscar-winning Moonlight, noted the difficulty in portraying someone with a past as harrowing as Wise. However, Jerome said he was proud to bring life to a character and story that otherwise would have remained overlooked.
Read on for Newsweek's interview with Jharrel Jerome below.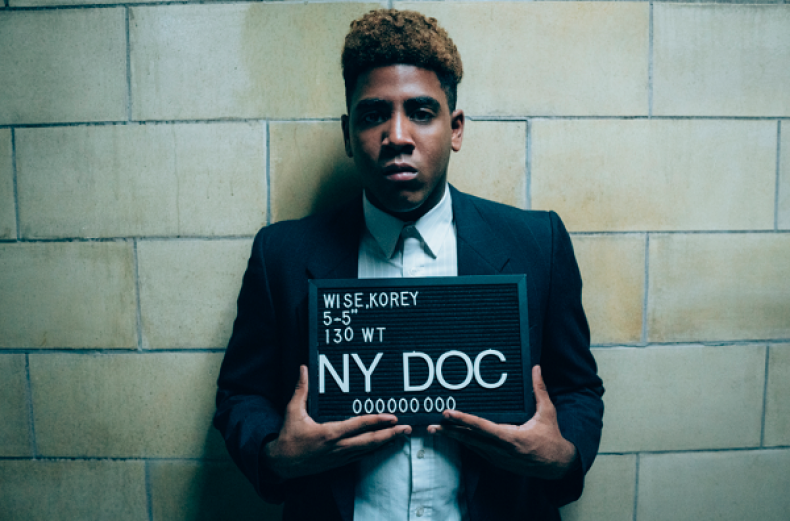 How familiar were you with the story of Central Park Five before filming?
I grew up in the Bronx, so this story was among dozens of other stories that were taught as life lessons to me by my parents, in terms of when you see the police be polite, don't be out in the streets late, come home before dark. But in terms of the depth of the story, I didn't understand it. I didn't know about it until Ava brought it into my life. I hope for the rest of the world it's the same deal. We've heard about the story. It's in our head. We kinda have the central facts of it but we don't have the emotion or the truth behind it, and I think it's about time [we do]. Even the Ken Burns documentary—it's almost like a Wikipedia page. It just has the facts but you don't have the emotion, you don't have the family aspect, you don't have what the script will give you.
How was your experience meeting and working with Korey?
It was unreal. I was terrified to meet him just because this is the man I'm going to portray, and I don't know how to speak to somebody who's lived a life like that because I've never met anyone like that. The second I met him, he took his chain off and put it around my neck, and he said, "You're Korey Wise now." That put everything into perspective for me about the kind of man he is. It's all strength, it's all power. He's all bright. I still see 16-year-old Korey inside of him. So Ava allowing me to spend time with him, that was all my preparation—just getting to speak to him. But it was also my therapy. Ava had a hotline on set where we could call and we could talk to somebody for consoling, but I never called that number. I just needed to call Korey. Korey's smile, Korey's energy—that was the therapy for me. That's what kept me grounded in the work and through all the pain, through all the sorrow that came with this role. He's a beam of light. That's the type of man he is.
He bought me sneakers. We were in Harlem and we went into Foot Locker and he's like, "I'm buying you sneakers." I said no, and he's like, "I'm buying you sneakers!" He was so loud, everybody turned. That's who he is. He's loud. He's not afraid of it. "I'm buying you sneakers! Pick a sneaker!" That's the kind of man he is. After getting to know him and getting to spend time with him, he's become more than just a man I play. He's become a role model and an inspiration.
What do you do after playing such a compelling role like this?
I went straight to Aruba. It's the first time in my life I felt like an adult, like I could really use a break. I've never really gone on vacation in my life, so I treated myself to one and got some rest. But the project still hasn't left me. It's so heavy in my heart, so heavy in my soul. I think about what they went through all the time.
What do you hope this project leads to?
I think art imitates life. Art is medicine. Right now our job as artists is to tell these stories that don't often get told. I know if I go back down my block or even around my block, I'm the only young black man with a platform and a voice to be heard. So I want to be the voice for everyone on my block and in my community. Shows like this are exactly what I wanna be a part of. We need shows like this to continue on because I think—especially with my generation—all we're watching is the next show on Netflix. All we listen to is the next album that drops. So if that album speaks to young people and if that show can speak to them, then we're doing our job as artists. I hope it inspires people to get involved in their community, whether it's the smallest or largest way, just get involved.