When Will The Dixie Fire Be Contained? Wildfire Could Burn Until Winter Rain Arrives
The second-largest wildfire in California's history continues to grow after destroying more than 1,000 buildings and roughly half a million acres of land.
The Dixie Fire erupted on July 14 above the Cresta Dam in the densely forested northern Sierra Nevada. It's since spread over Plumas, Butte, Lassen and Tehama counties, burning more than 515,000 acres—or more than 17 times the size of San Francisco.
As of Thursday night, the fire was 31 percent contained.
Officials from the California Department of Forestry and Fire Protection, or Cal Fire, originally estimated the flames would be contained by August 20. Now, weeks into battling the blaze, the expected full containment date is "to be determined."
Cal Fire officials have said that containment is based on fire weather conditions.
Experts told Newsweek the Dixie Fire could burn for months.
"I'm actually very surprised until that recently August 20 was the estimated containment date because that seemed extremely optimistic given the conditions on the ground," said Daniel Swain, a climate scientist at the University of California Los Angeles.
"It's very unlikely that this fire will be contained before the winter rains and snows arrive," Swain added, "and that has been the case really ever since this fire made it to a couple 100,000 acres."
The Dixie Fire and other fires in the West are behaving more dangerously than firefighters have ever seen. Heat waves and historic drought conditions have made the blazes more difficult to combat, even with thousands of crews on the ground.
California was one of four states to record its warmest July ever, according to a recent report from the National Oceanic and Atmospheric Administration (NOAA).
"We're dealing with unprecedented dryness, and so things are just ready to burn," said Lenya Quinn-Davidson, a fire adviser for the University of California Cooperative Extension.
The heat and windy weather conditions have propelled the fire forward, lighting new fires on the other side of containment lines. Fire officials warned Thursday that spotting conditions could threaten some of the progress they made over the past few days.
Earlier this month, the fire's containment dropped from 35 to 21 percent contained over the course of one weekend.
"You're looking at weeks to even months for full containment," said Rebecca Miller, a wildfire policy expert at Stanford University.
The August Complex Fire, which burned more than 1 million acres last year and is California's largest wildfire on record, burned for roughly three months from August to November 2020. The 2018 Mendocino Complex fire, which was the second-largest fire until the Dixie Fire, lasted 160 days.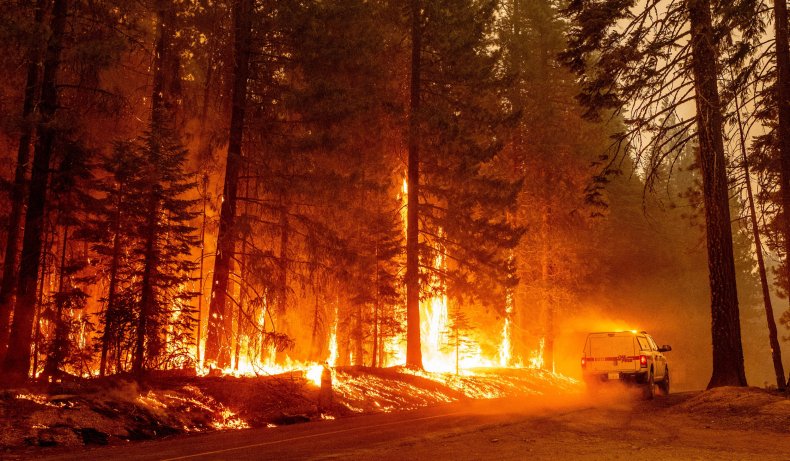 Scientists say California and the rest of the Western U.S. are experiencing longer and more severe fire seasons with climate change.
"We haven't even entered the peak of the fire season yet," Swain said. He noted that where the Dixie Fire is burning, the peak fire season typically begins in September and continues through October.
Ahead of this year's fire season, Governor Gavin Newsom signed a $536 million wildfire package to fund projects supporting wildfire suppression, forest health and protection for residents and property.
Miller said California needs to adapt to its extended fire season by making more investments in firefighting resources, wildfire protection, fuel management and safer homes.
"We need to acknowledge that fire is a natural part of California," Miller said, "and that we need to adapt to the new reality in which we have record-breaking fires year after year."
Newsweek reached out to Cal Fire for additional information, but didn't receive a response before publication.