When Will the First Migrant Caravan Arrive? Maybe Never, as Many Central Americans Consider Staying in Mexico
Central American migrants traveling in a caravan headed toward the United States are debating whether to stay in Mexico, where they have set up camp in the country's capital, or continue to push on to the U.S. border.
The question of whether to stay or go came after humanitarian aid stepped up on Tuesday for the approximately 4,500 migrants, who were currently taking refuge at Mexico City's Jesus Martinez stadium.
Facing pressure from the U.S. to stop the caravan from reaching the border, Mexico had offered the migrants refuge, asylum or work visas if they chose to stay in the country, The Associated Press reported.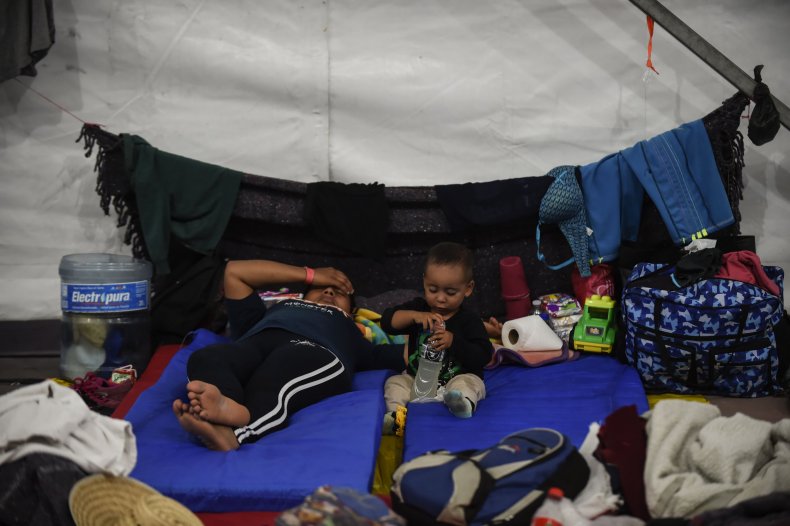 The government told the news agency that nearly 2,700 temporary visas had been issued to individuals and families to allow them to stay in Mexico while they wait for their applications for more permanent status to be processed, which could take up to 45 days.
Caravan members declined to make an immediate decision on whether they would stay in Mexico, according to the AP.
Some were still determined to push on toward the U.S. Sara Rodriguez, a 34-year-old mother from Colon, Honduras, who fled the country with her 16-year-old daughter, Emily, after the teenager had begun to draw unwanted attention from a drug trafficker, told the AP that she hoped the group would continue north "all together."
The Trump administration had railed against the caravan, as well as several others, which were trailing behind the first group now in Mexico City, calling their plight an "invasion." Experts have said that migrants often choose to travel together in large numbers for "safety" reasons.
Moving in large groups is believed to increase migrants' chances of safe passage, in addition to providing a sense of community along an arduous journey. That's according to Karen Jacobsen, who acts as the Henry J. Leir chair in global migration at the Fletcher School of Law and Diplomacy at Tufts University, in a recent piece for The Conversation.
"Whether crossing Central America, the Sahara desert or the mountains of Afghanistan, migrants are regularly extorted by criminals, militias and corrupt immigration officials who know migrants make easy targets: They carry cash but not weapons," Jacobsen wrote.
Read more: Obama Condemns Trump's Response to Migrant Caravan as a 'Political Stunt'
President Donald Trump has vowed to stop migrants at the border. His administration has already started to deploy thousands of troops to the U.S.-Mexico border in anticipation of the arrival of the migrants traveling toward the U.S.
The first active-duty military troops to arrive were tasked with working to install coils of razor wire on bridges and river banks over the weekend.
The president and his administration had been accused of using the caravan to drive immigration fears and distract voters ahead of Tuesday's midterm elections, an accusation he U.S. leader vehemently denied.