Obama Condemns Trump's Response to Migrant Caravan as a 'Political Stunt'
Former President Barack Obama derided his successor on Sunday, accusing President Donald Trump of using news of the Central American migrants making their way to the U.S. to seek asylum as a "political stunt" before this week's midterm elections.
"Two weeks before this election, they're telling us the single most grave threat to America is a bunch of poor, impoverished, broke, hungry refugees a thousand miles away," Obama told supporters at a rally for Democratic Senator Joe Donnelly in Gary, Indiana.
"That's the thing that's really going to threaten Gary in the end," Obama said. "It's not like we need more jobs here, it's not health care, it's not 'Are we going to educate our kids and get those guns out of the hands of our'—that's not the thing. The thing is these folks, a thousand miles away."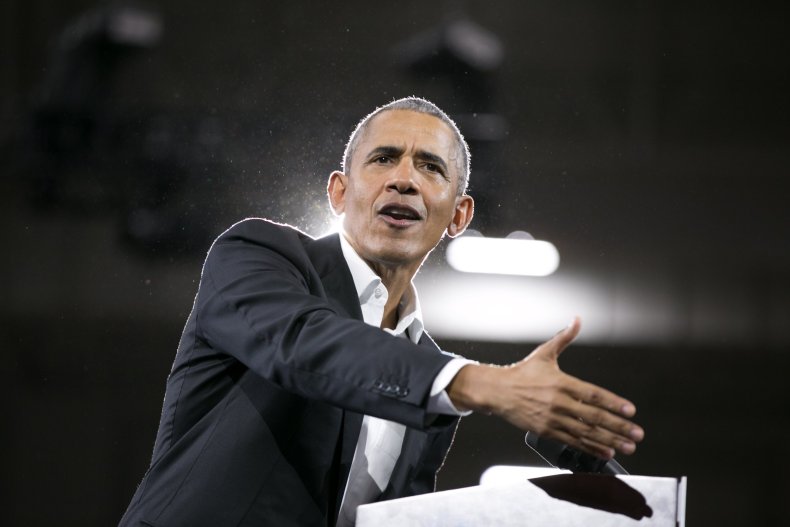 By Monday morning, some of the members of the first caravan to leave Central America had made their way toMexico City, which is roughly 580 miles from the nearest U.S. port of entry, in McAllen, Texas.
Already the Trump administration had begun deploying troops to the southern border in anticipation of their arrival.
"They're even using our brave troops, sending them down as a political stunt," Obama said. "Men and women of our military deserve better than that.
"But the reason I'm saying all this...unfortunately, sometimes these tactics of scaring people and making stuff up work."
"There have got to be consequences when people don't tell the truth," the former U.S. leader said later.
Read more: First Migrant Caravan Reaches Mexico City as U.S. Troops Lay Barbed Wire at Border
"When words stop meaning anything, when people can just lie with abandon, democracy can't work," Obama said. "Nothing works."
Trump had denied widespread accusations that he and his administration had exploited the immigration issue in a bid to distract voters and garner support before Tuesday's election.
Earlier this month, he said his focus on immigration had nothing to do with the election, that he had been fighting "to have strong borders" before he "ever thought of running for office."