When Will New York City Reopen? Bill de Blasio Outlines Timeline
New York City will "fully reopen" on July 1, Mayor Bill de Blasio announced Thursday.
"Our plan is to fully reopen New York City on July 1. We are ready for stores to open, for businesses to open, offices, theaters—full strength," the mayor said in an interview Thursday on MSNBC's Morning Joe program.
"Because look, what we're seeing is people have gotten vaccinated—an extraordinary number—6.3 million vaccinations in New York City to date," the mayor said, highlighting the vaccination site at The American Museum of Natural History.
De Blasio noted the museum is "providing free vaccinations under the Blue Whale [display] and giving away free admissions. Four free admissions if you get vaccinated."
"We know the vaccination effort's gonna grow and grow. We gotta keep working hard at that," he added.
The mayor's latest announcement follows one by Gov. Andrew Cuomo on Wednesday announcing the easing of more restrictions, including the resuming of bar seating in New York City.
"Starting May 3, seating at bars will be allowed in New York City, consistent with the food services guidance that is in effect statewide," the governor's office said in a statement Wednesday.
Also from May 3, the governor's office advised that catered events at residences can be held at a capacity level above the state's current residential gathering limit of 10 people indoors and 25 people outdoors.
Such events are permitted "as long as the events are staffed by a professional, licensed caterer, permitted by the respective locality or municipality, and strictly adhere to health and safety guidance, including social and event gathering limits, masks, and social distancing," the statement advised.
"Also on May 3, the guidance for dancing among attendees at catered events will be aligned with neighboring states, replacing fixed dance zones for each table with social distancing and masks," the governor's office added.
The state's 12 a.m. food and beverage service curfew will be lifted for outdoor dining areas from May 17, while for indoor dining areas it will be lifted from May 31.
The 1 a.m. curfew for catered events where attendees were required to provide proof of vaccination status or a recent negative COVID-19 test result will also be lifted from May 17. The curfew for all catered events will be lifted from May 31.
From May 15, capacity limits will also be expanded at gyms and fitness centers outside of New York City (increasing from 33 to 50 percent), casinos and gaming facilities (increasing to 25 to 50 percent) as well as offices (increasing from 50 to 75 percent).
The spectator capacity at large-scale outdoor event venues "including professional and collegiate sports and live performing arts and entertainment" will also be raised from 20 to 33 percent starting May 19.
The latest announcements come as total confirmed cases in New York state surpass two million, with 52,140 total reported deaths, as of Thursday, according to Johns Hopkins University (JHU).
More than 15.1 million COVID-19 vaccine doses have been administered across the state, as of Wednesday, according to the latest report from the U.S. Centers for Disease Control and Prevention (CDC).
The seven-day average of cases in New York state has been declining from mid-January, after rising on a sharp incline from early November, according to data compiled by Worldometer.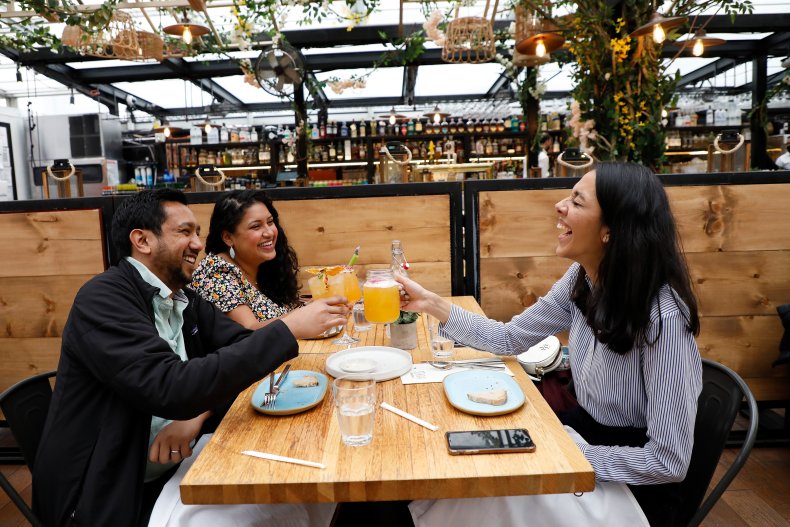 The wider picture
Coronavirus has infected more than 147.9 million people since it was first reported in Wuhan, China, including over 32.2 million in the U.S. More than 3.1 million people have died worldwide and over 86.9 million have recovered as of Thursday, according to Johns Hopkins.
The graphic below, produced by research provider Statista, shows the spread of COVID-19 cases across the U.S.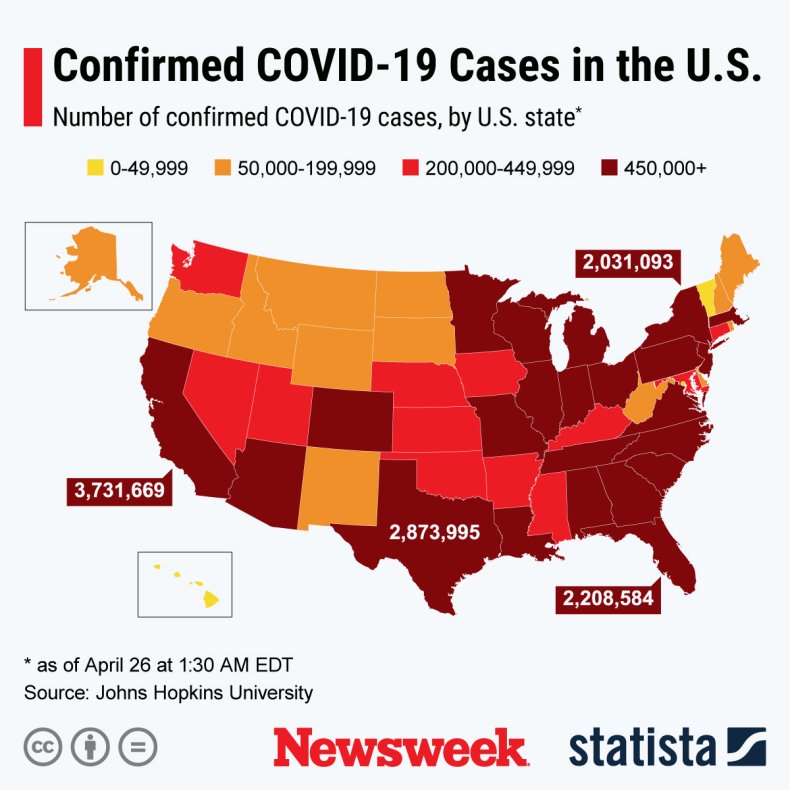 The graphic below, also produced by Statista, shows the total number of COVID-19 vaccine doses administered per 100 people across different countries.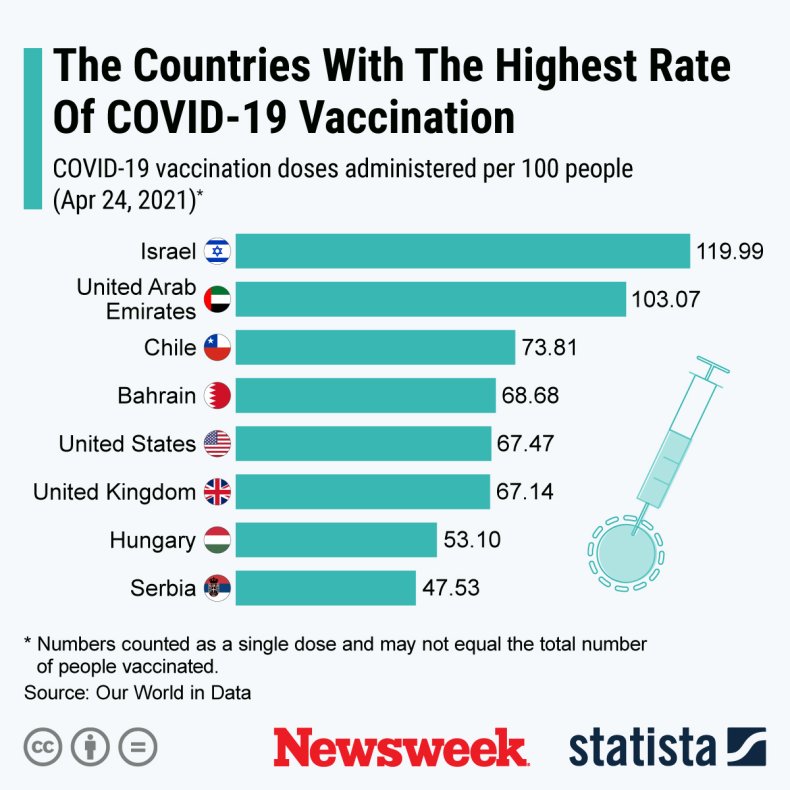 Newsweek, in partnership with NewsGuard, is dedicated to providing accurate and verifiable vaccine and health information. With NewsGuard's HealthGuard browser extension, users can verify if a website is a trustworthy source of health information. Visit the Newsweek VaxFacts website to learn more and to download the HealthGuard browser extension.