When Will Ohio Reopen? Restaurants to Resume Indoor Dining This Week as Limits Phased Out
Novel coronavirus cases in Ohio have been on a mostly declining trend over the past few days. The state began reopening outdoor dining options last week, while indoor dining services will resume from this week on May 21.
Restaurants resuming indoor dining services will need to follow several guidelines such as maintaining a six feet or physical barrier between guests, limiting parties to 10 or less people as well as more frequent sanitization of the facility, Cleveland's WJW reports.
Many workers will be wearing masks, while mask usage among customers can be implemented at the restaurant owner's discretion. Self-service stations, such as buffets, and congregating areas are banned, WJW reports.
Ohio Gov. Mike DeWine noted at a press briefing on Monday that the state is "marshaling all the resources at our disposal" to make sure venues are complying with guidelines.
He revealed that "a large contingent of law enforcement and health officials from across state agencies and from our local communities" would be carrying out compliance checks and referring any offenders for prosecution. Violators could lose their liquor licenses, among other penalties, he warned on Monday.
Outdoor dining services in Ohio resumed from May 15, following a two-month closure of all restaurants and bars following the outbreak of the virus.
Several restaurants, including in Cincinnati and Cleveland, served customers at tables set at least six feet apart on patios, decks and in parking lots.
Among the diners was Cincinnati Mayor John Cranley, who was reported to have had lunch at Jim and Jack's on The River on River Road and was planning to have dinner at Dolores in the Over-the-Rhine neighborhood, The Cincinnati Enquirer reported.
"It's so nice to be out with friends and feel somewhat normal," said Cranley, Cincinnati's FOX19 reported.
Around 25 streets were reported to have been closed off in downtown Cincinnati and in Over-the-Rhine to allow restaurants to have additional outdoor dining space.
Cranley noted that the city will use a "trial and error" method to reopen businesses.
"We want to support restaurants, which means going to restaurants, assuming they can provide tables six feet apart. But we don't want large crowds standing next to each other," Cranley said.
Some restaurants in Cleveland chose to remain closed, while dozens were reopened for outdoor dining. Workers were reported to be wearing face masks, while tables were spaced out with six feet between them and dining areas were sanitized frequently, Cleveland.com reported.
In an interview Sunday on CNN's State of the Union program, when DeWine was asked to respond to images of the Standard Hall bar in Columbus, which showed many people congregating closely without wearing masks on Friday, he said: "Absolutely. We had people there last night."
"The good news is that the ownership, the people running the bar seemed to get control of it [Saturday] night. We didn't have to issue any citations [there]," adding that another bar in Columbus was cited on Saturday.
He noted that "we're going to do whatever we have to do" if crowds are seen to be forming where social distancing guidelines remain in place.
DeWine also said the state is hoping to reopen schools in August but "we don't know yet, frankly," noting the risk of the potential further spread of the virus through children.
"Sometimes people miss that schools were closed primarily because of the spread issue...kids are not at great risk [of infection] but they are spreaders," he said on State of the Union.
He noted that school administrators would need to prepare "very specific plans that are unique to your school but guided by the local health department," before schools can be reopened.
"I've asked schools to assume they're going back [in the fall] but to come up with all kinds of alternatives...for example, how do you achieve some sort of social distancing?," he said on the show.
Earlier this month, DeWine defended his decision to allow businesses to begin resuming operations. He noted that reopening American businesses amid the coronavirus pandemic will not fix the economy, "unless people have confidence."
"It's a risk no matter what we do," DeWine said during an appearance last month on Fox News Sunday. "The economy's not going to open no matter what we do, whatever we order, unless people have confidence. And we're trying to give them confidence," he added.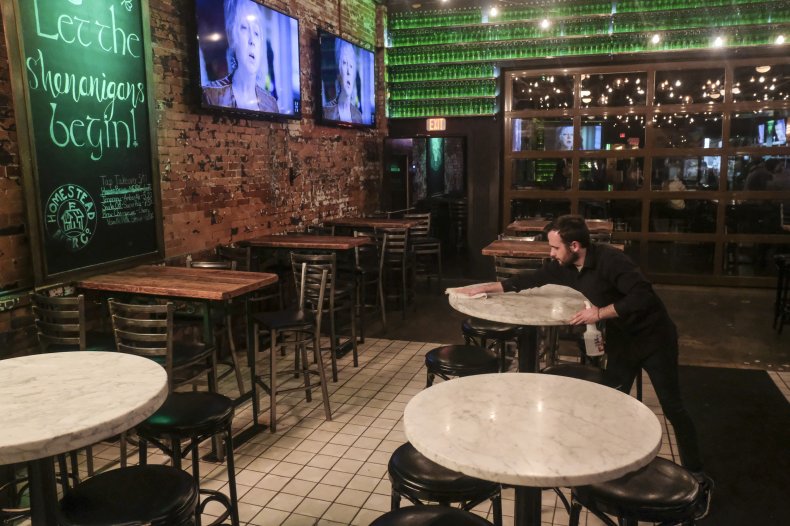 Ohio has reported 28,454 confirmed cases and 1,657 deaths, as of Monday, according to the latest figures from Johns Hopkins University.
The state has reported a decline in the number of new cases for three consecutive days from May 14, which recorded 638 new infections. Daily new cases dropped to 594 on May 15, to 517 on May 16 and to 451 on May 17, while jumping to 556 on May 18, according to figures from the state's health department.
The state's daily death toll also dropped for three consecutive days from May 14, which saw 52 new fatalities. The daily death count dropped to 47 on May 15, to 30 on May 16 and to 14 on May 17, but spiked to 32 on May 18, according to figures from the state's health department.
The novel coronavirus, which was first reported in Wuhan, China, has infected more than 4.8 million people across the globe. Over 1.7 million globally have reportedly recovered from infection, while more than 318,500 have died, as of Monday, according to the latest figures from Johns Hopkins University.
The graphic below, provided by Statista, illustrates U.S. states with the most confirmed COVID-19 cases.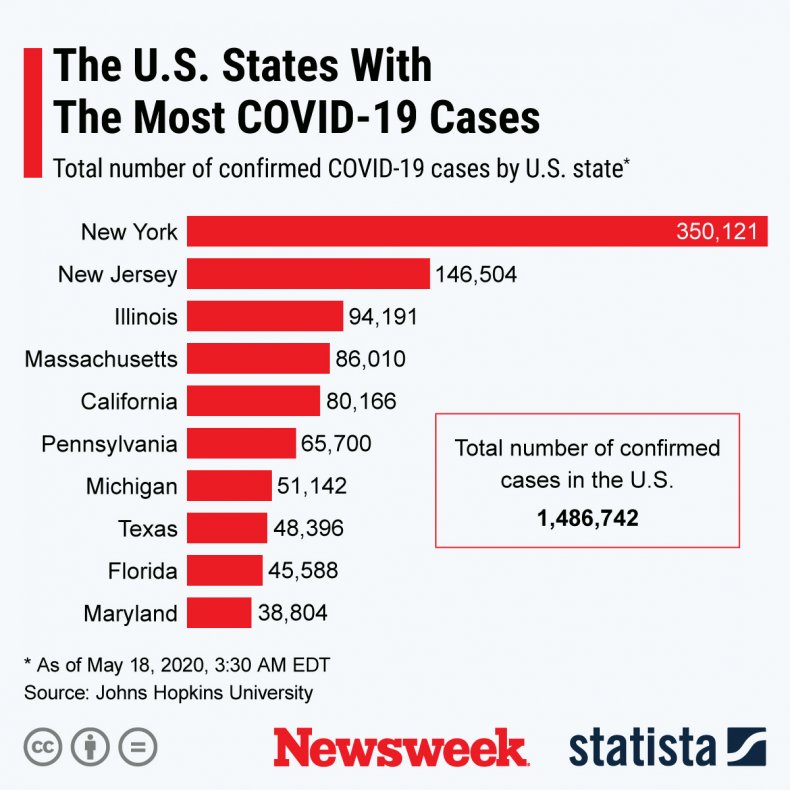 The graphic below, provided by Statista, illustrates the spread of the COVID-19 virus across the U.S.