When Will Second Stimulus Checks Arrive? Democrats Warn Relief Negotiations Could Drag Into Mid-August
As discussions between Republicans, Democrats and the White House over another round of coronavirus economic stimulus legislation drag into a second week, Democratic leaders have warned that negotiations could continue through the middle of the month.
Meanwhile, millions of Americans remain unemployed as many struggle to pay their rent and mortgages.
"It is my hope we could do it this week... but probably not until next week," House Speaker Nancy Pelosi, a California Democrat, told lawmakers from her party during a Monday night conference call, according to Politico.
Senate Minority Leader Chuck Schumer, a New York Democrat, expressed some optimism that progress has been made in the negotiations.
"We are really getting an understanding of each side's position," Schumer said, according to the Associated Press. "And we're making some progress on certain issues moving closer together. There are a lot of issues that are still outstanding. But I think there is a desire to get something done as soon as we can."
Treasury Secretary Steve Mnuchin, President Donald Trump's point man in the negotiations, has expressed a willingness to compromise. However, Senate Majority Leader Mitch McConnell, a Kentucky Republican, recently criticized Democrats on the Senate floor.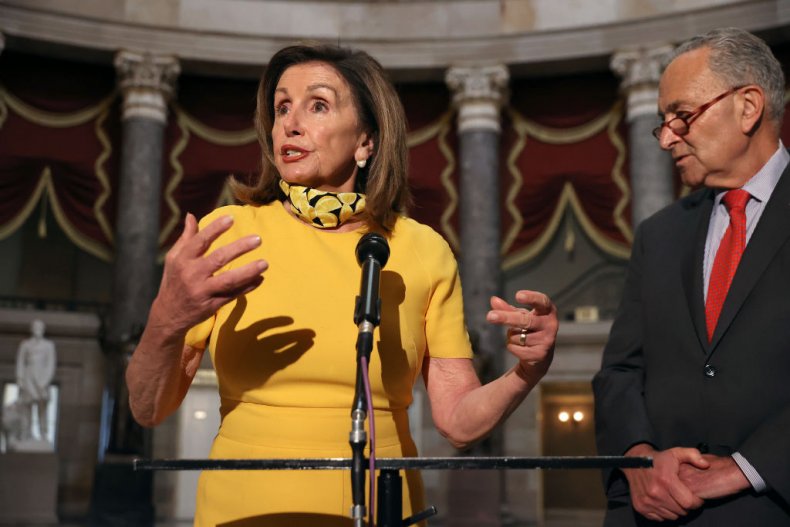 "The speaker of the House and the Democratic Leader are continuing to say 'our way or the highway' with a massive wish list for left-wing lobbyists that was slapped together a few weeks ago called a coronavirus bill," McConnell said.
Back in May, the Democrat-controlled House of Representatives led by Pelosi passed the HEROES Act, with a price tag of more than $3 trillion. The bill would provide billions in relief to state and local governments, funding for coronavirus testing and vital supplies, additional $1,200 direct payments to most Americans, extended $600 per week unemployment benefits and a range of other stimulus proposals.
But Republicans balked at the proposal when it passed, calling it a Democrat "wish list."
Last Monday, July 27, McConnell unveiled a $1 trillion dollar package, dubbed the HEALS Act. The GOP proposal would also provide additional $1,200 direct payments to most Americans, but it would slash extra unemployment benefits to just $200 per week.
After states are given time to accurately calculate the amount, jobless workers would be able to get additional funds totaling no more than 70 percent of their previous earnings – topping out at $500 per week.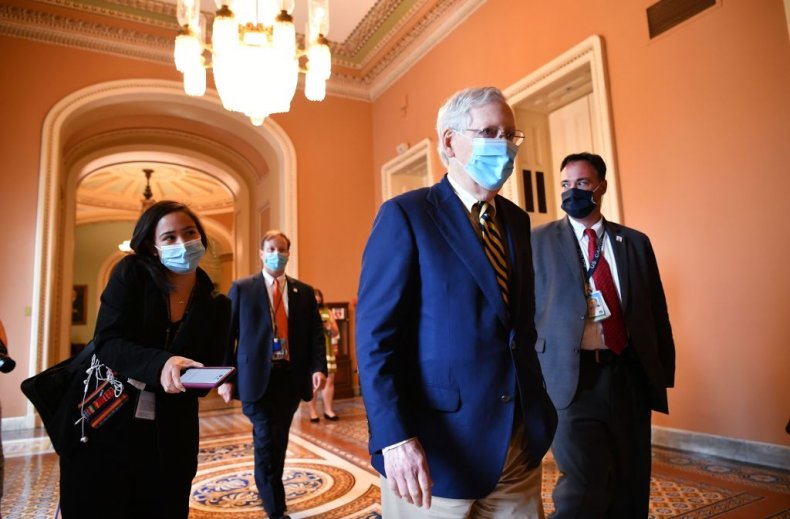 McConnell's plan, which was put forward with the backing of the White House, did not include any funding for state and local governments. The proposal also faced significant opposition from several prominent GOP senators who believe the government shouldn't continue to add to the ballooning national deficit.
Mnuchin previously said in June that the Treasury Department would be able to send out payments "very, very quickly," assuming a deal is reached between Republicans, Democrats and the White House. After the CARES Act was passed in March, some Americans began receiving payments within a couple weeks.
Although the current timeline remains uncertain, if the legislation were to be approved by all sides by mid-August, Americans could begin receiving direct payments the first week of September.
Newsweek reached out to McConnell's and Pelosi's press secretaries for comment, but they did not respond by the time of publication.
"Republicans always talk about the private sector's need for certainty. America's working families deserve the same courtesy," Pelosi tweeted on Monday afternoon.
Trump gave mixed messages about the talks yesterday. Earlier in the day, the president said Democrats only wanted "bailout money to bail out radical left governors and radical left mayors." But later on Monday he said that the White House and Republicans were "having a very good discussion with Nancy Pelosi and Chuck Schumer."