When Will Senate Vote on $2,000 Stimulus Check for Americans?
Senate Majority Leader Mitch McConnell said Tuesday that his chamber would "begin a process" to consider the coronavirus relief demands from President Donald Trump, including his call for $2,000 stimulus checks.
Later that afternoon, after blocking two Democratic attempts to take immediate action on the matter, the top Republican introduced a bill that offered the increased direct payments but also tacked on measures pertaining to social media companies and election fraud studies.
Those were the issues outlined by President Donald Trump in his statement on the $900 billion COVID-19 relief bill passed by Congress last week. Trump released a statement on Sunday, after he signed the legislation, calling for the $600 stimulus check to be increased to $2,000, as well as a repeal to section 230 of the Communications Act of 1996 and funding for a commission to investigate voter fraud—measures Democrats have generally opposed.
"Those are the three important subjects the president has linked together," the Kentucky lawmaker said. "This week the Senate will begin a process to bring these three priorities into focus."
Senate Minority Leader Chuck Schumer (D-NY) called McConnell's introduction of the bill S.5085, a "cynical gambit." Earlier Tuesday, Schumer called for unanimous consent to boost the stimulus payment to $2,000 per qualifying American but McConnell objected. Minutes later, Senator Bernie Sanders (I-VT) also asked for unanimous consent that after the Senate vote to override Trump's veto on the defense bill it take up legislation for direct payments. McConnell again objected.
"The fastest way to get money into Americans' pockets is to send some of their tax dollars right back from where they came," Schumer said on the floor. "Two-thousand dollar stimulus checks could mean the difference between American families having groceries for a few extra weeks or going hungry."
Newsweek reached out to McConnell's office for additional comment on his position on $2,000 stimulus checks and whether or not he will hold a Senate vote on the bill passed by the House of Representatives on Monday but did not receive a response prior to publication.
That legislation, titled the Caring for Americans with Supplemental Help (CASH) Act, passed with a 275–134 vote in the Democrat-controlled House. Forty-four Republicans joined Democrats in the chamber to support the bill, which would increase stimulus checks for Americans under a certain income level to $2,000.
The legislation now rests in the Republican-controlled Senate, where conservative members have generally opposed increasing the price tag of the second coronavirus relief package. The implementation of $2,000 checks for qualifying Americans is estimated to cost roughly $464 billion.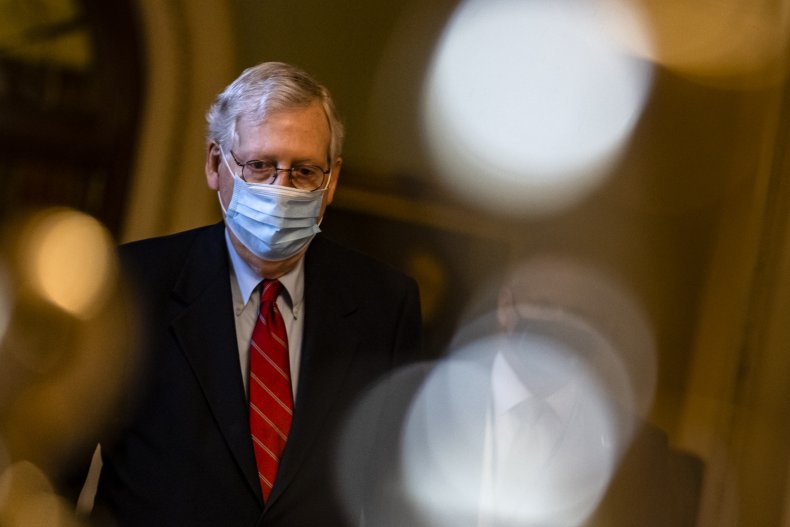 There are a handful of Republicans who have voiced support for $2,000 checks. On Tuesday, Georgia Republicans and Senate candidates Kelly Loeffler and David Perdue said they'd back the proposal. GOP Senators Josh Hawley, Lindsey Graham and Marco Rubio have also backed $2,000 payments.
"Working Americans have borne the brunt of this pandemic. They've been hammered, through no fault of their own. They deserve $2000 in #covid relief - a fraction of what the banks & big business got. Let's vote now," Hawley tweeted on December 29.
Meanwhile, Sanders has pledged to delay the Senate's vote to override Trump's veto of the critical defense spending package unless McConnell holds a full recorded vote on $2,000 stimulus checks.
According to ABC News, the Vermont senator told reporters on Tuesday he wasn't sure how McConnell was going to proceed.
"I think Leader McConnell is going to tell us what's going to happen but I would say that at a time when two-thirds of the House voted to provide those $2,000 checks. The overwhelming majority of Americans want that, Trump wants it, Biden wants it, Pelosi wants it, Schumer wants it. Let's have a vote, and let's pass this damn thing," Sanders said.
Update: This story has been updated to include information about Senate Majority Leader Mitch McConnell's parallel pandemic relief bill S.5085.