Where Will Amazon's New HQ2 Headquarters Be? Shortlist of 20 Cities Puts Boston and Austin Among Favorites for $5Bn Building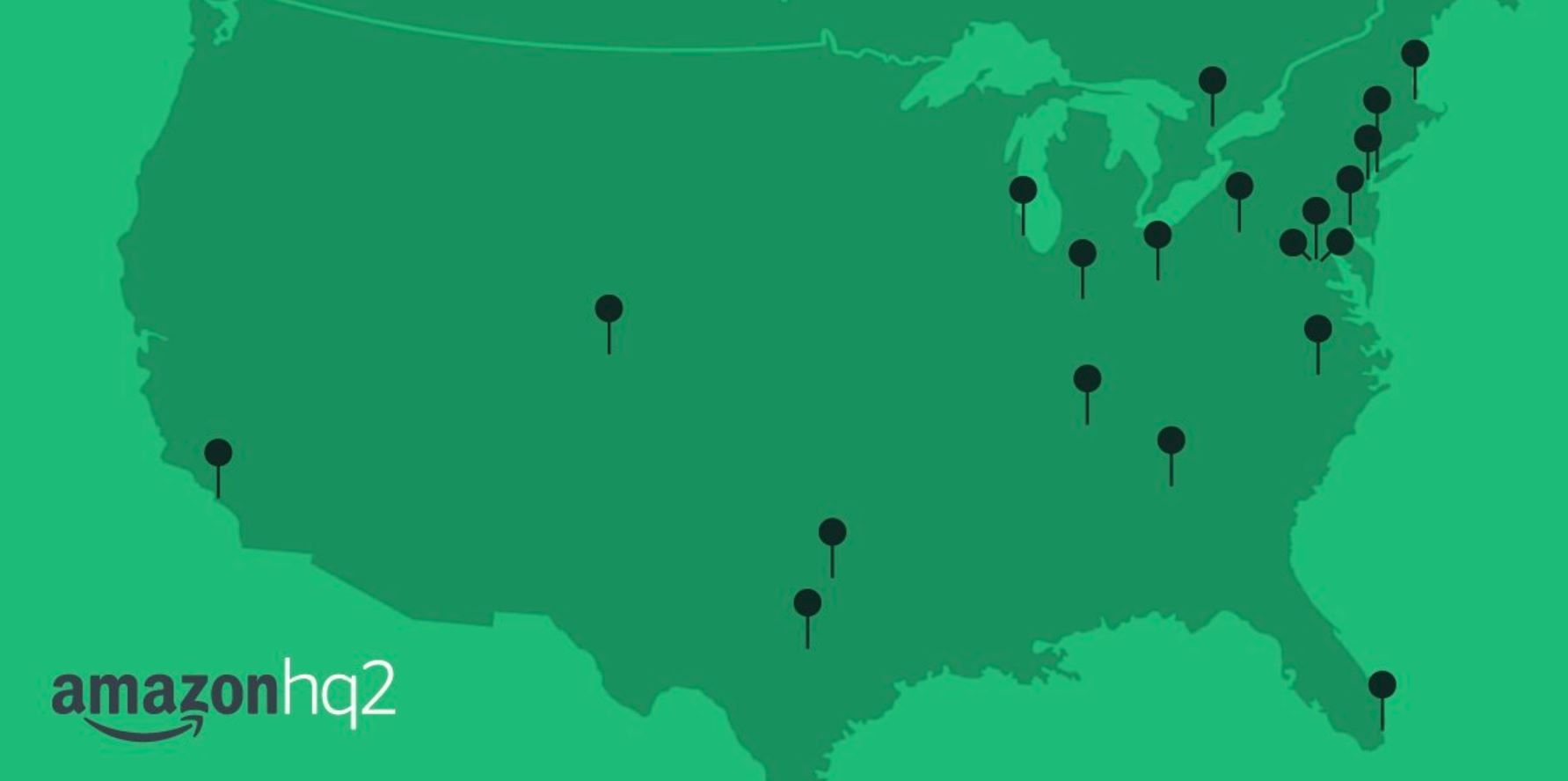 Amazon announced its shortlist of cities for its new North American headquarters on Thursday, with most finalists for HQ2 clustered in the north east of the United States.
The shortlist includes one Canadian city and 19 cities in the U.S., with some bookmakers putting Atlanta, Austin and Boston as the odds-on favorites to win the bid.
The Amazon HQ2 Shortlist:
Atlanta, Georgia
Austin, Texas
Boston, Massachusetts
Chicago, Illinois
Columbus, Ohio
Dallas, Texas
Denver, Colorado
Indianapolis, Indiana
Los Angeles, California
Miami, Florida
Montgomery County, Maryland
Nashville, Tennessee
New York City, New York
Newark, New Jersey
Northern Virginia, Virginia
Philadelphia, Pennsylvania
Pittsburgh, Pennsylvania
Raleigh, North Carolina
Toronto, Ontario
Washington D.C.
The HQ2 headquarters will be Amazon's second headquarters in North America, following its first headquarters in Seattle, Washington. The new headquarters is expected to bring over $5 billion in investments to the chosen location, as well as around 50,000 high-paying jobs.
"It will be a full equal to our current campus in Seattle," Amazon states on its website. "In addition to Amazon's direct hiring and investment, construction and ongoing operation of Amazon HQ2 id expected to create tens of thousands of additional jobs and tens of billions of dollars in additional investment in the surrounding community."
Amazon founder Jeff Bezos—who recently became the richest person in the world thanks to his stake in the retail giant—encouraged bidders for HQ2 to "think big and creatively," leading to some imaginative offers from some of the prospective towns.
In Tucson, Arizona, the region's economic development agency Sun Corridor sent Amazon a 21-foot saguaro cactus in an effort to convince Amazon that its town would be the best location. Amazon was forced to donate the cactus to a local museum due to a no-gifts policy.
Read more: Five of the most bizarre bids among 238 suitors for Amazon's new HQ2 headquarters
Another town in Georgia offered to change its name to 'Amazon' if it were to be selected, though with a population of only 53,000 people, the town of Stonecrest might have struggled to accommodate a company of Amazon's size.
Of all the bizarre bids, only that of Pittsburgh made Amazon's HQ2 shortlist. Local restaurant Primanti Bros. said in October that it would give a free sandwich to every Amazon employee if Pittsburgh wins its bid.
"When they arrive, everyone's going to get a free sandwich," a spokesperson for the restaurant chain said. "Why not sweeten the pot with something delicious and Pittsburgh related?"
The Pittsburgh Post-Gazette calculated this pledge would cost $350,000 to fulfill.