Even Peyton Reed Doesn't Know Where 'Ant-Man 3' Fits in the MCU's Timeline
Each year the Marvel Cinematic Universe expands, its complicating stories spread their timelines farther and deeper, making it harder for some viewers to keep track of the mega franchise's heroes.
Ant-Man and the Wasp: Quantumania kickstarts Phase 5 of the MCU, and it sees Scott Lang (Paul Rudd) return for the newest chapter in his individual superhero journey, which will see him face the franchise's next big baddie: Kang the Conqueror (Jonathan Majors).
The film sees Scott, his daughter Cassie (Kathryn Newton), Hope van Dyne (Evangeline Lilly), and Hope's parents, Janet van Dyne (Michelle Pfeiffer) and Dr. Hank Pym (Michael Douglas), get transported into the Quantum Realm after Cassie sent a signal to it.
It is there that Ant-Man comes head-to-head with Kang, but also where Janet has to face up to the dark truths of her 30 years spent in the realm.
Even Peyton Reed Doesn't Know Where Ant-Man 3 Fits in the MCU's Timeline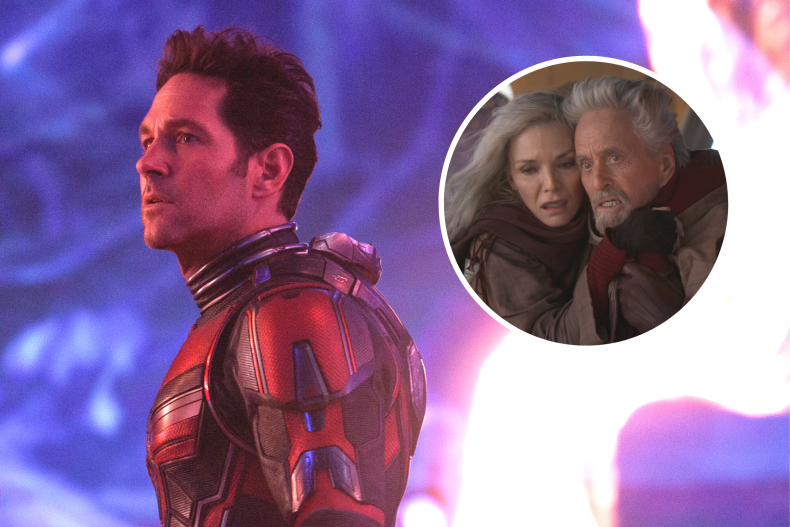 Marvel's Phase 4 was not the easiest to navigate, particularly when it came to narrowing down what year each film and show took place in, or even which came first chronologically.
Marvel's Multiverse Saga features a slew of projects across several phases. In addition to this, the content-heavy Phase 4 has made it somewhat messy to keep up with. It seems that it's not just viewers who feel this way, however.
Ant-Man and the Wasp: Quantumania director Peyton Reed told Newsweek where he thinks the film fits into the MCU, but admitted he didn't know an exact year and only Marvel Studios President Kevin Feige and the top people in Marvel know the exact timeline of the MCU.
Reed said: "There was someone specifically recently—I can't remember who it was—who was tasked by Marvel to write that official timeline of how everything progresses, and there's the whole Earth-616 timeline and now you're into multiversal stories, and then, of course, the weird five-year gap in [Avengers:] Endgame, it's impossible to tell.
"I mean, all I know is this movie takes place in the present day and because of that five-year gap, Cassie is now 18 years old. So, she was six in the first and nine in the second. My answer to that is the present day.
"I can't [pick a year]—you're gonna have to go home and do the math on this. You're gonna have to figure out the timeline."
"Everybody thinks there's sort of like a safe room at Marvel where there's a big chart where it happens," Reed continued. "But there is someone within Marvel whose job it is to keep that timeline accurate, but then sometimes it's thrown out the window."
So, Where Does Ant-Man and the Wasp: Quantumania Fit in the MCU's Timeline?
For those specifically wondering about the year Ant-Man and the Wasp: Quantumania is set in, well, we've gone home and done the math as Reed suggested.
If we base the Ant-Man films' timeline on Cassie's age then it breaks down as follows: Ant-Man was set in 2015 when Cassie was 6, so Ant-Man and the Wasp is set in 2018 when Scott's daughter, as Reed said, is 9. This all checks out with the previously confirmed MCU timeline.
So, if she is 18 in the new film, and things haven't been "thrown out the window" as Reed joked, then that means Ant-Man and the Wasp: Quantumania is set in 2027.
This puts the latest film much further than other movies and TV shows in the MCU in terms of its timeline, as the other projects are currently still believed to be set in the years 2025 and 2026. Let's break it down.
The MCU Phase 4 and 5 Timeline Explained
WandaVison is set in 2023, shortly after "The Blip," as Wanda Maximoff (Elizabeth Olsen) is still grieving the loss of Vision, and Captain Monica Rambeau (Teyonah Parris) is shown returning from "The Blip" after the Avengers defeated Thanos.
The Falcon and the Winter Solider is set in 2024 with Sam Wilson (Anthony Mackie) and Bucky Barnes (Sebastian Stan) struggling with the loss of their friend Steve Rogers, aka Captain America (Chris Evans). Wilson then takes up the mantle.
Shang-Chi and the Legend of the Ten Rings is also set in 2024 and She-Hulk: Attorney at Law comes around the same time as the Disney+ show references Abomination (Tim Roth) and Wong's (Benedict Wong) fight from the Simu Liu-led film.
This is followed by Spider-Man: No Way Home, which unfolds in November 2024, and Hawkeye, which takes place around Christmas that same year.
Doctor Strange in the Multiverse of Madness is set after the events of No Way Home, placing it roughly in 2025, as do Ms. Marvel and Moon Knight. However, the Oscar Isaac-led show's timeline placement is more challenging to pin down as it is so dissociated from the rest of the MCU.
Meanwhile, Black Panther: Wakanda Forever producer Nate Moore has previously said that the Letitia Wright-led sequel is set during Thor: Love and Thunder, and just before the new Ant-Man film.
Thor: Love and Thunder's timeline can be pinned down approximately based on Thor's reference to his break-up with Jane "eight years, seven months, and six days" earlier. It hasn't been specified exactly when Thor and Jane broke up, however, he was single by Thor: Ragnarok which is set in 2017. So, by our estimation, the most recent Thor film is set around 2026.
In an interview with CinemaBlend, Moore said of Black Panther: Wakanda Forever: "This movie clearly happens after [Spider-Man] No Way Home and Eternals.
"I think it probably happens potentially concurrent with Thor [Love and Thunder]. New Asgard does exist in... our film. And almost concurrent with Ant-Man And The Wasp: Quantumania, which is coming out in February."
So, this suggests that Black Panther: Wakanda Forever is set in 2026. If we assume that this is in late 2026, the theory that Ant-Man and the Wasp: Quantumania is set in 2027 holds up.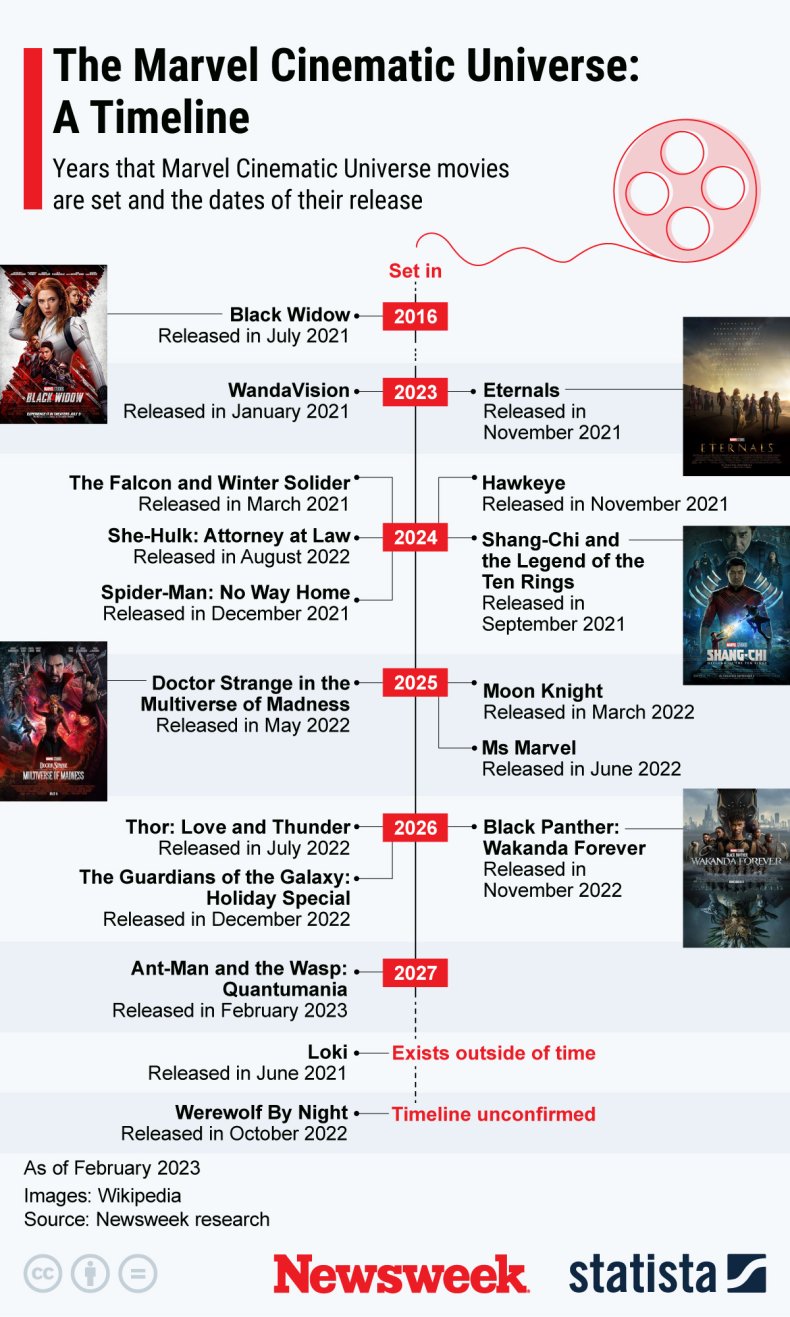 This chart, provided by Statista, shows the years that the Marvel Cinematic Universe movies are set in and the dates of their release.
The MCU Phase 4 and 5 Timeline in Chronological Order:
Black Widow - 2016
WandaVision - 2023
Eternals - November-December 2023
The Falcon and Winter Solider - 2024
Shang-Chi and the Legend of the Ten Rings - 2024
She-Hulk: Attorney at Law - 2024
Spider-Man: No Way Home - November 2024
Hawkeye - December 2024
Doctor Strange in the Multiverse of Madness - Late 2024 to Early 2025
Moon Knight - 2025
Ms Marvel - 2025
Thor: Love and Thunder - 2026
Black Panther: Wakanda Forever - 2026
The Guardians of the Galaxy: Holiday Special - December 2026
Ant-Man and the Wasp: Quantumania - 2027
Loki - Exists outside of time
Werewolf By Night - Unconfirmed