Where Are Bernie Sanders and College Campus Activism When We Need Them Most? | Opinion
As a father who went to college during the Vietnam era, and a daughter who, as a millennial, is far closer to college age, we're both happy with how well Joe Biden is polling among older Americans, especially because that voting bloc turns out to vote in relatively high percentages. Even the most recent Fox News poll has him leading by 17 points among voters 65 plus, an age segment that Hillary Clinton lost to Donald Trump by 7 percent—a 24-point swing. This alone could be decisive. Few observers believe Trump can win if he loses older Americans by these margins.
However, we are still a long way from November, and most of these gains came as Donald Trump displayed such complete incompetence in managing the COVID-19 pandemic that Biden had very little to do to win support.
In all likelihood, the pandemic will be the defining issue of the 2020 presidential campaign, and Biden will no doubt benefit from the broad perception of Trump's abysmal leadership through this crisis. However, the Trump campaign will fight back by bringing up Biden's mental acuity and past record, and it has massive financial resources at its disposal to drive home those attacks—especially through its commanding use of social media.
How can Biden counter the coming onslaught? What can he do to be competitive on social media, where the Trump campaign is outspending him 3 to 1?
As father and daughter, we don't always agree on cross-generational issues, but on this one, we agree the answer lies in how to catalyze the participation of voters on the opposite end of the age spectrum from the older Americans with whom Biden is doing so well. The Biden campaign must mobilize college-age voters to express their deep distaste for Trump through social media.
Americans of the baby boomer generation remember the Vietnam War era as one where college campuses exploded with protests. Both Lyndon Johnson and Richard Nixon faced campus unrest at levels we have not seen since. While the protests we have seen over the past week are somewhat reminiscent of the type of protesting and urban unrest we saw during the 1960s civil rights struggles, by contrast college campuses have been very quiet when it comes to anti-Trump protests compared to the type of anti-administration campus unrest we saw 50 years ago.
Trump's standing among college-age voters is even lower at this point in the election cycle than Nixon's was versus George McGovern in the Vietnam era, with Trump now trailing Biden in polls among the youngest voters by over 30 percent. Young voters are rightfully disgusted by the Trump administration's corruption, racism and policy malfeasance. However, it has been somewhat disappointing, and perplexing, to see so little by way of traditional student protests on college campuses.
There are various theories as to why college protesting is not what it used to be. Some believe it is because social media has provided a forum for "sounding off" that has replaced physical protesting. Others suggest that the student protests in the Vietnam era were driven by powerful self-interest to not be drafted into war, and the stakes simply haven't been as high since. Neither rationale, however, suggests we should give up on student activism as a powerful mechanism for change.
Senator Bernie Sanders clearly showed he could light a fire under college students by addressing the issues where their self-interest is strongest. Whether it was student loan forgiveness, a path to free college tuition, Medicare for All or other ways to secure a more stable financial future for young Americans, the policies Sanders promoted galvanized young people in not just one but two presidential election cycles.
Biden needs Sanders as an ambassador. The senator must point to the fact that Biden's policy positions have evolved to embrace some of the more popular platform elements among young voters. He must also direct them to fight for Biden on social media.
If Sanders recruited all his campus organizers to enlist as many college voters as possible to disseminate Biden campaign messages across their social networks, Biden could have an enormously powerful and cheap media messaging machine. If done right, this could also support the young voter registration drives that Stacey Abrams and others are spearheading.
College students' messaging on social media could influence not just their peer group but also the parents, grandparents, aunts, uncles, cousins, co-workers and anybody else digitally connected to them. There are very few voters left who have not decided if they are pro-Trump or anti-Trump. This election is likely to hinge on each candidate's ability to motivate his side to get out the vote (or mail in the vote), and relentless social media messaging will be critical to generating that motivation.
A nationwide army of college students at the ready to counter every lie out of Trump's mouth or missive on his Twitter feed would be a major campaign communications coup. Simultaneously, all this messaging could help get out the young vote. Turnout in key states with large college-age populations, such as Wisconsin and Arizona, could be pivotal. A Biden win in either of those two states looks like it might clinch the presidency.
The social media messaging operation we envision is straightforward but sophisticated. For instance, messages would be customized based on age group and distributed through the most relevant platforms. Facebook or email may be the most effective way to engage older voters, and TikTok or Instagram may be best for younger people. Students would need to be armed with easy tools to personalize messages. This would make the entire effort more effective, given that students know their own social sphere best.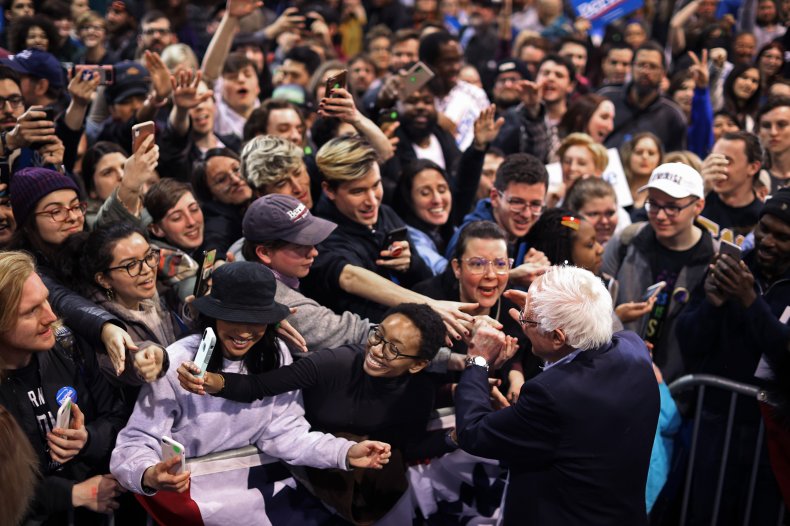 The Biden campaign has recently picked up its game when it comes to social media advertising, hiring in key states, putting in place a bigger field organization and developing an apparatus to tap influencers to regularly weigh in. If Biden can mobilize young voters, he will not only expand his campaign resources significantly but create a megaphone even stronger than the social media tactics of the Trump campaign.
This approach also deals with the fact that traditional door-to-door campaigning, not to mention large in-person rallies, is unlikely this fall. Given the pandemic, digital and virtual outreach will become even more significant.
So, our message is this: Bernie Sanders, no one needs a platform fight at a virtual convention.
We need you to mobilize the college students you proved can form a political movement, so they can marshal their extensive social networks to put this president out of office.
Jessica Rogers Ecker is an attorney in New York City, and a former clerk for a United States Court of Appeals judge and a United States District Court judge.
Tom Rogers is an editor-at-large for Newsweek, the founder of CNBC and a CNBC contributor. He also established MSNBC, is the former CEO of TiVo, currently executive chairman of Engine Media, and is former senior counsel to a congressional committee.
The views expressed in this article are the writers' own.