Where Do 2020 Democrats Stand on Question of Reparations for Slavery? It's Complicated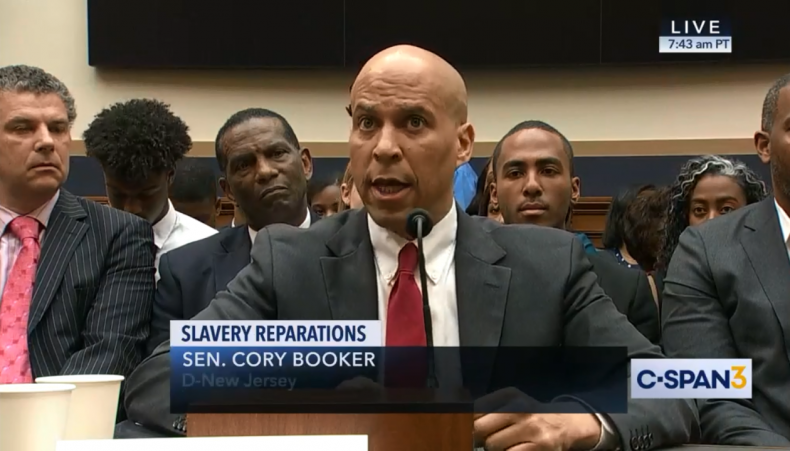 As the House of Representatives holds historic hearings on reparations for slavery for the first time in more than a decade, renewed attention has been paid to the 2020 Democratic candidates and their positions on the issue, which vary greatly.
Senator Cory Booker was himself the sole witness during the first panel heard by the House Judiciary subcommittee on Wednesday.
He told his House counterparts that America has "not yet truly acknowledged and grappled with racism and white supremacy that has tainted this country's founding and continues to persist in those deep racial disparities and inequalities today."
Booker appeared to hold back tears as he delivered self-described "brokenhearted and very angry" remarks at Wednesday's hearings.
But beyond his sponsorship in the Senate of a companion bill to H.R. 40, the House measure to establish a slavery reparations commission, Booker declined to offer specific policy commitments in his statement.
Senator Kamala Harris has told The New York Times that she supports reparations.
"We have to be honest that people in this country do not start from the same place or have access to the same opportunities," her statement to the paper read. "I'm serious about taking an approach that would change policies and structures and make real investments in black communities."
Senator Elizabeth Warren told the Times and Reuters that she backs reparations as well, but did not elaborate on the issue beyond vague, supportive language.
Warren said that America needs to "confront" the legacy of racism and implement "systemic, structural changes" as part of that effort.
In an interview with The Root, former Housing and Urban Development Secretary Julián Castro disclosed he was willing to consider a reparations plan.
He said he has "long thought" America would be "better off" once it provided the descendants of slavery with reparations.
At a CNN town hall, in response to a question about his support for restitution, Senator Bernie Sanders described his endorsement of a House bill that would concentrate federal resources on "distressed" communities, areas with high amounts of poverty.
When moderator Wolf Blitzer pressed Sanders on his specific stance on reparations, he demurred: "What does that mean?"
"I think that right now our job is to address the crises facing the American people and our communities," Sanders explained on The View earlier this year. "I think there are better ways to do that than just writing out a check."
Sanders has further said he "would sign" a bill commissioning a reparations study such as the one introduced by Booker. In a video statement posted to Twitter Wednesday, he affirmed that "understanding the legacy of slavery" is something the government should undertake.
Marianne Williamson, the self-help guru, proposed perhaps the most sweeping reparations program of any candidate. Her campaign is calling for an investment of $200 billion to $500 billion over 20 years in various "educational and economic" projects to be determined by a panel of African-American community leaders.
The current conversation around reparations has been reinvigorated, in part, due to author Ta-Nehisi Coates's 2014 essay for The Atlantic in which he made a comprehensive argument for federal reparations as a way to help heal the wounds that still remain from slavery and institutionalized racism.
During his initial bid for the White House, Barack Obama came out in opposition to reparations, arguing, as Sanders did at the CNN town hall, that the appropriate way to address historic inequities is through wholesale government investment in underfunded social programs.
While former Congressman Beto O'Rourke indicated he would support the House bill to study the legacy of racism, he said in New Hampshire in March that he doesn't think reparations "should be the primary or initial focus of the conversation."
Senator Kirsten Gillibrand threw her support behind working to "study the problem," and she has said that she would back targeted measures to help the black community.
Senator Amy Klobuchar, like her 2020 Senate colleagues, has signed on as a co-sponsor to Booker's bill, but she told Meet The Press host Chuck Todd in March that reparations don't "have to be a direct pay for each person."
At a National Action Network town hall event in April, former Colorado Governor John Hickenlooper pledged his support for the House bill and called on Congress to "convene a study on the best way to provide reparations."
"I'm supportive of the concept of acting proactively to right these wrongs," South Bend, Indiana, Mayor Pete Buttigieg said on The View in March. "If it's perceived, though, as just a check-in-the-mail system, I think we're going to have a hard time coming up with something everybody can believe is fair."
Vice President Joe Biden has shied away in recent years from providing a definitive stance on reparations. He told New Hampshire's WMUR, in response to a question on his position, that the country needs to "deal with the systemic things" that plague the African-American community.
In a 1975 interview with Delaware's People Paper, then-Senator Biden criticized the very concept of reparations as an affront to public policy.
"I don't feel responsible for the sins of my father and grandfather," he told the paper. "I'll be damned if I feel responsible to pay for what happened 300 years ago."