Where Kamala Harris Was Seated at Shinzo Abe's Funeral
Vice President Kamala Harris attended the funeral of former Japanese Prime Minister Shinzo Abe in Tokyo on Tuesday as dignitaries gathered for a controversial state event to honor Abe.
Abe was assassinated on July 8 while delivering a campaign speech in the city of Nara in western Japan and the decision to hold a state funeral for him has proven divisive and led to protests.
U.S. vice presidents often attend the funerals of foreign leaders on behalf of the president and Harris was sitting behind Japanese officials and others at the funeral on Tuesday.
While mourners came out onto the streets to mark Abe's passing on Tuesday, there were also widespread protests in the country with thousands marching through Tokyo toward the Budokan martial arts hall where the funeral was taking place.
Many protesters had banners or signs opposing the state funeral, which was boycotted by Japan's main opposition parties. Critics have argued the funeral is a reminder of pre-World War II Japan when state funerals were used to bolster nationalism.
There was some controversy earlier this month when President Joe Biden attended the funeral of Queen Elizabeth II at Westminster Abbey as he and his wife, first lady Jill Biden, sat in the 14th row during the ceremony.
That led to mockery from former President Donald Trump, who suggested he would have had a better position in the abbey if he had attended the state funeral.
However, protocol dictated where the U.S. president and other world leaders would sit at the late queen's funeral and the Bidens' position was not a snub.
Photos showed Harris sitting in the fifth row at the funeral alongside Rahm Emanuel, the U.S. ambassador to Japan who previously served as mayor of Chicago from 2011 to 2019.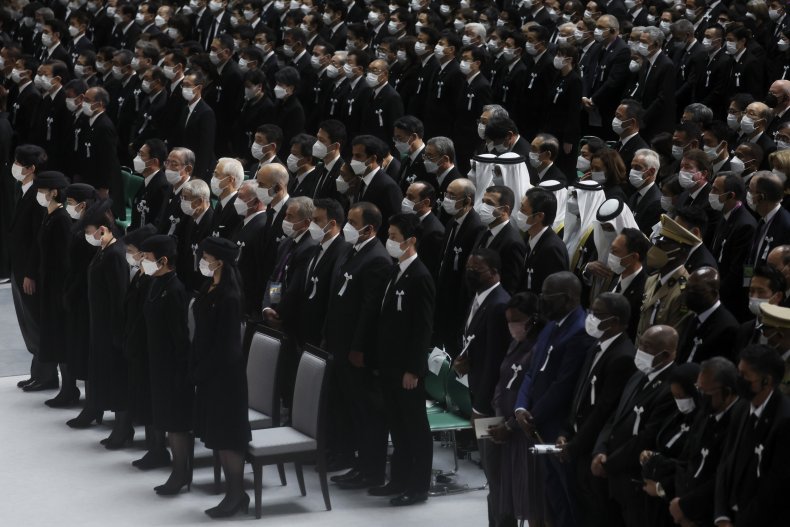 Harris and Emanuel were seated several rows behind Japan's Crown Prince Akishino and his wife, Crown Princess Kiko, who were in the first row along with other dignitaries.
Current Japanese Prime Minister Fumio Kishida was immediately behind the crown prince in the second row along with other officials.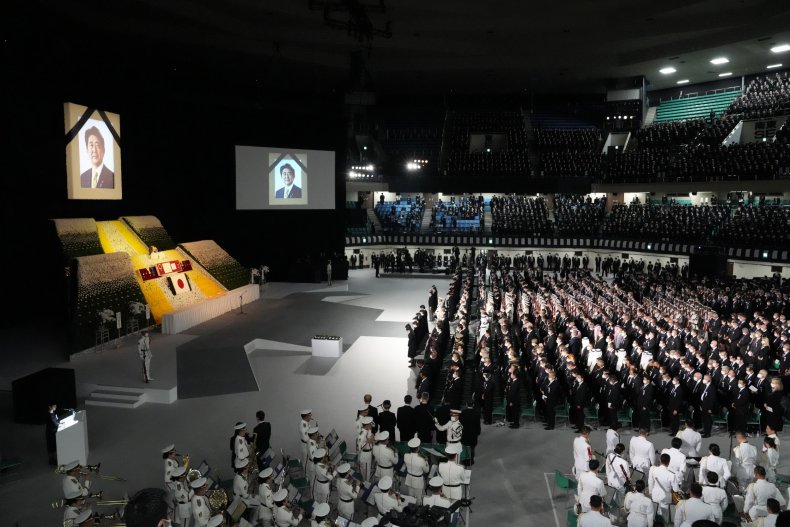 Photos from Tuesday's event also show Harris and Emmanuel sitting behind a group who appear to have been the delegation from the United Arab Emirates (UAE).
That delegation was set to be led by Sheikh Khaled bin Mohamed, but it was not immediately clear from the available photos if he was among the group sitting in front of Harris.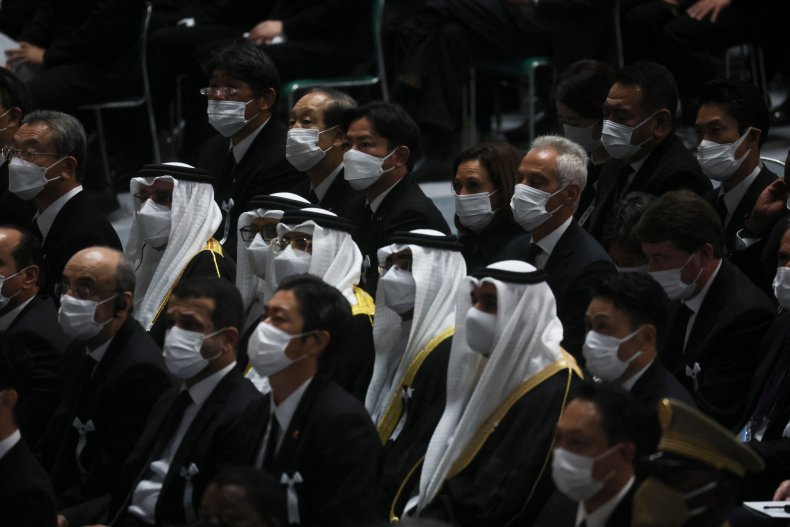 Newsweek has reached out to the UAE for comment.
Prime Minister Kishida appeared to address Abe, Japan's longest-serving prime minister, directly during a 12-minute eulogy on Tuesday.
"You were a person who should have lived much longer," the prime minister said. "I had a firm belief that you would contribute as a compass showing the future direction of Japan and the rest of the world for 10 or 20 more years."