Where Is Kim Jong Un? North Korean Leader's Sister Kim Yo Jong Seen to Take On Increasingly Prominent Role
In recent weeks, North Korean leader Kim Jong Un has appeared to take a more background role in leading his country as his younger sister Kim Yo Jong has appeared to become more prominent publicly. Meanwhile, the East Asian nation has returned to an increasingly aggressive stance toward South Korea and the West.
On Tuesday, North Korea demolished an inter-Korean liaison office that had served as a diplomatic facility between the South and North of the peninsula, as the two nations attempted to deescalate longstanding tensions. The decision to demolish the facility came after Kim Yo Jong warned publicly of military action targeting the South, expressing anger at efforts from South Korean activists to send anti-regime propaganda pamphlets into the North.
"By exercising my power authorized by the supreme leader, our party and the state, I gave an instruction to the arms of the department in charge of the affairs with enemy to decisively carry out the next action," Kim Yo Jong said in a Saturday statement. "I feel it is high time to surely break with the South Korean authorities. We will soon take a next action."
The younger Kim also described those sending pamphlets, some of whom were North Korean defectors, "mongrel dogs" and "human scum."
"Kim Yo Jong has asserted herself as the de facto No. 2 figure in the North Korean hierarchy since early March," Sung-Yoon Lee, a professor of Korean Studies at The Fletcher School at Tufts University, told Newsweek in an email.
"In the past two weeks Ms. Kim has assumed an even higher role – one that is tantamount to her brother's role as supreme leader," Lee said.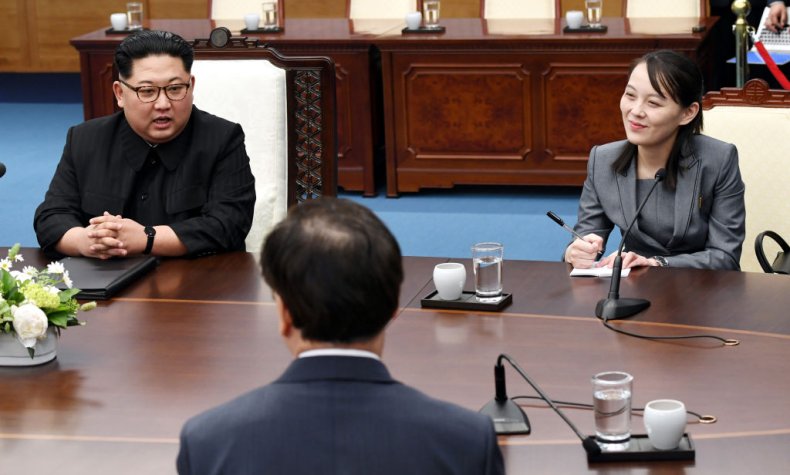 Kim Yo Jong, who is in her early thirties, has been a prominent member of Kim Jong Un's regime since at least 2014. Her elder brother came to power as the country's supreme leader in December 2011 following the death of their father, Kim Jong Il. She first served as First Vice Director of the Propaganda and Agitation Department from November 2014 until December of last year, when she became the First Vice Director of the United Front Department. Some analysts believe she is still in charge of propaganda as well.
The younger Kim's increasing prominence in North Korea has come after speculation in April that her brother was unwell, with rumors circulating that he may have died or have fallen critically ill. U.S. officials discounted these rumors in remarks to Newsweek on April 21, and South Korean officials also said they did not believe there was anything unusual. Kim later reportedly appeared in public on May 1, as he attended the completion ceremony of a fertilizer plant in the central southeastern town of Suncheon.
But President Donald Trump helped fuel the speculation surrounding Kim Jong Un's health and well-being prior to that appearance. When asked by reporters about the North Korea leader, he said he couldn't discuss the issue.
"Kim Jong Un? I can't tell you exactly. Yes, I do have a very good idea, but I can't talk about it now," Trump told reporters at the time. "I just wish him well."
"I hope he's fine," the president said. "I do know how he's doing, relatively speaking. We will see. You will probably be hearing in the not-too-distant future." However, Trump also suggested that a CNN report saying Kim Jong Un was gravely ill was "fake."
A spokesperson for the State Department did not address Newsweek's questions about Kim Yo Jong directly, but voiced support for South Korea while criticizing North Korea's efforts to escalate tensions with its southern neighbor.
"The United States fully supports the ROK's [Republic of Korea's] efforts on inter-Korean relations and urges the DPRK [Democratic People's Republic of Korea] to refrain from further counterproductive actions," the spokesperson said.
A representative for 38 North, a website devoted to analysis about North Korea, referred Newsweek to a May 1 article it published by analysts Chris Steinitz, Ken Gause and Elizabeth Yang.
"The political power of Kim's sister, Kim Yo Jong, has grown. She has represented the Supreme Leader abroad, and has received political positions in the Politburo, North Korea's highest organ of power. In recent months, she has demonstrated her growing influence through providing guidance to the military and making public pronouncements on economic and security policy," the analysts wrote.
"The systematic rise and positioning of Kim Yo Jong signals the development of a continuity of governance plan, although the details of this plan remain unclear. It could be grooming her to be Supreme Leader, or ensuring that she plays a prominent leadership role, perhaps as a regent," they added. However, they said this plan would likely take "several more years to complete."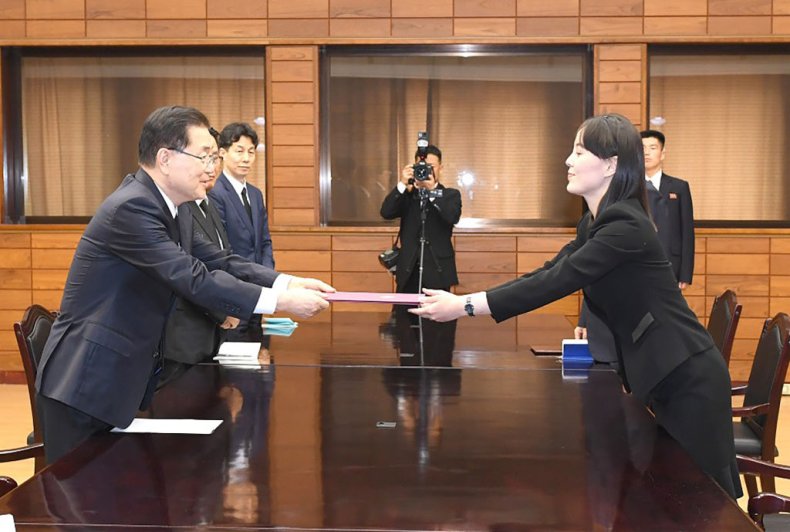 Lee told Newsweek that Kim Yo Jong's growing prominence made sense considering the current reality in North Korea.
"It makes sense for North Korea to build up the sister now. Kim Jong Un's kids are too young to succeed him over the next 20 years. Perhaps Kim [Jong Un] does have a health issue and finds it necessary to have a contingency plan," Lee said. "She's on a roll because she needs to present specific 'achievements' under her own name–'punishing' the craven South and the 'human scum' North Korean defectors who send leaflets into North Korea."
What happens with the regime in North Korea moving forward remains to be seen, but it appears clear that the country has taken a hard turn away from negotiations with South Korea and the U.S. Trump previously made de-escalating tensions with North Korea and denuclearizing the country a priority of his administration.
Although the president held three high-profile summits with Kim Jong Un, becoming the first sitting U.S. head of state to meet with a top North Korean leader and to step foot in the East Asian nation, those efforts have not resulted in any meaningful changes. Most analysts believe that the Kim regime has worked to expand its nuclear and missile programs even as it discussed de-escalating tensions. A report released Monday by the Stockholm International Peace Research Institute said that North Korea has grown its nuclear arsenal from an estimated 20 to 30 weapons last year to 30 to 40 today.
Lee said that he expects an even bigger escalation from North Korea moving forward, suggesting that the country aims to put pressure on the U.S.
"North Korea announced late last year it would unveil a major new strategic weapon soon. Probably COVID-19 made Kim Jong Un reconsider," he said. "But, now's a particularly good time to put max pressure on Trump." Lee said that even if Democratic presidential candidate Joe Biden were to win in November, it makes sense, from North Korea's perspective, to keep up the pressure.
"For now, Ms. Kim will play the role of the bad cop while her brother remains in the background. When the time comes to return to post-provocation peace ploy, Mr. Kim will come out with smiles beaming," the professor predicted.