Where Is the Migrant Caravan and When Will it Reach the U.S. Border?
By October 30, the first of several migrant caravans making their way up through Central America to the U.S. border had reportedly reached Santiago Niltepec, a town in southwestern Mexico's state of Oaxaca which was recently hit by an earthquake.
The town sits around 896 miles by foot from the nearest border crossing at Reynosa, Mexico, which is just over the line from McAllen, Texas, according to Google Maps.
"We wish we had a space dignified enough to offer our visitors," said Zelfareli Cruz Medina, Niltepec's mayor, Reuters reported.
It is not clear which route the caravan, which had swelled to include around 7,000 migrants but has since dwindled to include around 4,000 people, will take. According to the United Nations, there are around 2,300 children travelling with this caravan of refugees fleeing poverty and violence.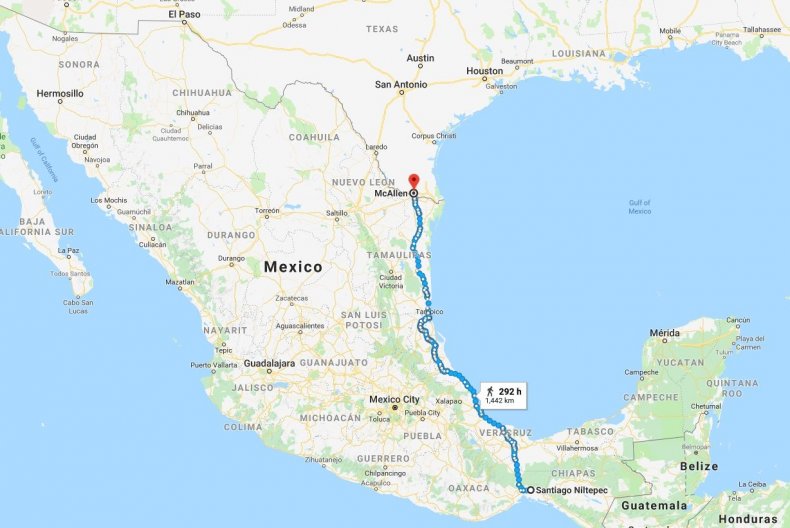 If they follow a similar path to a caravan making the journey to the U.S. border back in April, the journey may take a significantly longer route to Tijuana in the far northwest of Mexico, south od San Diego, California.
By foot, Google Maps says the route is around 2,199 miles.
Whichever route the caravan takes, it will be some time before it reaches the American border on a journey taken mostly on foot, with occasional rides hitched on vehicles.
The caravan, which has picked up new people along the way in search of a better life in America, began with a few dozen migrants gathering on October 12 and setting off the next day from the city of San Pedro Sula, Honduras.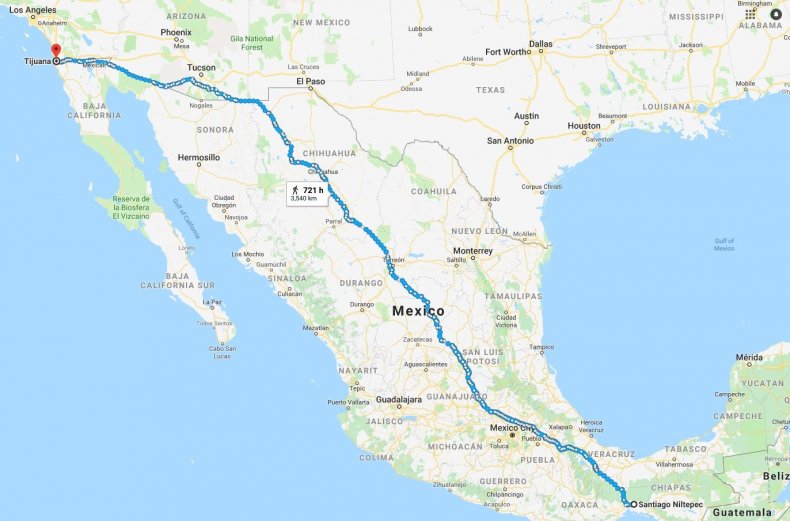 It took the growing group 18 days to travel the 620-mile trip from there to Mexico's Santiago Niltepec, a speed of around 35 miles per day.
If the caravan maintains that speed, it would reach the nearest Mexico-U.S. border in Texas in around 25 days, arriving on the weekend after Thanksgiving at the end of November.
However, if it were to choose the Tijuana route, the caravan would take around 63 days, arriving on or around New Year's Day in 2019.
President Donald Trump has referred to the caravan as an "invasion" and sent the military to the border despite its considerable distance from America and advice that just a few of those travelling will actually make it.
The Trump administration was informed that "only a small percentage" of migrants traveling with caravans will likely reach the U.S.
The information was received before the administration moved ahead with plans to deploy more than 5,200 troops to the border, according to operational documents obtained by Newsweek. Trump wants to send thousands more troops down.
This article has been updated to include information on other caravans, a later estimate of the number of people taking part and the date the lead caravan set off.