'The Thing About Pam': What Happened to Mike Wood and Where is He Now?
The Thing About Pam examines the 2011 murder of Betsy Faria and the events that took place in the tragic incident's aftermath, including the wrongful conviction of her husband Russ (Glenn Fleshler).
Given it is a true-crime drama, the NBC show features a number of real-life people on the small screen, from those directly involved in the case, like Pam Hupp (Renée Zellweger), to those who became key figures later on, like Mike Wood.
Wood is portrayed by Dane Davenport in the show and he is introduced in Episode 5, which aired on Tuesday, April 5, when he meets with attorney Joel Schwartz (Josh Duhamel).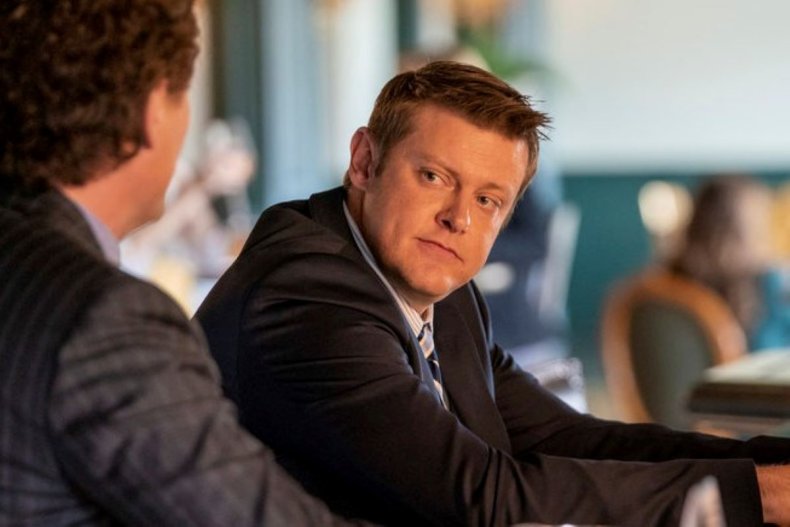 During their conversation Wood tells Schwartz he will run against Leah Askey (Judy Greer) for the position of Lincoln County prosecuting attorney, namely so he can reopen the Betsy Faria murder case and name Hupp as the main suspect.
Here is everything you need to know about Wood and where he is now.
What Happened to Mike Wood's Bid to Become Lincoln County Prosecuting Attorney?
As detailed in the show, Wood did run against Leah Askey, now Leah Chaney, in 2018 when she made her reelection bid. He won the race and is now the Lincoln County prosecuting attorney.
Following his election to the position Wood said, per local publication Forsyth County News, that he was aware of how much responsibility now rested on his shoulders.
He explained: "The honest truth is now you feel a sense of responsibility to all those people who put their faith into you to go in, make the changes, provide adequate leadership and be the responsible prosecutor that they deserve and that they wanted. It's a huge burden, as well, in a good way."
Wood also reflected on how the voters were shocked by how the Betsy Faria murder case was handled by his predecessor Chaney, which helped show that he was the right person for the job.
According to the publication, he said: "Here locally, the voting base was really upset about how that entire case was mishandled.
"As a former prosecutor here and in another county, that was the point we really hammered: 'We deserve a competent leadership here locally.'"
Where Is Mike Wood Now?
On July 12, 2021 Wood held a press conference in which he announced he was charging Hupp with first-degree murder and armed criminal action in the Betsy Faria case, per KSDK news.
Hupp, who is currently serving a life sentence for the 2016 murder of Louis Gumpenberger, has denied all allegations and has pled not guilty.
In his press conference Wood confirmed that his office would be seeking the death penalty, saying: "I do not take that decision lightly, but this case stands alone in its heinousness and depravity, such that it shocks the conscience."
Wood also reflected on how the original case was handled and the fact the Russ Faria was wrongfully convicted of his wife's murder, and was found guilty despite having an alibi and police finding no blood on him. Faria's conviction was overturned by a judge in 2015.
"This is one of the poorest examples of investigative work that I, as well as my team, have ever encountered," Wood said in the press conference. "It was driven largely by ego, and working toward an agenda rather than truth."
The Thing About Pam finale airs Tuesday, April 12 at 10 p.m. EDT on NBC.