Where Does 'Ms Marvel' Fit Into the MCU Timeline?
Ms Marvel is the Marvel Studios' newest Disney+ show, bringing a whole new chapter to the Marvel Cinematic Universe (MCU).
The show will introduce Marvel's first Muslim superhero to the MCU, Kamala Khan, who is portrayed by Iman Vellani.
With so many TV show's now entering the MCU, it might be hard to keep track of exactly where they fit into the franchise's timeline.
Here is everything you need to know about Ms Marvel's placement.
Where Does 'Ms Marvel' Fit into the MCU Timeline?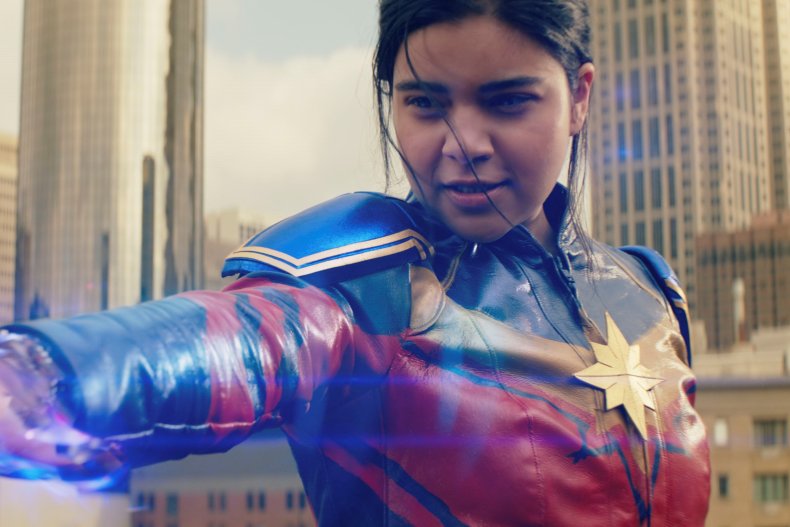 Ms Marvel follows 16-year-old Khan as she navigates life through high school while dreaming of the possibility of becoming a superhero.
Like her moniker suggests, Khan is a particular fan of Carol Danvers, aka Captain Marvel (Brie Larson), who was first introduced in her 2019 standalone but has actually been a hero within the MCU since 1995.
Ms Marvel does not take place this early on though, instead, like all of the Phase 4 Marvel films and shows, it is set after the events of Avengers: Endgame.
The show's writer and producer Sana Amanat has commented on exactly how long after Endgame the show is set, saying it was approximately two years later.
Speaking to The Direct, Amanat said: "So, I think right now, we haven't put an official number on how many years have gone by since Endgame.
"I cannot tell you off the top of my head because I would butcher it. I feel like it's one to two years [after Avengers: Endgame], something like that, but I don't actually remember [specifically]. But we do have that in our timeline."
Avengers: Endgame saw the titular team of heroes defeat Thanos and bring the half of humanity he killed in The Snap (or The Blip), and at the end of this fight it is 2023.
This means that Ms Marvel takes place at the earliest in 2024, and at the latest at some point in 2025.
The MCU Phase 4 Timeline Explained
Ms Marvel has a more clear place within the MCU's timeline in comparison to Moon Knight, for example, as the Oscar Isaac-led show is so dissociated from the rest of the MCU that it is difficult to pinpoint exactly when it is set.
Loki took place out of time entirely while WandaVison is set in 2023, shortly after The Blip, as Wanda Maximoff (Elizabeth Olsen) is still grieving the loss of Vision and Captain Monica Rambeau (Teyonah Parris) is shown returning after the Avengers defeated Thanos.
The Falcon and Winter Solider is set in 2024 with Sam Wilson (Anthony Mackie) and Bucky Barnes (Sebastian Stan) struggling with the loss of their friend Steve Rogers, aka Captain America (Chris Evans), before Wilson takes the mantle.
Shang-Chi and the Legend of the Ten Rings is also set in 2024, followed by Spider-Man: No Way Home in November 2024 and Hawkeye taking place around Christmas that same year.
The MCU Phase 4 Timeline in Chronological Order:
Black Widow - 2016
WandaVision - 2023
Eternals - November-December 2023
The Falcon and Winter Solider - 2024
Shang-Chi and the Legend of the Ten Rings - 2024
Spider-Man: No Way Home - November 2024
Hawkeye - December 2024
Doctor Strange in the Multiverse of Madness - Late 2024 to Early 2025
Ms Marvel - Between 2024 and 2025
Moon Knight - Unconfirmed
Loki - Out of Time
Ms Marvel premieres on Disney+ on Wednesday, June 8.