Where Is 'My 600-Lb Life' Patient Janine Mueller Now? Update on 621-Lb Woman
My 600-Lb Life patient Janine Mueller was determined to get weight loss surgery with renowned bariatric surgeon Dr. Younan Nowzaradan. And the Seattle resident was willing to do nearly anything to get to his hospital in Houston—including get on a plane. Despite her anxiety about going to the airport, and potentially be ridiculed for her weight, Mueller knew she needed the operation to save her life.
One of the things that scared Mueller most was what others would think of her. "I know it's going to be like a freak show, and everyone's going to stare and point at the large woman who can't walk for herself," she said in a sneak peek clip of the show, which aired on Wednesday. "It's one of the reasons why I hardly go out anywhere, because I hate when people stare. It's humiliating, and I'm scared out of my mind right now."
Appearances aside, traveling with damaged knees also frightened Mueller. "I know my body's not going to handle everything I'm putting it through today, but I have to do this," she said. "I just feel like it's time to suck it up, buttercup. It's time to get this done."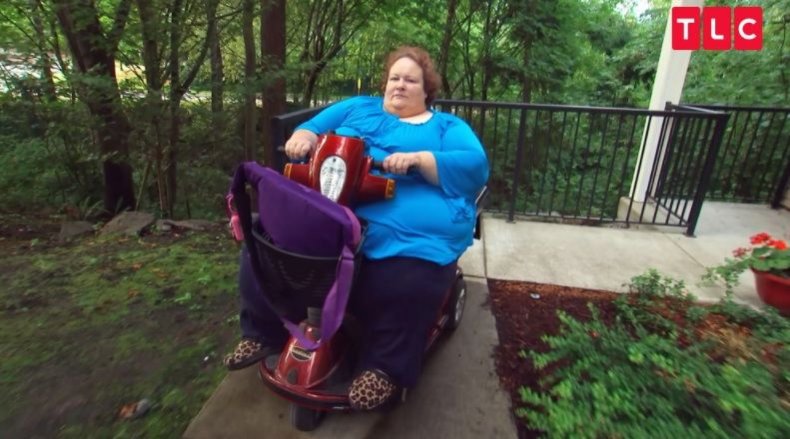 "I've tried so many things to get my weight under control, and every single thing has failed," she continued. "So I know that this is quite literally my last chance to get the help I need to turn my life around. So I can't fail at this. But right now, I'm so nervous."
The preview ended with Mueller struggling to get into the doorway of the plane. "My knees. Oh god," she said when she boarded the aircraft. "I can't do this. I can't do this. I can't do this," she said through tears.
So where is Mueller today? Her Facebook page is private, but on September 29 she wrote about traveling to Texas, writing, "Here I come!" She shared a picture of a longhorn that read, "Blessed."
The following month, she shared a picture of a squirrel, inscribed with the words, "Thankful, grateful, blessed." In December, she shared several pictures of herself. Lastly, on Wednesday, she posted a photo of herself with shorter, darker hair. Her face appeared thinner, though she didn't reveal how much weight she potentially lost.
Mueller did not immediately respond to Newsweek's request for comment.
My 600-Lb. Life airs Wednesdays at 8 p.m. ET on TLC.