Which Beaches Are Open for July 4 Weekend? What to Know Before You Go
With confirmed cases of the novel coronavirus in the U.S. surpassing 2.5 million, several beaches are closed for the July 4 weekend in a bid to reduce the risk of spreading infection, while some are expected to be open amid the ongoing pandemic.
Here we look at areas where beaches will remain open this weekend and what to bear in mind before heading to the beach.
What to know before you go
While some beaches may be open, activities and items may be banned or restricted, such as the ones listed below. Check the specific guidelines for your local beach before traveling.
A ban on barbecues, fireworks and fire pits.
A ban on gatherings and events of any kind.
A ban on tents and overnight camping.
A ban on alcoholic beverages.
Limited number of entrants to beaches.
Social distancing and face covering requirements may apply.
Limited physical activities including a ban on organized sports such as beach volleyball.
Limited parking and beach access points.
Ramp or gate closures at different entry points.
Limited or suspended public transport services to the beach such as buses.
Limited or no access to bathrooms and other public facilities at the beach.
Visitor center and administrative office closures.
Beaches open over July 4 weekend
Florida
While beaches in parts of South Florida, including Miami-Dade County and Broward County, will be closed this weekend, beaches in Pinellas County on the west central coast of Florida will remain open, Tampa Bay's ABC Action News reports.
County officials were reported to be impressed with how well locals have complied with any precautionary measures in place at reopened beaches and therefore aren't planning any closures for the Fourth of July.
On May 28, the Pinellas County announced updated guidelines for beaches, stating: "Effective immediately, social distancing restrictions removed, but visitors strongly encouraged to continue spreading out and acting safely when visiting the beaches. Signage will remain at the beaches to remind visitors of best practices."
Pinellas County Commissioner Ken Welch is reported to be more concerned about bars in the downtown areas of the county where residents have been seen standing closer together without wearing masks.
"We believe that we have to reopen, but we have to do that intelligently and in a way that we can sustain it. If we reopen the wrong way, we're gonna head right back towards a shutdown," Welch warned.
California
California is home to over 1,500 beaches across the state's 15 coastal counties, The Los Angeles Times reports. Several beaches across all 15 counties have been allowed to reopen with varying levels of restrictions outlined by local officials.
Santa Cruz was reported to be the last California county to reopen its beaches on Friday, in time for the July 4 weekend.
Santa Cruz County Health Officer Dr. Gail Newel said at a press briefing Thursday: "We had hoped to continue the beach closure until after the Fourth of July weekend, but it's become impossible for law enforcement to continue to enforce that closure, and people are not willing to be governed anymore in that regard, and so we want to recognize that by removing that restriction."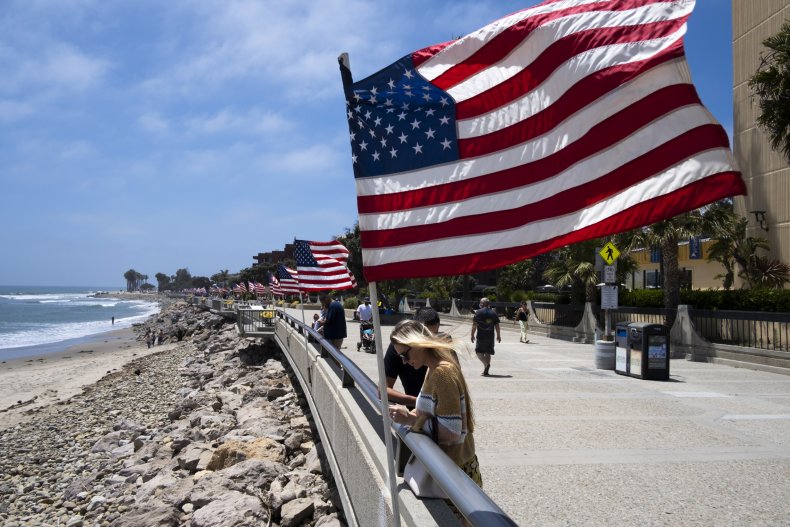 Beaches in Los Angeles County are open but the July 4 fireworks event in Marina del Rey is cancelled. A host of restrictions are in place across all LA County beaches, including masks being required when out of the water and around others. Permits are required for groups over 50 and for any organized parties, events and activities, The Los Angeles County Department of Beaches & Harbors notes.
Beaches in Sonoma County's coastal parks are also open, with visitors required to follow social distancing guidelines and face covering mandates. While beachgoers in Sonoma County can enjoy sunbathing and active beach recreation, "barbecues, picnic areas, campgrounds and other park facilities that encourage gatherings are closed," the County of Sonoma website confirms.
Several Russian River beaches in Sonoma County are also open, with large gatherings banned, while alcohol is not allowed at Healdsburg Veterans Memorial Beach, Steelhead Beach and Sunset Beach, the County of Sonoma website notes.
New York
Last Wednesday, New York City Mayor Bill de Blasio announced the city's beaches would be reopened for swimming from July 1 in a post on his official Twitter account.
The city's beaches include Orchard Beach in the Bronx, Coney Island and Manhattan Beach in Brooklyn, Rockaway Beach in Queens, as well as Midland Beach, South Beach, Cedar Grove Beach, and Wolfe's Pond Park Beach on Staten Island.
"Walking, running, exercising, and access to the sand and boardwalk are still permitted during regular park hours. Restrooms are open during regular hours," the New York City government website confirms.
Visitors to the beach are asked to limit the length of their visits, maintain social distancing practices and to wear face coverings. Barbecues, grills, gatherings and organized sports are banned, while drinking fountains are closed. Beaches with food services will only offer take out and delivery options, the website notes.
New Jersey
As of May 22, all public and private beaches in New Jersey were allowed to reopen with social distancing guidelines and other restrictions in place, under an executive order signed by New Jersey Gov. Phil Murphy.
Various facilities at or near the beach site remain closed, including water fountains, picnic areas, playgrounds, water play areas, such as splash parks, and water sport equipment, such as goggles, snorkels, fins and kickboards, the order confirms.
The novel coronavirus has infected more than 10.1 million people across the globe, including over 2.5 million in the U.S. Over 5.1 million globally have reportedly recovered from infection, while over 502,300 have died, as of Monday, according to the latest figures from Johns Hopkins University.
The graphics below, provided by Statista, illustrate the spread of COVID-19 in the U.S. and the worst-affected countries.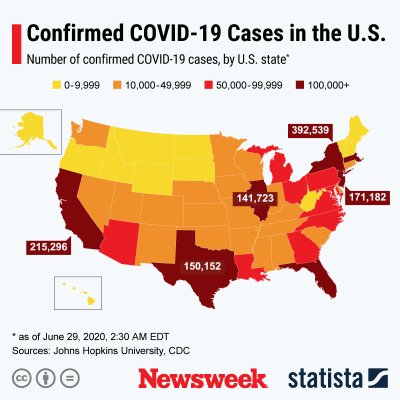 The graphic below, provided by Statista, illustrates the seven-day rolling average of new COVID-19 cases in the U.S. and European Union.