Countries Banning U.S. Tourists—Americans Not Allowed in These Nations
As novel coronavirus cases in the U.S. continue to soar, approaching nearly 3.9 million, several nations have banned entry to U.S. travelers in an effort to prevent the spread of infection.
Several countries in different regions, including North America, Europe and Asia, have closed their borders to Americans.
The U.S. State Department's global health advisory remains at level four, the highest level, and warns citizens "to avoid all international travel due to the global impact of COVID-19."
The department noted: "Many countries are experiencing COVID-19 outbreaks and implementing travel restrictions and mandatory quarantines, closing borders, and prohibiting non-citizens from entry with little advance notice.
"Airlines have canceled many international flights and several cruise operators have suspended operations or canceled trips. If you choose to travel internationally, your travel plans may be severely disrupted, and you may be forced to remain outside of the United States for an indefinite time frame," the department added.
The U.S. Centers for Disease Control and Prevention (CDC) also "recommends that travelers avoid all non-essential travel," to Brazil, China, Iran and most European countries, as well as the U.K. and Ireland.
"Most foreign nationals who have been in one of these countries during the previous 14 days will not be allowed to enter the United States," the CDC warned.
Note that guidelines for different countries may change at a moment's notice. Check the U.S. embassy, local government and tourism websites for full details on specific entry requirements and restrictions for your destination before traveling.
Countries where U.S. tourists are currently banned
The Bahamas
From Wednesday, all airports and seaports, for travel to and from the U.S., are closed. U.S. citizens on the islands will be permitted to leave after Wednesday under special accommodations.
Countries within the European Union
Austria
Italy
Belgium
Latvia
Bulgaria
Lithuania
Croatia
Luxembourg
Cyprus
Malta
Czech
Netherlands
Denmark
Poland
Estonia
Portugal
Finland
Romania
France
Slovakia
Germany
Slovenia
Greece
Spain
Hungary
Sweden
Ireland
U.S. tourists are banned from all 27 member countries of the European Union (EU). Exemptions to the ban apply for EU citizens and their family members, long-term EU residents and their family members as well as "travelers with an essential function or need, as listed in the recommendation," the European Council of the European Unionnoted.
"Schengen-associated countries (Iceland, Lichtenstein, Norway, Switzerland) also take part in this recommendation," the council added.
New Zealand
New Zealand has closed its border to nearly all travelers, except for those who qualify for an exemption or "we consider that you have a critical purpose for travel while the border is closed and grant you a visa which recognises this," the New Zealand government website noted.
Those who fall under the aforementioned circumstances must submit a request for permission to travel to the country.
Canada and Mexico
A ban on non-essential travel at U.S. land borders with Canada and Mexico was extended through August 21 earlier this month.
Authorities in the U.S., Canada and Mexico previously announced "the temporary restriction of all non-essential travel across their borders as of March 21, 2020, until further notice," according to the Canadian government website.
"The borders will remain open for commercial and health-related activities such as supply chains of food, fuel and medicine," the website noted.
Japan
Foreign nationals from the U.S. and several other countries are banned from entering Japan "for the time being, unless there are exceptional circumstances," the Japan National Tourism Organization (JNTO) advised.
China
Back in March, China suspended the entry of foreign nationals holding visas or residence permits, China's Ministry of Foreign Affairs confirmed.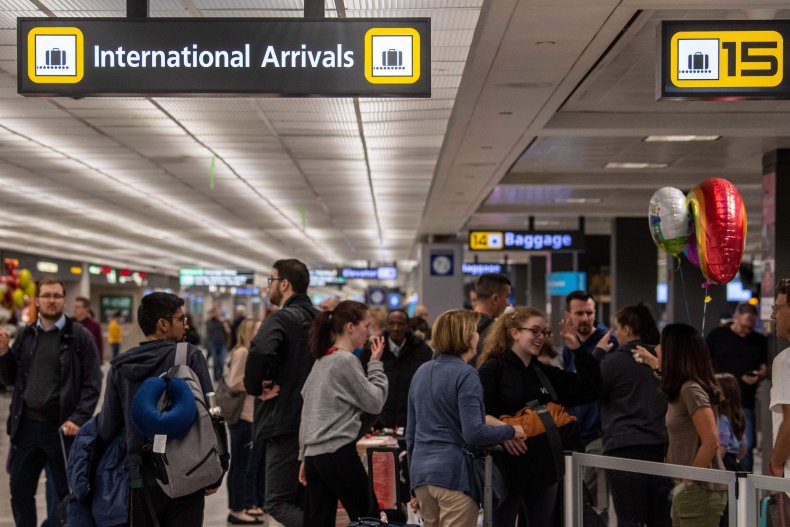 Over 14.7 million people across the globe have been infected since the virus was first reported in Wuhan, China, including 3.8 million in the U.S. More than 8.3 million globally have reportedly recovered from infection, while over 611,500 have died as of Tuesday, according to the latest figures from Johns Hopkins University.
The graphics below, provided by Statista, illustrates the spread of COVID-19 cases in the U.S.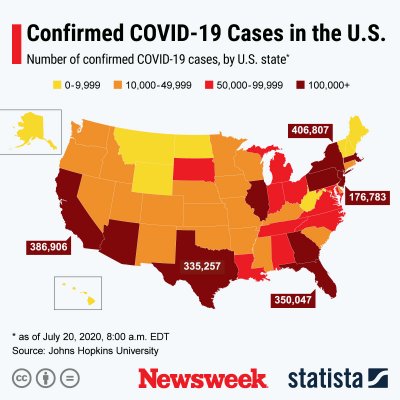 The graphic below, provided by Statista, illustrates the U.S. states with the most COVID-19 cases.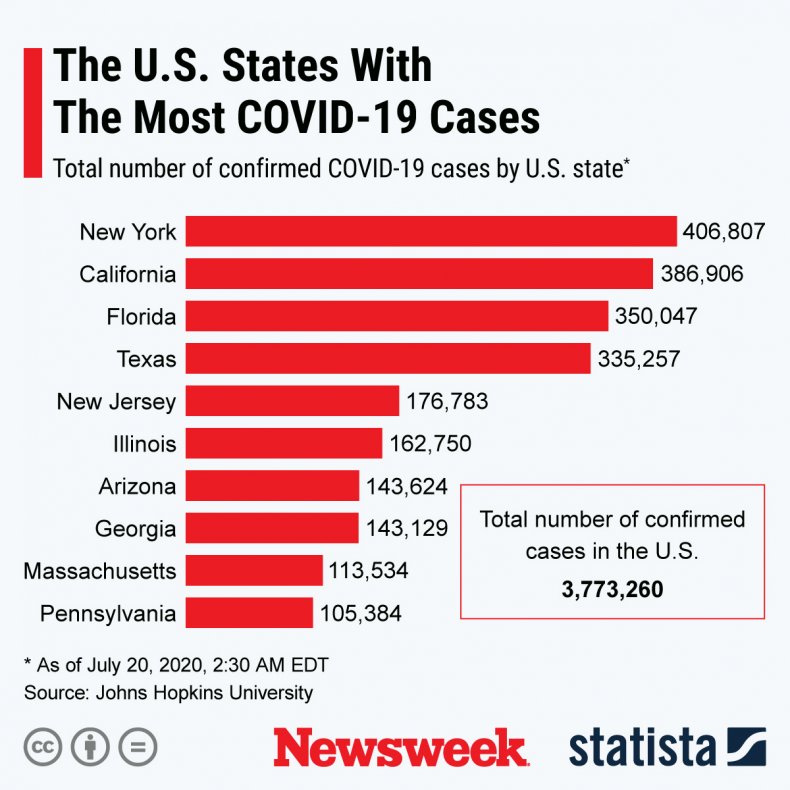 The graphic below, provided by Statista, illustrates the number of new COVID-19 cases in the U.S. states and the European Union.