Senator Ted Cruz Scores Social Media Win During Fox Republican Debate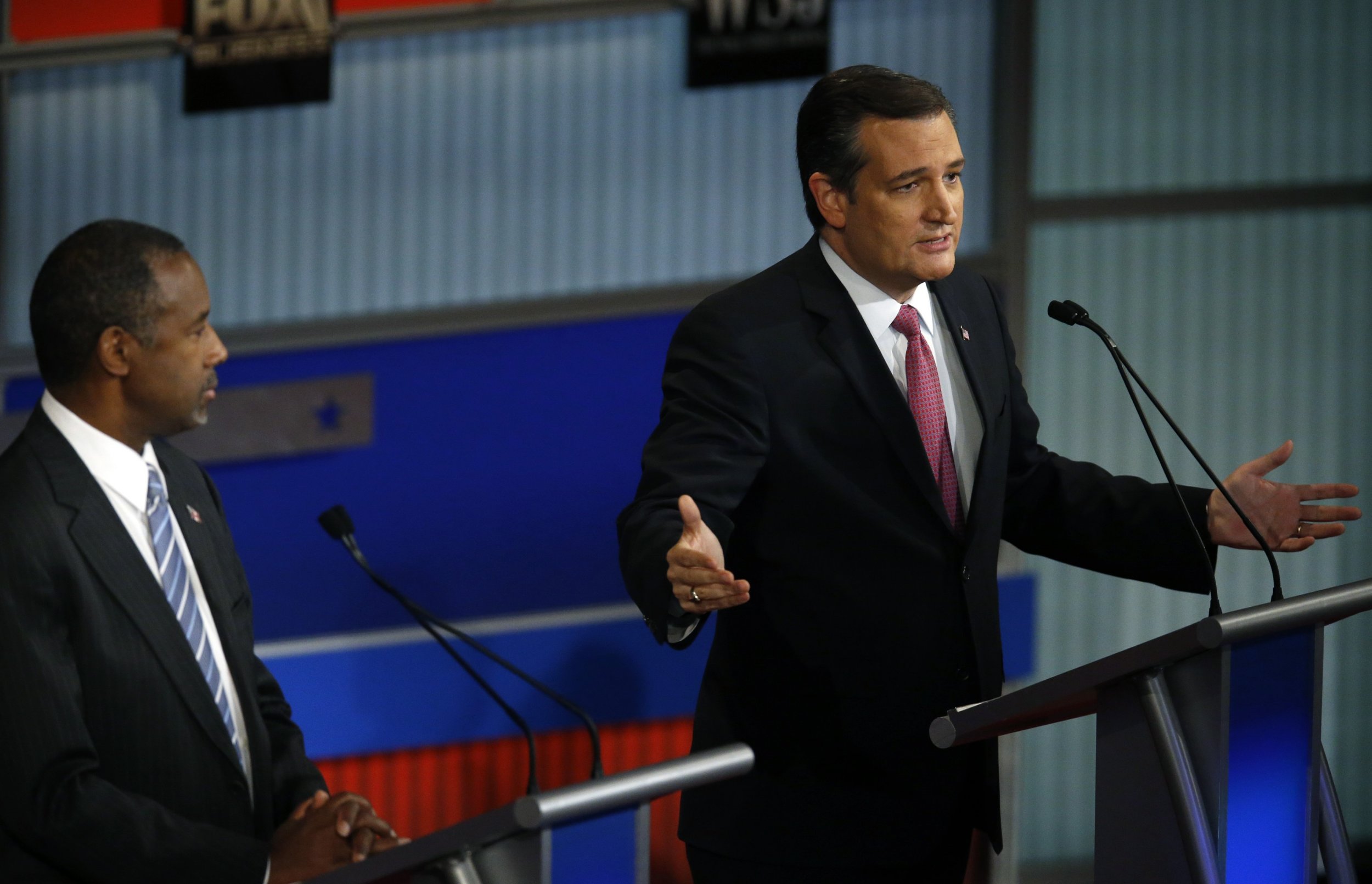 NEW YORK (Reuters) - U.S. Republican presidential candidate Ted Cruz stole the spotlight on social media from the front-runners during a televised GOP debate on Tuesday night, drawing attention and getting positive reviews.
The U.S. senator from Texas, considered a mid-tier candidate in terms of his standing in opinion polls, had the highest social media sentiment analysis score of 11 as well as the highest number of mentions on Twitter during the debate, according to Thomson Reuters data.
He topped Republican front-runners Donald Trump, who scored 3.3, fourth in the social media rankings, and Ben Carson, who scored negative 6.7 and came in fifth, for the first time since the 2016 presidential campaign season kicked off this year. A score above 0 means there are more positive mentions on Twitter about a candidate than negative ones.
Cruz also went into the debate with the most positive social media sentiment score among the eight candidates who took the stage in Milwaukee for the debate televised on the Fox Business Network.
Related: The Top 5 Quotes from Tuesday's Republican Debate
U.S. Senator Marco Rubio of Florida, another mid-tier candidate, also rose to the top ranks on social media with a score of 6.5, third in the rankings, according to a Thomson Reuters social media sentiment analysis tool. The tool tracks and aggregates social media mentions of candidates to generate a score based on the ratio of positive versus negative mentions.
Shining Moments on Social Media
One of the most tweeted Cruz moments involved his comments about taxes and the tax-collecting Internal Revenue Service, or IRS: "Washington is fundamentally corrupt. There are more words in the IRS code than there are in the Bible. And not a one of them is as good."
His quip about foreign policy—"You think defending this nation is expensive; try not defending it"—also ranked among the most tweeted remarks.
U.S. Senator Rand Paul of Kentucky stole the spotlight in the last hour of the debate when he corrected Trump, pointing out that China is not part of the Trans-Pacific Partnership (TPP) trade pact. Paul's social media sentiment score jumped from negative to positive, giving him an end score of 8.1, just behind Cruz.
Carson, however, had the most-liked social media post of all candidates: An image of himself and his granddaughter having "pre-debate time" that got more than 171,300 likes on Facebook, according to technology data company Engagement Labs.