Which Major Clothing Companies Plan to Sustain Toxic Forever Chemicals?
A new study by the Colorado Public Interest Research Group, the Natural Resources Defense Council and Fashion FWD found that many clothing companies use toxic "forever chemicals" to make their clothes, and some of these brands aren't planning to stop using them, either.
Perfluoroalkyl and polyfluoroalkyl compounds, or PFAS, are chemicals used in the apparel industry to make clothing "waterproof, stain resistant, and breathable," the study said. The chemicals have previously been linked to health issues such as cancer or suppressed immune function and can be found in both animals and humans.
The study, titled "Going Out of Fashion," surveyed 30 top U.S.-based apparel brands, looking specifically at the brands' PFAS-related policies and commitments.
Scoring each company based on "timeline, product scope, and transparency of company PFAS commitments as well as PFAS labeling and testing protocols," the study showed that 18 of the 30 brands surveyed received a D or lower, meaning they had very poor or nonpublic commitments to getting rid of PFAS in their clothing.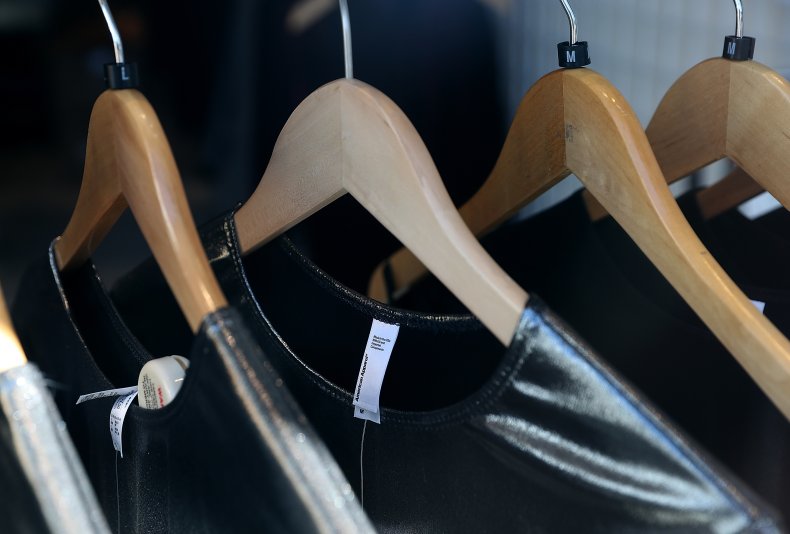 The 18 companies were as follows:
1. VF Corporation (The North Face, Timberlands)
2. L.L. Bean
3. Columbia Sportswear
4. REI
5. Wolverine Worldwide (Wolverine, Merrell)
6. Academy Sports and Outdoors
7. Costco Wholesale
8. Target Corp.
9. Kohl's Corporation
10. Nordstrom
11. JCPenney
12. Macy's Inc.
13. Walmart Inc.
14. Under Armour
15. Sketchers
16. Capri Holdings (Michael Kors, Jimmy Choo)
17. G-III Apparel Group Ltd. (DKNY, Andrew Marc)
18. Tapestry Inc. (Coach, Kate Spade)
"Unfortunately, most of these companies don't have policies or commitments in place to really remove these PFAS forever chemicals," Danny Katz, the executive director for CoPIRG, said according to CBS4. They are most commonly called forever chemicals because they are incredibly long-lasting in the environment.
The survey detailed that "JCPenny doesn't have a publicly available commitment to phase out PFAS use in the apparel sold in their stores; Kohl's has restricted only PFOA and PFOS from use in its supply chain; and Walmart, Macy's, and Nordstrom lack any publicly available policy regarding PFAS use in the apparel sold in their stores."
Several other brands were called out for finding loopholes in their PFAS transparency. The survey stated that VF, for example, has an established "timeline to eliminate most PFAS use, but unfortunately it has not included PTFE in this commitment."
And in The North Face brand, some apparel is advertised as "PFAS-free" and water-resistant, but the standard is not held across all of its products.
Katz advised consumers to check the tags on clothing before purchasing. "If you have clothing that says stain resistant or water resistant, it may contain PFAS, if you have a label that says PFAS free, that means they've phased it out," Katz said. "But if it doesn't have that label, or [it has] a label with different letters on it, maybe PFOS instead of PFAS free, that's no guarantee there aren't other types of PFAS chemicals in that product."
Concerns about toxic forever chemicals in humans have heightened in recent years, and in October of last year, the Biden administration announced a three-year initiative to regulate PFAS that are found in everyday household items.
The Environmental Protection Agency (EPA) also took measures last fall to reduce the amount of PFAS found in drinking water.
Our concern for toxic chemicals has broadened beyond PFAS into microplastics, as researchers confirmed that microplastics had been found in human blood and lungs for the first time.
Newsweek reached out to VF Corporation and Target for additional comment.