Which Republicans Are Begging Trump Not to Fire Robert Mueller?
After President Donald Trump's personal lawyer in the Russia investigation said Saturday that special counsel Robert Mueller's probe should be stopped, some Republicans have given the president an ultimatum: let the investigation continue or be impeached.
Which Republicans have come out most forcefully against the possibility of impeachment indicates whether or not the ruling party in the House and Senate would take action. The Republican leadership gave their verdict Tuesday.
In a tweet early Wednesday, Trump cited Harvard Law Professor Alan Dershowitz's argument that Mueller should have never been appointed to investigate because "there was no probable cause for believing that there was any crime, collusion or otherwise, or obstruction of justice." The president has repeatedly indicated he wants the investigation stopped.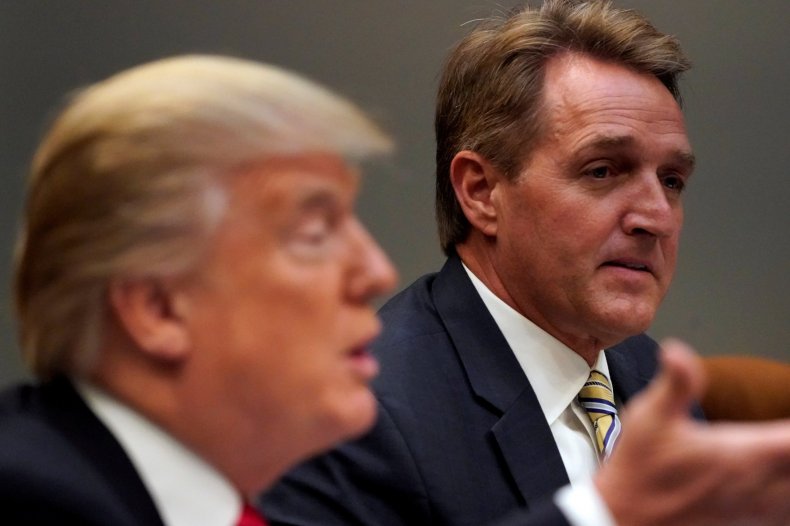 Dershowitz's comments echoed Trump's tweet Saturday that "the Mueller probe should never have been started in that there was no collusion and there was no crime."
However, on NBC's Meet the Press Sunday, Florida Republican Senator Marco Rubio reminded viewers that Mueller's probe is broadly an investigation of Russia's interference in the 2016 election. In February Mueller indicted 13 Russians for waging "information warfare" on the U.S. through a misinformation campaign during the election. "I support going wherever the evidence and wherever the facts take us," Rubio said Sunday.
The investigation is also looking at whether the Trump campaign aided the Kremlin after American intelligence agencies concluded Moscow worked to help Trump win. Trump has repeatedly called the investigation and Russian meddling a "hoax" pushed by his political rivals.
Read more: Trump Won't Fire Mueller, Claims White House Lawyer, After President Slams Russia Probe
"We are begging the president not to fire the special counsel," wrote Sen. Jeff Flake (R—AZ) on Twitter Tuesday, urging the president not to "create a constitutional crisis" by ordering Mueller's firing.
"Congress cannot preempt such a firing. Our only constitutional remedy is after the fact, through impeachment," Flake continued. "No one wants that outcome. Mr. President, please don't go there."
Flake told The Washington Post that he was putting the message out there because "to remind the president" he will be impeached is the best way "to keep him from going down that road." Flake said he didn't think there is any other "remedy left to the legislative branch" other than impeachment if Mueller is fired.
Trump cannot fire Mueller directly. The deed would need to be done by Deputy Attorney General Rod Rosenstein, because Attorney General Jeff Sessions has stepped away from any decisions connected to Mueller's investigation—a fact Trump has not let Sessions live down. Early this month Rosenstein said "I don't believe there is any justification at this point for terminating the special counsel."
One option left to Trump is to fire Rosenstein and appoint someone else who would fire Mueller, points out Richard W. Painter, a former White House ethics lawyer for President George W. Bush and law professor at the University of Minnesota. This would be similar to what President Richard Nixon did to fire special prosecutor Archibald Cox during the 1973 Saturday Night Massacre of the Watergate scandal.
On Tuesday Senate Majority Leader Mitch McConnell backed Mueller, telling reporters he has "a lot of confidence in" the special counsel.
"I think he will have great credibility with the American people when he reaches a conclusion of this investigation," McConnell said, indicating he wants the investigation to continue.
McConnell spoke only after other Republicans in the Senate raised their voices over the weekend. The president's tweet and his personal lawyer John Dowd's comments Saturday followed a report in The New York Times that Mueller has subpoenaed the Trump Organization for documents about its business. Last summer Trump warned Mueller that his businesses are a red line for his investigation.
Yet firing Mueller "would be the beginning of the end of his presidency, because we're a rule of law nation," Republican Senator Lindsey Graham warned Trump during his appearance on CNN's State of the Union Sunday.
"I think it's very important he be allowed to do his job without interference and there are many Republicans who share my view," Graham said.
Any articles of impeachment against the president would only begin in the House, where few Republicans have spoken out against Trump's behaviour.
House Speaker Paul Ryan has been quiet about the issue. On Tuesday, however, he said he has "received assurances" the special counsel will not be fired and that "the special counsel should be free to follow through his investigation to conclusion."