Whistleblower Complaint Calls for Investigation Into Biden's Taxes
New whistleblower complaints to the Internal Revenue Service (IRS) have called for an investigation into President Joe Biden's taxes, claiming that the President of the United States owes at least $127,000 in back taxes.
The complaint was filed by Chris Jacobs, a former Republican aide on Capitol Hill, on Monday—coinciding with this year's federal tax deadline, which was extended from April 15 to April 18.
The formal complaint stated that in their 2017 through 2019 tax returns, Biden and the First Lady, Jill, avoided paying Medicare taxes by using "S Corporations" to route $13.3 million, using those to dodge the 3.8 percent Medicare levy on large amounts of income.
"The fact that in 2018, Mr. Biden doubled his salary to $300,000, even as that year's profits of his S-corporation declined by more than two-thirds, speaks to a knowledge and awareness that his 2017 salary substantially undervalued his labor in violation of IRS guidelines," Jacobs wrote.
The complaint held seven pages of evidence to support the claim that Biden owes a minimum of $127,000 and asked that the IRS launch an investigation into the actions of Biden's accountant, Walter Deyhle.
"The salary paid to Mr. Biden in 2017 and 2018 substantially undervalued the salary portion of his compensation, in ways that allowed him to circumvent self-employment tax obligations," Jacobs said.
"I hereby request an investigation by your office as to the propriety of Mr. Deyhle's actions in this matter, and whether his behavior warrants initiation of the disciplinary process outlined in [IRS documents]," he wrote to the IRS.
The complaint also mentioned the previous tax audit that was run on former President Donald Trump, stating that "the Service declined to audit Mr. Biden's 2017, 2018, and 2019 returns, which are not subject to automatic review, because Mr. Biden filed them while out of federal office."
The report went on to say that there are other reports stating the Service has reviewed tax returns of Trump's for several years, "a long-running audit that pre-dated Mr. Trump's accession to the presidency."
"It's very ironic that President Biden claims that 'Obamacare is personal to me,' because I believe that he violated federal tax law to avoid paying his Obamacare and Medicare taxes," Jacobs told Newsweek in an email. "Voters should know that Joe Biden put fattening his own pocketbook over protecting Americans' pre-existing conditions, and making millions over preserving seniors' Medicare."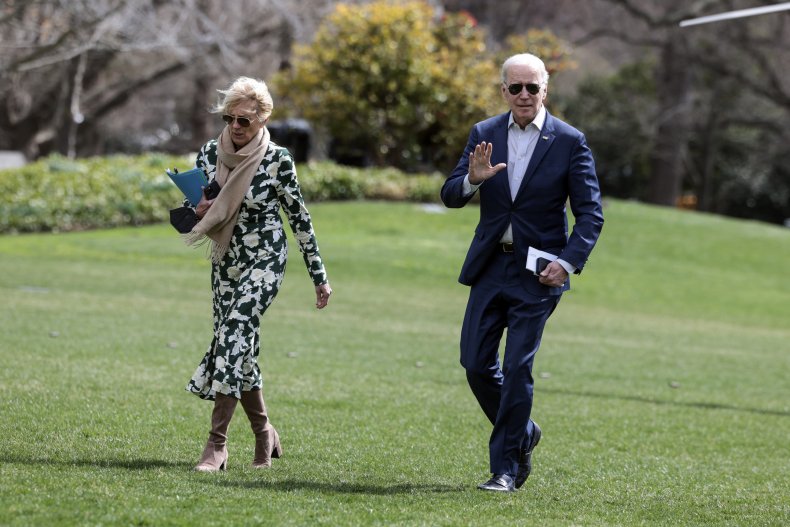 The complaint comes after Biden announced a "Billionaire Minimum Income Tax" plan for 2023, which would "eliminate the ability for the unrealized income of ultra-high-net-worth households to go untaxed for decades or generations."
In an article written by Jacobs and published in The Federalist, Jacobs said, "If Biden really cared about the wealthy 'paying their fair share,' he would look in the mirror, get out his checkbook, and write a check for the hundreds of thousands of dollars in Medicare and Obamacare taxes he appears to have dodged for the past five years."
Newsweek reached out to the White House and Walter Dehyle for comment.