Whistleblowers: 'Citizen' App Sent Scared Staffer to Livestream Capitol Riot Undercover
Former employees of Citizen, which describes itself as "a personal safety network," have alleged the company sent a staff member based in Washington, D.C. to attend the January 6 protest at Capitol Hill and send back footage of the chaos that ensued, Mother Jones reported Tuesday.
The magazine spoke with former staff members and reviewed internal company documents for its investigative report, which found the push to prioritize engagement over the well-being of its employees was a common trend at the company as it worked to boost revenue streams.
During the Capitol riot on January 6, the staff member sent to cover it did so while blending in as a member of the crowd and without any safety precautions in place, the former Citizen staff members told Mother Jones. The former staffers said the individual sent video content back to Citizen's managers in New York until he became fearful enough for his own safety to leave the scene.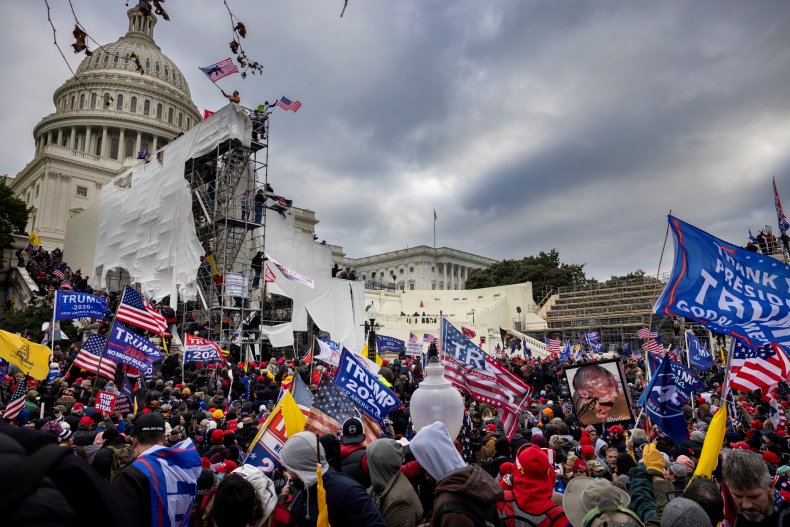 "He was there, pretending like he was one of them," one former Citizen staff member told the magazine.
The former staff members alleged the Citizen managers were "super excited" by the video content captured during the riot, which reportedly brought extensive engagement to Citizen's app.
In a statement to Newsweek, a Citizen company spokesperson said the staff member who covered the riot on January 6 traveled to the scene "at his own volition."
"Citizen is proud to be a force for good in communities, providing real-time alerts about hyperlocal public safety incidents that help Americans keep themselves, and the people and places they love, safe," the spokesperson said. "The employee covering the riot on January 6 traveled to the Capitol at his own volition. As is always the case when employees share video on Citizen, the employee was expected to prioritize his safety and adhere to orders from law enforcement. Nothing is more important than the wellbeing of our users, employees and communities."
The app is marketed on the Citizen website as a "personal safety network that empowers you to protect yourself and the people and places you care about" by sharing "real-time 911 alerts, instant help from crisis responders, and safety tracking for friends and family."
The app is free to download but offers add-on features for a price, such as its "on-demand, personalized mobile protection service" known as "Citizen Protect." Citizen claims it has more than 7 million users in more than 60 cities, with more than 4 billion alerts sent to those users thus far.
According to Mother Jones' report, there are several examples of times when employees allegedly rushed to send alerts through the app without confirming the accuracy of those alert messages.
The report also pointed to an incident reported in May by The Verge, during which Citizen CEO Andrew Frame reportedly offered a reward worth thousands of dollars to locate an individual he suspected of starting a fire near his Southern California home. The accused individual was detained by authorities but later released because there was no evidence to tie them to the fire, The Verge reported at the time.
A couple of months later, Citizen was accused in a report by Daily Dot of using its staff members to pose as citizens during livestream events, though Citizen denied those accusations to Newsweek at the time.
The Citizen spokesperson added in the statement to Newsweek that Citizen's alerts "have assisted in evacuating buildings during fires and rescuing kidnapped children and missing people."
"In the past two weeks, the Citizen community, powered by Citizen technologies, has come together to successfully find five missing kids," the spokesperson said. "We support our mission-driven team with above-market compensation, full benefits, and will continue to take steps to improve on any support offerings that may be needed. As a dynamic, innovative company leveraging cutting-edge technology in moments of crisis, we are best positioned to address challenges and grow together as a Citizen team without meddling from an outside union."
Updated 10/13/2021 - 1:15 PM ET: This article has been updated to include comments from a Citizen spokesperson.