'I Can Explain': White Cat Returns Home Covered in Lipstick Kiss Marks
A cat who came home with lipstick all over his face has left the internet in stitches.
In a post on Reddit's r/aww forum with 94,000 upvotes, Cotton Candy the cat was pictured after seemingly receiving several kisses from an admirer.
Cotton Candy lives with owner Arivane, 54, in Florianópolis in southern Brazil, where their house has a big backyard filled with trees for exploring.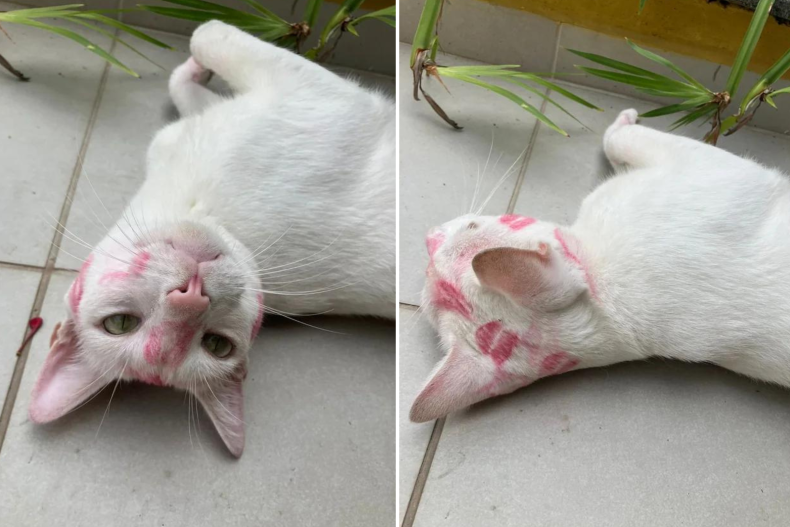 The family also owns the cats Kimi and Xuxu. The oldest of the three, Cotton Candy loves to spend time outdoors playing in the backyard and sleeping under bushes.
This trio get on well. However, in a 2019 study by Ceva Santé Animale, a French veterinary pharma company, of 2,492 owners of multiple cats, 73.3 percent noted conflict signs straightaway when introducing the cats. The more felines lived in a house, the more frequent were the conflict signs.
When Cotton Candy returned home sporting the telltale signs of some human fuss, his owners were in stitches.
"It all happened very suddenly," Arivane told Newsweek. "He appeared all kissed, and we didn't know what had happened. We went to check and discovered a hole in the fence that surrounds our land."
Usually, the cats are kept within the confines of the family home with a fully screened backyard. However, after a little bit of investigation, the family found that someone had found a way around it.
"Cotton Candy, or maybe his lover, had lifted the corner of the screen so they could touch and kiss each other," said his owner. "He is really very sweet and loving. He usually sleeps in our bed every day. But we were very surprised by the new relationship, especially with the amount of kisses he received from his beloved."
Sharing the post on Reddit, Arivane wrote: "My cat showed up at my house like this today. Apparently, we have a cat lover in our street."
In thousands of comments, delighted Reddit users shared their reaction to the cat's lipstick-filled face.
"Cats just letting you know they've got options," joked one commenter, while another wrote: "She's easy to find. Just look for the old woman with the furry lips."
Others shared how their feline friends were up to similar antics and making new friends when out and about.
One Redditor posted: "My cat comes home smelling like perfume. I don't wear perfume! Someone out there is loving on him!"
Another wrote: "My floof used to come home all the time smelling like perfume...then one day, he came home smelling like COLOGNE! That tart just takes love from whoever will give it."
Others shared joking comments from the cat's perspective. One posted: "Believe me. I can explain!" while another wrote: "It's not what it looks like!"
"When the image went viral, we felt a lot of joy," said Arivane. "Many comments were made that we should not let him go out—and they are right. This has always been our concern here. Everything is usually fenced, and our pets don't usually go out. But this happened because of a great love—there must be a Juliet on our street whom our Romeo did not hesitate to go meet yesterday."