White Evangelicals Are More Likely to Believe in QAnon Than Any Other Faith Group, Poll Finds
White evangelical Protestants are more likely than any other religious group to believe in the QAnon conspiracy theory that claims former President Donald Trump is fighting a global ring of sex-trafficking pedophiles, according to a new poll.
In the survey conducted by the American Enterprise Institute (AEI), 27 percent of white evangelicals said it was "mostly" or "completely" accurate to say that Trump "has been secretly fighting a group of child sex traffickers that include prominent Democrats and Hollywood elites."
That percentage is higher than any other faith group surveyed, and more than double the support for QAnon beliefs among Black Protestants, Hispanic Catholics and non-Christians, according to data shared Thursday with Newsweek.
"White evangelical Protestants are much more likely than other religious groups to believe that Trump has been secretly fighting a child-sex-trafficking ring that includes prominent people on the left," Daniel Cox, the author of the survey and director of the AEI Survey Center on American Life, told Newsweek.
This wasn't the only conspiracy category where white evangelicals held the strongest belief, Cox added.
"White evangelical Protestants are also much more likely to say that the deep state has been working to undermine the Trump administration and that antifa was mostly responsible for the violence at the U.S. Capitol," he said.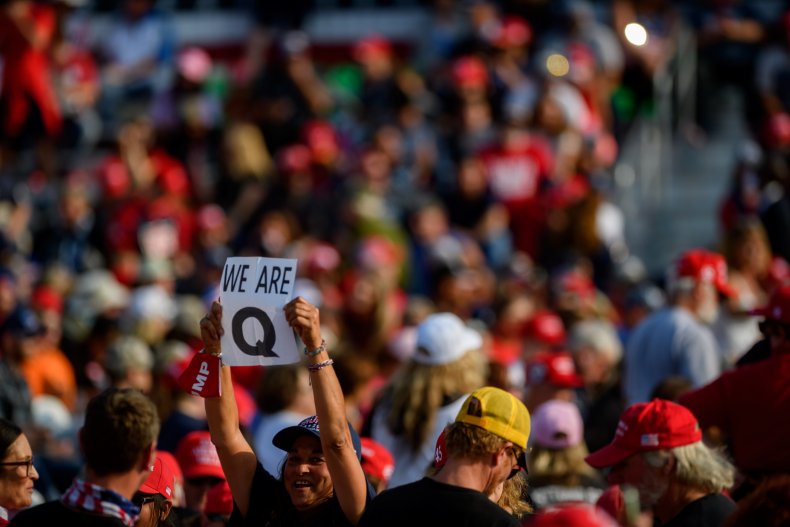 The survey also found that white evangelicals express more pride in being American than any other religious group, with 50 percent of respondents saying they are "extremely proud" of their national identity.
Additional information gathered from the survey found that 39 percent of Republican voters said they agreed that political violence may be necessary if elected leaders fail to act.
The survey results come amid Trump's second impeachment trial, and in the aftermath of the deadly insurrection at the U.S. Capitol on January 6. The attack left five people dead, including one Capitol Hill police officer.
In the days following the violence, some high-profile followers of the QAnon conspiracy said the military should be brought in to stop President Joe Biden from taking office.
Supporters of the conspiracy also believed that Trump would reveal his commitment to taking down the sex trafficking on the day of Biden's inauguration, and subsequently remain in office.
But when that did not happen, conspiracy theorists instead changed the narrative and now claim that March 4 will be the day that Trump will somehow be sworn in again as president.
Among all respondents in the AEI survey, only 42 percent of Americans rejected the QAnon conspiracy as being false, while 41 percent said they were uncertain about it.
The AEI report was based on a survey of 2,016 U.S. adults conducted between January 21 and 30. The margin of error is plus or minus 2.7 percentage points.