Concern Growing Over Deadly 'White Fungus' in COVID Cases in India
Concerns are growing in India about an increase in cases of a "white fungus" that doctors have warned could be deadly for patients with an impaired immune system or people who have COVID-19 or have recently recovered from the virus.
The fungus infection remains rare, but can affect not just the lungs but also the stomach, kidney and brain.
It has been found in four patients in the government-run Patna Medical College and Hospital in the city of Patna, Bihar, northeast India. The four had displayed COVID-19-like symptoms but were found not to have the virus. Scans later confirmed the white fungus infection.
Doctors have warned the white fungus could be as dangerous as the black fungus infection, mucormycosis, that has caused alarm in recent weeks after a flurry of cases across India.
Mucormycosis has an overall mortality rate of around 50 percent and may be triggered by the use of steroids—a common treatment for COVID-19 patients. The black fungus infections, found in several hospitals in Delhi and Gujarat, are said to have been responsible for at least eight patients losing their eyesight.
Dr. S.N. Singh, head of microbiology at Patna Medical College and Hospital, said: "After the white fungus was detected, the patients were treated with antifungal medicines and have since shown improvement in their condition."
Another doctor at the hospital said one of the four patients had an oxygen saturation level that had fallen below the norm. Following treatment with antifungal medicines, the patient's oxygen level recovered to 95 percent.
The doctor said: "That patient was a doctor himself, who was admitted to a private hospital after showing symptoms of COVID-19.
"He tested negative for COVID-19 but his lung was infected. Hence, a close relative approached us and brought him here. We conducted some tests and detected white fungus."
Indian health officials have said scans should be ordered for any patient with a suspected white fungus infection.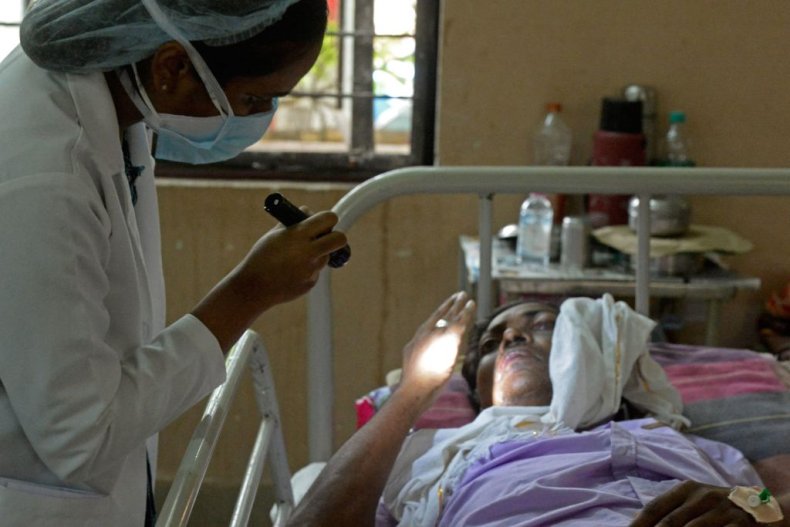 Dr. Arunesh Kumar, a senior consultant, told The Indian Express one route of infection was contaminated water.
"Sanitation is important," he said. "Patients of white fungus show COVID-like symptoms but test negative; the infection can be diagnosed through CT scan or X-ray.
"Those who have weak immunity like diabetes, cancer patients, and those who are taking steroids for a long period of time must take special care as they are more at risk. It is also affecting those coronavirus patients who are on oxygen support."
More than 26 million cases of COVID-19 have been reported in India up to May 21, according to Johns Hopkins University. More than 290,000 people have died.
Newsweek, in partnership with NewsGuard, is dedicated to providing accurate and verifiable vaccine and health information. With NewsGuard's HealthGuard browser extension, users can verify if a website is a trustworthy source of health information. Visit the Newsweek VaxFacts website to learn more and to download the HealthGuard browser extension.