What Climate Change? Trump's White House Touts Energy Plans on Web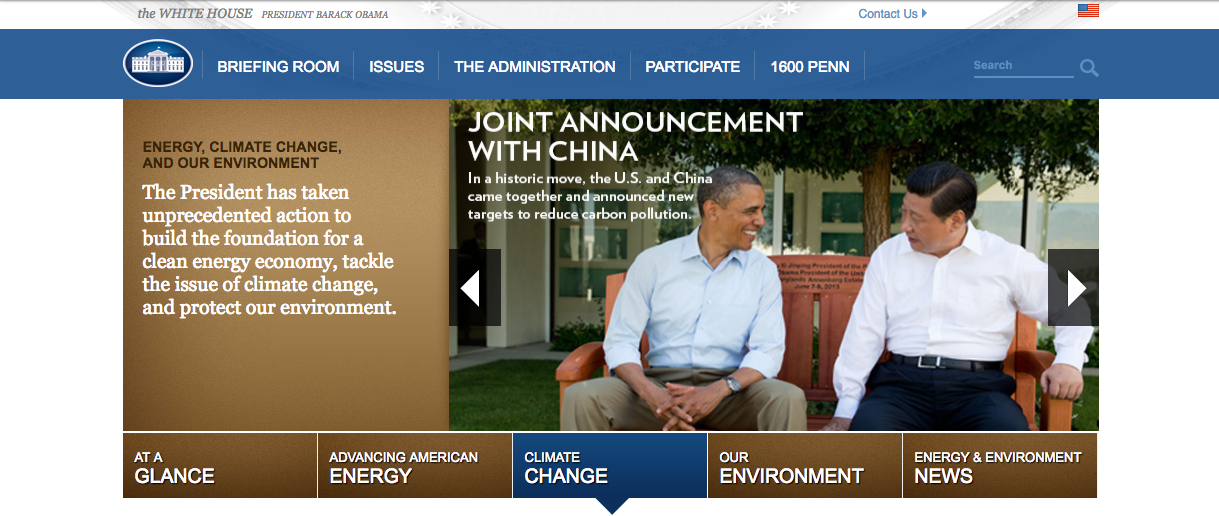 The graphics were good, the message was clear, and when you looked at the White House energy page, you could easily see that efforts to combat global warming were at the heart of Obama's energy plan. "Someday," it said, quoting Obama, "our children, and our children's children, will look at us in the eye and they'll ask us, did we do all that we could when we had the chance to deal with this problem and leave them a cleaner, safe [sic], more stable world?"
RELATED: Can Trump's EPA pick switch sides?
Minutes after the inauguration of Donald J. Trump, that page was swiftly replaced with a box of text under the headline An America First Energy Plan. Climate change was still mentioned on the energy page, but only once, and only to dismiss any concern. " President Trump is committed to eliminating harmful and unnecessary policies such as the Climate Action Plan and the Waters of the U.S. rule. Lifting these restrictions will greatly help American workers, increasing wages by more than $30 billion over the next 7 years." If you're looking for the source of that figure, you won't find it. There are no superscripts, no footnotes.
What it lacks in sourcing, however, it makes up for in classic Trump rhetoric. "The Trump Administration is committed to energy policies that lower costs for hardworking Americans and maximize the use of American resources, freeing us from dependence on foreign oil." Never mind Obama's musings about our children's children, Trump is concerned about hardworking Americans right now . Trump is late on freeing us from dependency on foreign oil. Imported oil use has declined every year since Obama took office. In 2010, for the first time, the U.S. imported less that 50 percent of the oil it consumes. And America is producing more oil than at any time in the last eight years.
Despite that, Trump advocates greater use of shale, oil and natural gas, especially what he says is $50 trillion in untapped reserves on federal lands "that the American people own." (Again, no footnote.) The money is to be used to rebuild roads, schools, bridges and other infrastructure projects. But the increased production "must go hand-in-hand with responsible stewardship of the environment. Protecting clean air and clean water, conserving our natural habitats, and preserving our natural reserves and resources will remain a high priority. President Trump will refocus the EPA on its essential mission of protecting our air and water."
Scott Pruitt, Trump's choice for EPA administrator, seems to have a different idea about the role of the EPA. He has repeatedly sued the EPA or joined suits to block regulations that affect industry, often joining with industry in those suits.
Trump's energy plan concludes with the idea that "a brighter future depends on policies that stimulate our economy, ensure our security, and protect our health." That's a nice idea, and one with which many Democrats would likely agree.
The missing piece is a plan to address climate change. The future will not be brighter if the coasts are inundated by rising sea levels. Florida could be hit hard, as could Trump's Mar-a-Lago estate in Palm Beach. Separated from the mainland by the Intracoastal Waterway, Palm Beach is only seven feet above sea level. If Trump wants a brighter future, perhaps he should move to higher ground.