White House Economic Adviser Warns 'It's Going to Be a Bad Summer'
Stephen Moore, a member of President Donald Trump's White House Coronavirus Task Force for the economy, has predicted a "bad summer" ahead followed by a "nice recovery" in the autumn.
Moore made his predictions in a Sunday morning interview with conservative billionaire radio host John Catsimatidis. The economist cautioned that the retail sector would be hit particularly hard in the coming months.
"It's going to be a really tough time for retail," Moore said. He specifically mentioned Macy's, noting that "a lot" of similar stores "were in trouble already."
"But also people are just going to be a little more wary about going into stores," the economic adviser said.
He warned "it's going to be a bad summer," projecting that many states would see unemployment of 15 to 20 percent.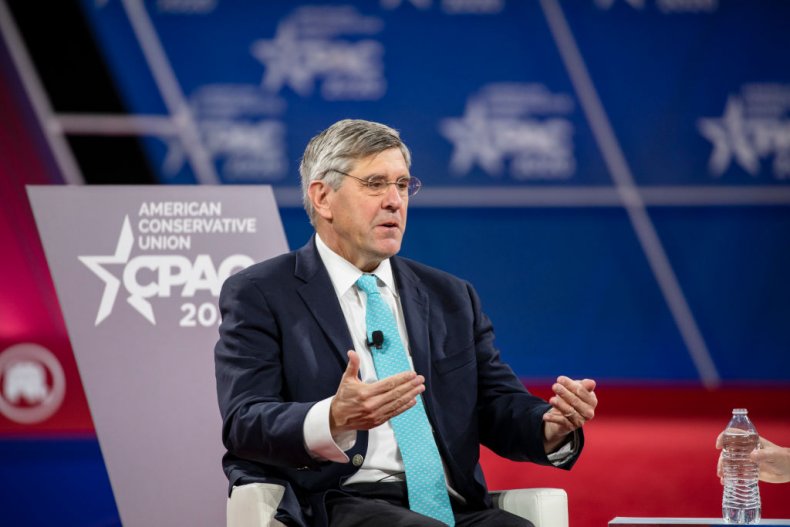 Moore also suggested optimistically that things would start looking better within a few months. "In the fall we'll start to see a nice recovery," he said.
The economist's predictions come as the U.S. has seen record-breaking surges in unemployment over the past two months. The Department of Labor reported on Thursday that more than 30 million workers had filed jobless claims since municipalities and states put in lockdown measures to curb the spread of the novel coronavirus in March.
Restaurants, bars, retailers, public events and other non-essential businesses have been shuttered, leaving millions without work. Even as some states and cities begin reopening their economies, many Americans remain cautious to go out as the novel coronavirus persists in communities nationwide.
Kevin Hassett, who also serves as an economic adviser to Trump, said on Thursday that he expects the country will see more negative economic news before the situation starts to improve. "We're going to be looking at some more bad news before things start to turn," he said in an interview with Fox News.
Hassett suggested unemployment is "gonna be something like 19 percent," noting that this "would be the biggest unemployment rate we've had since before the second World War." He also said that he expects to see "unprecedentedly negative news" in the second quarter of 2020.
Last Wednesday, the Department of Commerce reported that gross domestic product (GDP) declined by 4.8 percent. That significant dip in the first quarter of 2020 came despite January and February seeing relatively normal economic activity, with most economists having expected continued positive growth. Analysts now expect the second quarter of 2020 to show an even larger drop in GDP, due to so many businesses being closed and millions of Americans becoming unemployed.