A White House Iftar Won't Mask Trump's Contempt for Muslims | Opinion
As many of the millions of Muslims observing Ramadan in the U.S. could tell you, a key aspect of the holy month is reflecting on the morality of actions by examining the intentions that inspired them.
When it comes to President Trump, we know his intent regarding Americans who are Muslim: Scapegoating the community in order to stir up fear and anxiety among his base. Even before he took office, his approach to the American Muslim community has always been abundantly clear.
Now, as his "Muslim Ban" is reviewed by the Supreme Court, Trump may be trying to change his tune. But some context is needed. Last year, President Trump decided not to celebrate Eid al-Fitr (the Muslim holiday marking the end of Ramadan) at the White House, which is the first time in two decades that a president did not commemorate the Islamic holy month of fasting with an iftar. Instead, Trump issued a statement focused on terrorism during Ramadan.
But this year, as the Supreme Court decides whether the Travel Ban is rooted in anti-Muslim bigotry, Trump decided to recognize Ramadan by issuing a statement acknowledging Muslims humanely. This turn of events is hardly coincidental.
The Washington Post reports that The White House may hold a relatively small iftar on June 6, with a few dozen people invited. The hypocrisy is clear: How can Trump appear friendly to the Muslim community after calling for "a total and complete shutdown of Muslims entering the United States"?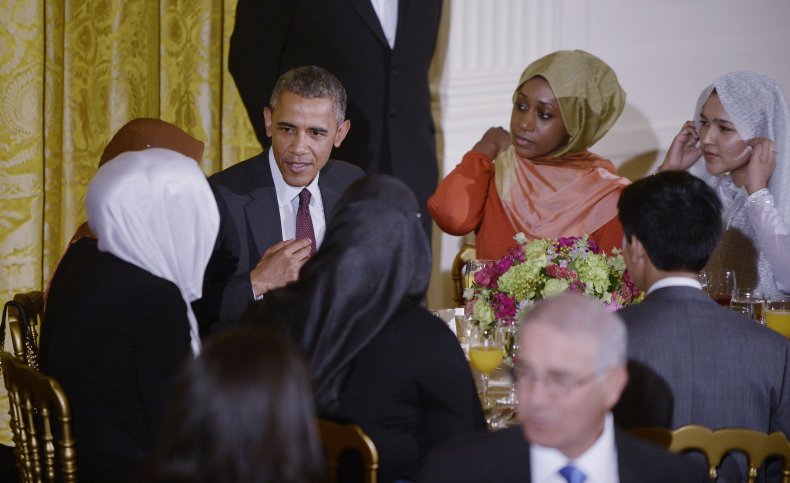 His actions go beyond rhetoric: He's tried three times to follow through on his campaign promise. The president cannot praise the Constitution as a document that "fosters religious liberty and respects religious practice" while he actively undermines both.
The Supreme Court is currently reviewing Trump v Hawaii, the Muslim Ban case––and like lower courts, the Supreme Court Justices are deciding whether to hold Trump's anti-Muslim statements against him.
At the end of April, the president declined to walk back or apologize for past biased remarks about Muslims. ​Now, we see a perfectly-timed attempt to dilute Trump's clear history of anti-Muslim bigotry by "connecting" with Muslims over an iftar.
It would be naive to view this apparent change of heart toward Muslim Americans as anything other than an attempt to divert attention from his previous anti-Muslim statements.
President Trump's anti-Muslim agenda extends beyond his attempts to enact a Muslim ban. The cabinet and West Wing are chock-full of officials who hold anti-Muslim views. This climate of fear and bigotry has resulted in a rise in hate crimes targeting Muslim Americans based on how they pray and the color of their skin .
As a Muslim woman myself, I do not want to live in a constant state of fear because I wear hijab. Knowing that we have a leader who promotes hateful rhetoric is harmful to my people, and that rhetoric directly jeopardizes the safety of our home here in the United States.
Nobody should fear for their safety because of their religion, and the president has a responsibility to protect religious freedom, not stoke these fires of religious animus. ​
While the White House's possible iftar is concerning, the Trump administration should withdraw his hateful statements and follow them up with apologies. His actions should align with his words, and only then can there be connection with the local Muslim community.
Tasmiha Khan is pursuing her MA in Social Impact at Claremont Lincoln University, and serves as a Net Impact Racial Equity and Germanacos Interfaith Youth Core Fellow while leading Brighter Dawns, a non-profit aimed to improve lives for the impoverished. Follow Khan at @CraftOurStory.
The views expressed in this article are the author's own.​​​