New White House Intern Photo Shows Trump's Class Is No More Diverse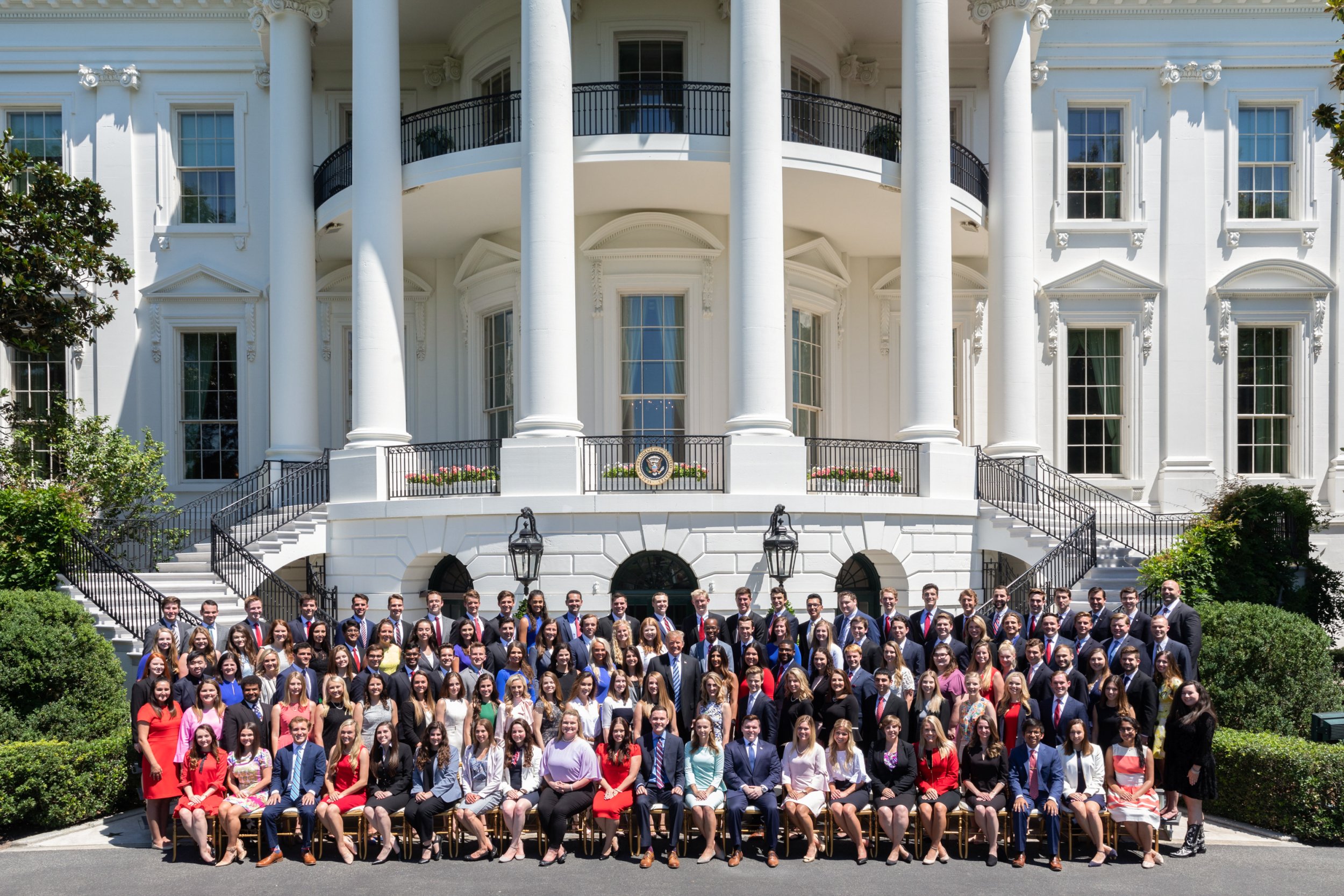 A photo of the summer 2018 White House intern class appears to show just a handful of people of color in the mostly white group of 128 interns.
The photo has not yet been released by the White House Photo Office. A copy was obtained by Vox after former interns posted the picture on Instagram once their internship ended August 10. The president can be seen standing in the middle.
This isn't the first time Trump has hired a White House intern class that is predominately white. The White House has faced past criticism for its intern class photos that repeatedly appear to show a lack of diversity when it comes to race.
In March, the White House released the spring intern class photo. Featured as one of the White House's "Photos of the Week," it too showed a nearly entirely white intern class.
Vice President Mike Pence received backlash after posing for a photo with the fall 2017 White House page class interns, all of whom were white.
The summer 2017 class was also predominately white, showing most of the interns as males.
Differences have been pointed out between the current White House intern classes compared to those under President Barack Obama that featured more young people of color.
The continuing practice of choosing overwhelmingly white intern classes highlights the lack of people of color in the current administration, whether it be as interns or as official employees.
After the dismissal of White-House-aide-turned-Trump-critic Omarosa Manigault Newman, a CNN review of 48 senior White House officials found there were zero black officials remaining. Only a handful of senior staff members were of Latino, Asian or Arab descent.
In Obama's first 22-member cabinet, there were 10 people of color. Seven of them were women. But in Trump's first cabinet of 24 people, there were four people of color and four women, according to Business Insider. Those statistics made Trump's first cabinet the most white and male since President Ronald Reagan in the 1980s, according to The New York Times.
Gina Loudon, a member of Trump's 2020 Advisory Council, defended the president's lack of diversity in the White House earlier this month when she said presidents have done "amazing" things for black people without including them in the past.
"You look back at our history, we have a pretty amazing history of overcoming slavery, of expanding civil rights, of women's rights, and a lot of those things happened under American presidents who didn't have any minorities at all in their White Houses," Loudon said on CNN.