A panel discussion on diversity in the White House erupted after Gina Loudon, a member of President Donald Trump's 2020 Advisory Council, suggested that presidents do not need a diverse White House to achieve "amazing" things such as civil rights laws.
Asked by CNN anchor Erin Burnett as to why White House Press Secretary Sarah Huckabee Sanders refused on Wednesday to say how many black people are employed at the White House, Loudon responded by claiming that U.S. presidents have achieved "pretty amazing things" without "any minorities at all in their White Houses.
"You look back at our history, we have a pretty amazing history of overcoming slavery, of expanding civil rights, of women's rights, and a lot of those things happened under American presidents who didn't have any minorities at all in their White Houses," Loudon said.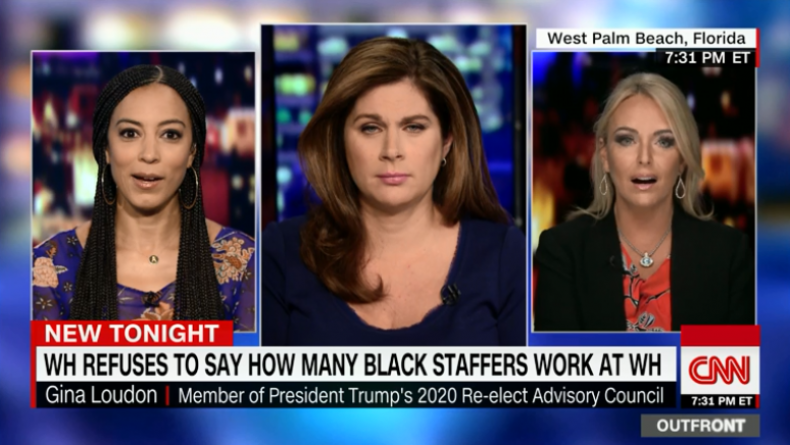 Liberal political commentator and attorney Angela Rye, who was also part of the panel, could be seen mouthing the word, "what?" as her eyes widened in apparent shock at Loudon's comments.
The comment came after Loudon said that what really disappoints her is the "division and the fact that we're having to count people based on their skin color."
"I don't like that," she said, later adding that she "looked over the list of people" that she knows at the White House and saw that "about one third of them are a minority or a woman. Those are great strides," she said. "Could they be better? Absolutely."
Loudon then appeared to suggest that the problem was that when people, "for example, Kanye West," show support for the president, they get "annihilated in the press."
'Nobody wants to go work for a racist​'
Asked to respond to Loudon's comments, Rye said she "got stuck at Gina saying that American presidents have done a great deal for people of color, like ending slavery. Like, I think I'm stuck in 1865 now."
As Loudon repeatedly tried to speak over her, Rye cut her short, saying: "You're going to keep talking over me. My black life matters and so does my voice.
"Listen to what I'm saying to you. What you said was deeply offensive. What I am telling you is you can't say—at least you shouldn't feel comfortable saying it in 2018, that this White House not having diversity can be akin to presidents who didn't have any black people on their staff, but for slavery, freeing slaves. Like, that's not okay in 2018."
Read more: Sarah Huckabee Sanders is sorry (not sorry) for saying Trump created more jobs for black people than Obama
Rye asserted Loudon would not be able to "successfully name one black person who works in the West Wing, because, you know what, Omarosa didn't even work in the West Wing.
"So, regardless of your points about slavery which are nonsense, I hope you R.I.P. those talking points tonight, they should never be resurrected," she advised.
Rye said the lack of diversity is a "problem in this White House," adding the "reason why it is" is because "nobody wants to go work for a racist.
"There's not a single senior black person in the White House, and don't you dare say to me Ben Carson because he doesn't work there, and how dare his gifted hands—who's a brain surgeon and who has never done anything on a construction project—this whole administration is nonsense, just like your talking points," Rye concluded.
Loudon then tried to say that she understood where Rye was coming from because she has an adopted, disabled minority child who has experienced "bigotry."
Rye appeared visibly disturbed by Loudon's statement and said "America has never been great. It is not great because people like you come on and lie for the president of the United States and then tout, bring out your son as an example? You should be completely ashamed of yourself."
The debate came after both Sanders and White House Counselor Kellyanne Conway struggled to name any black people working in the White House and specifically within the West Wing which houses the offices of the president.