White House Misled Public, Buried CDC Reopening Guidelines and is Now Preparing for Second Coronavirus Wave
The White House is preparing for a second wave of the coronavirus after reportedly attempting to mislead the public about their initial burying of Centers for Disease Control and Prevention (CDC) guidelines on safely reopening the economy.
White House Economic Adviser Larry Kudlow told Bloomberg TV on Friday that the administration is not considering shutting down the economy again as the coronavirus task force discusses "contingency plans" in preparation for a second wave of the virus.
"One of the senior people in [the task force], now I asked that person what happens—right now the virus numbers are flattening out. That is a really good thing. That means we can reopen this economy. I asked this person 'What happens if we get a jump back up in virus numbers?"' Kudlow said. "And the response was simply 'Look—we won't have to re-shut down because first of all we know more, we have more experience, second of all we are much better equipped with the right tools.'"
A CDC guidance document on reopening the economy was nixed by White House officials despite CDC Director Robert Redfield and others health experts actively seeking to release the document, according to a Friday report from the Associated Press, citing numerous emails between several key figures.
Redfield was said to have shared the guidance, along with several "decision trees" to develop strategies on reopening, with administration officials including Jared Kushner and President Donald Trump's advisers Kellyanne Conway and Joseph Grogan as early as April 10. Redfield's fellow coronavirus task force members Dr. Deborah Birx and Dr. Anthony Fauci were also included in the emails.
"We plan to post these to CDC's website once approved. Peace, God bless r3," Redfield reportedly wrote in an email to Birx and Grogan on April 24, which included an attachment of the guidance document and was signed with a reference to the three "Rs" in Redfield's initials.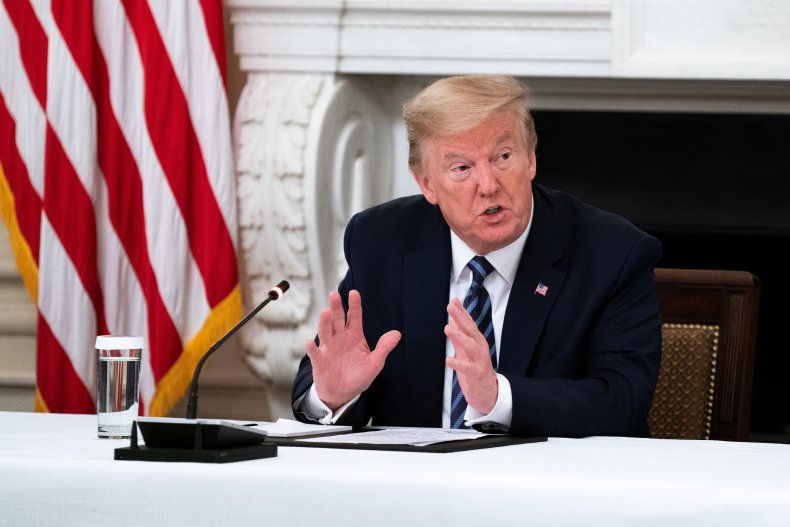 Before the guidance document leaked, the AP reported that CDC officials, who were given anonymity because they were not authorized to speak to the press, said that the health agency had hoped to release the guidance by May 1, the day Trump had targeted for reopening some businesses.
On April 30, CDC staffers were reportedly told by their leadership that the document and the guidance trees would both never "see the light of day."
On May 1, emails revealed that a CDC worker was told "we would not even be allowed to post the decision trees. We had the team (exhausted as they are) stand down," according to the AP.
The White House has insisted that CDC leaders did not clear the "overly prescriptive" guidelines contained in the document.
"Issuing overly specific instructions—that CDC leadership never cleared—for how various types of businesses open up would be overly prescriptive and broad for the various circumstances states are experiencing throughout the country," a White House spokesperson told Newsweek in a statement on Thursday. "Guidance in rural Tennessee shouldn't be the same guidance for urban New York City."
During a Friday press briefing, White House Press Secretary Kayleigh McEnany suggested that Redfield had not seen the guidelines, which she said were currently going through an "editing process" and would be released at a later date.
"I would ask you what's the definition of CDC guideline, is it something the CDC director has actually seen? I would endeavor to say 'yes,'" McEnany said. "Is it something that a rogue CDC employee leaks to you guys? No, those aren't CDC guidelines, those are guidelines in draft form that a rogue employee has given you."
The White House reportedly ordered that the CDC to send them the guidelines again after Thursday's initial AP report claimed that the administration had buried them, although the set of guidelines are now said to no longer include suggestions concerning religious services.
Like McEnany, Birx has said that the guidelines are still in the process of being edited. The doctor also denied that the administration had been attempting to block their release.
"Those are still being worked on. No one has stopped those guidelines. We're still in editing," Birx told CNN on Thursday night.
Newsweek reached out to the White House for additional comment. This article will be updated with any response.
Update 5/8, 11:04 p.m.: This article has been updated for clarification and to add a quote from United States National Economic Council Director Larry Kudlow.