White House Press Secretary Criticizes Twitter for Singling Out Trump Instead of Fact-Checking Chinese Propaganda
White House Press Secretary Kayleigh McEnany criticized Twitter for fact-checking President Donald Trump, but not Chinese propaganda and called the deployment of the feature "completely incoherent."
Trump is expected to sign an executive order against social media companies on Thursday, two days after Twitter applied a fact-check to two of the president's tweets about mail-in ballots. After being called out for a double standard, Twitter applied a fact-check to a Chinese government spokesman's tweet claiming SARS-CoV-2 originated in the United States.
During an interview on Fox News on Thursday, McEnany questioned the political motivations behind the decision to fact-check Trump at a time when Twitter wasn't fact-checking Chinese propaganda. She said the White House has seen some "egregious actions" from Twitter and criticized the social media company for "singling out" the president's tweet.
Earlier this week, and again on Thursday, administration officials targeted Yoel Roth, Twitter's head of site integrity, over tweets he published in 2016 and 2017. The tweets called Trump a "racist tangerine," likened senior counselor Kellyanne Conway to Joseph Goebbels, the head of Nazi propaganda, and said there were "actual Nazis in the White House."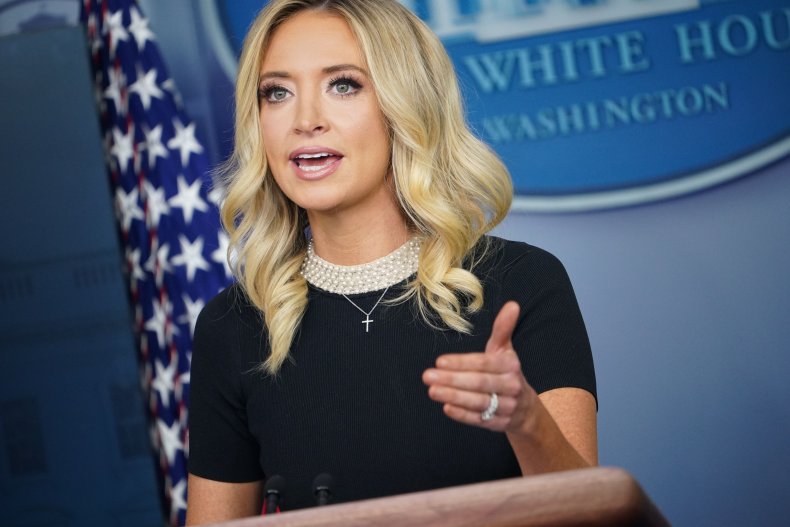 In response to the spotlight on Roth, Jack Dorsey, Twitter's CEO, said the person ultimately accountable for the company's actions is him and asked that people "please leave our employees out of this." McEnany pushed back on Dorsey's request, calling it an "untenable" and "unfair" proposition and one that the White House would not entertain.
"Twitter wants this to be the standard ... and yet we don't get to ask who the fact-checkers are ... we will ask who the fact-checkers are," McEnany told Fox News.
Newsweek reached out to Twitter for comment but did not receive a response in time for publication.
Compared to Dorsey's model that's "completely incoherent in the way it's deployed," McEnany praised Facebook's approach to fact-checking. On Thursday, Mark Zuckerberg, CEO of Facebook, told CNBC that making internet platforms arbiters of truth was a "dangerous line to get down to" with regard to deciding what is and isn't true.
When it comes to political speech, Zuckerberg said people should be able to see what politicians say, but acknowledged that people aren't able to "say whatever they want." Facebook's goal is to give people as much voice as possible while cutting down on certain comments, such as rhetoric that could incite violence or pushes false information about cures for a disease.
Dorsey denied in a Twitter thread that fact-checking accounted to them being an "arbiter of truth." The intention of the feature is to "connect the dots of conflicting statements and show the information in dispute so people can judge for themselves."
Trump's tweet in question said that there was "no way" mail-in ballots would be anything less than "substantially fraudulent." He added that people would rob mailboxes, forge ballots and illegally print out and fraudulent sign them. The president posted in a Thursday tweet that it was "so ridiculous" for Twitter to make the case that "mail-in ballots are not subject to fraud."
McEnany wouldn't go into details about what the social media executive order would entail, as it would mean getting ahead of the president, but Trump posted on Twitter Thursday would be a "big day for social media and fairness!"