White House Protesters Hit Man Shouting 'All Lives Matter' With Baseball Bat
A man was struck with a baseball bat after yelling "All lives matter" at a protester who was chanting "Black lives matter" as demonstrators gathered at Black Lives Matter Plaza in Washington, D.C. on Tuesday night.
Supporters of both President Donald Trump and Democratic presidential nominee Joe Biden waited as results from the presidential election began to trickle in. Some area businesses boarded up their windows in anticipation of possible violent protesting. A barrier was erected around the White House as an extra security measure.
Although the protests began peacefully, some clashes between individuals occurred. According to the New York Times, a man who answered a protestor's calls of "Black lives matter" with phrases including "all lives matter" and "white lives matter" was hit with a bat. The demonstrators were wearing black clothing. Some of them had donned masks. Bystanders stepped in to break up the fight.
D.C. police also escorted a man wearing a Make America Great Again shirt from the area after he challenged another individual to a fight yelling, "I'll give you 50 blows."
Newsweek reached out to the Washington, D.C. Metro Police Department for comment.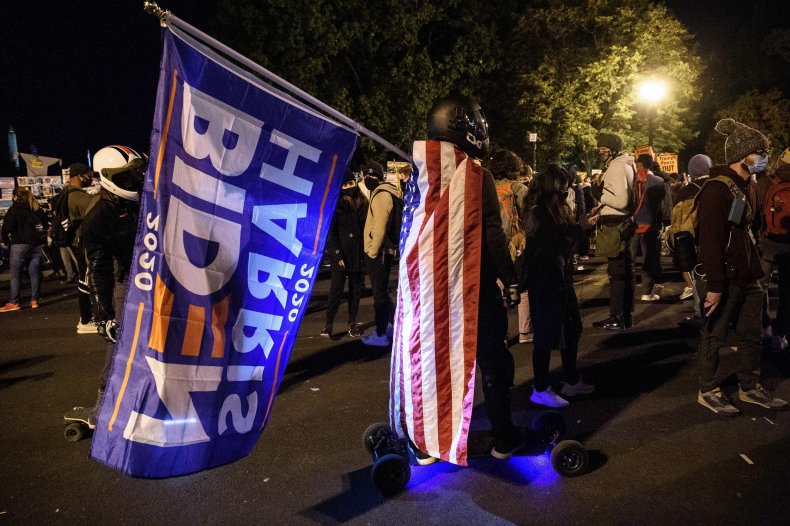 On Monday, workers constructed a fence around the White House designed to be "non-scalable." Some observers have said the fence is similar to the one constructed around the property in May during protests over the death of George Floyd.
In an October news conference, Washington, D.C. Mayor Muriel Bowser said she had not requested National Guard units to assist with potential election night protests.
"We also know that some people would like to cause mayhem or trouble," Bowser said. "We don't have any specific thing to report to you about that, but we will tell you that we are preparing to ensure the city's safety."
Other states have activated National Guard units, including Massachusetts. On Monday, Massachusetts Governor Charlie Baker said that he authorized the activation at the behest of "a number of our colleagues in local government who asked us to make the guard available, if need be, later in the week."
In Oregon, Governor Kate Brown said Monday that the Oregon National Guard would be ready in case of election night violence. Brown also said that state and local law enforcement would be combined in a unified command structure to patrol demonstrations.
"Violence is never the answer," Brown said during a Monday press conference. "Voter intimidation and political violence will not be tolerated. Not from the left, not from the right, not from the center."
Police in Seattle, Washington arrested eight demonstrators during election night protests. According to the Seattle Police Department, the individuals were taken into custody for pedestrian interference, obstruction, assault on an officer, reckless driving and criminal mischief.