The Trump administration isn't planning to implement a national mask mandate, despite recent surges in new coronavirus cases and concerns over the lack of social distancing, according to a report in The Hill.
White House chief of staff Mark Meadows said Monday in an interview with Fox & Friends that the exponential rise in new coronavirus cases was linked to increased testing capabilities, a claim the Trump administration has asserted since governors began reopening their economies in May.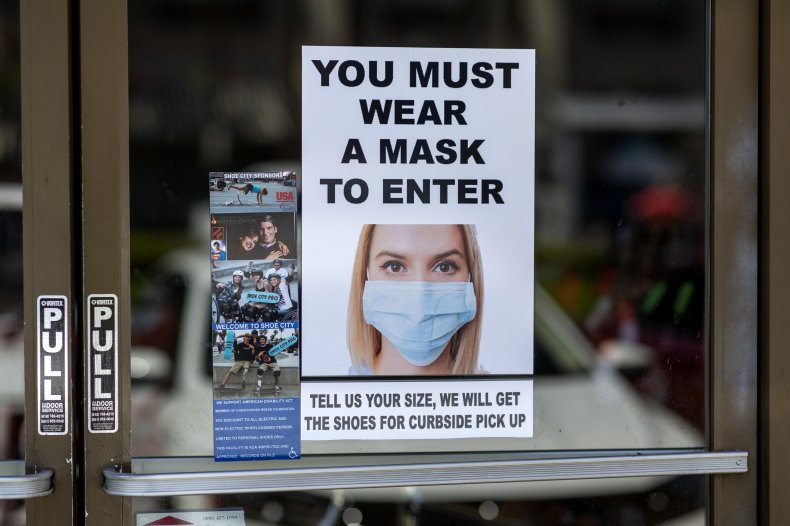 "We've now tested almost 10 percent of our country, and when we look at masks and wearing a mask, that's done on a location basis when you can't have social distancing," Meadows said, adding that any mask mandates would be issued on the state level.
Newsweek reached out to the White House for additional comment, but it declined to add to Meadows' statement.
In recent weeks, governors in some states that implemented phased reopenings in May have scaled back or halted the reopening process, while implementing face mask orders.
On July 2, Texas Governor Greg Abbott issued an executive order mandating that face masks be worn in counties where there are 20 or more confirmed cases of COVID-19.
"Wearing a face covering in public is proven to be one of the most effective ways we have to slow the spread of COVID-19," Abbott said in a statement on July 2. "We have the ability to keep businesses open and move our economy forward so that Texans can continue to earn a paycheck, but it requires each of us to do our part to protect one another—and that means wearing a face-covering in public spaces."
So far, 28 states and the District of Columbia have implemented mandatory face mask orders, or face mask orders when social distancing isn't possible.
According to a recent Gallup Poll, 54 percent of Americans said they were concerned about the lack of social distancing as COVID-19 cases continue to rise; that is the highest number since April when 50 percent of Americans said they were worried. The same poll said that 86 percent of those surveyed said they have worn a face mask in public within the past week.
The Centers for Disease Control and Prevention and the American Medical Association have recommended the use of face coverings to curb the spread of COVID-19, as well as maintaining proper social distancing of six feet apart or greater.
On July 6, the AMA issued an open letter urging Americans to continue social distancing and following the guidelines of wearing face coverings, and practicing good hygiene by thoroughly washing their hands.
"We are not powerless in this public health crisis, and we can defeat it in the same way we defeated previous threats to public health—by allowing science and evidence to shape our decisions and inform our actions," the AMA said in the open letter, adding that it could be months or even years before the extent of the pandemic is realized.
Newsweek contacted the CDC for additional comment but did not hear back before publication.