White House Says 200M COVID Tests Shipped, But Many Waiting for Packages
The White House claims that 200 million at-home COVID-19 tests have been shipped to households around the country, although many are still waiting for their orders to process, much less arrive.
According to Jeff Zients, around 50 million packages of tests have been sent out for shipping as of February 16. With four tests available in each package, the total number of tests being shipped is 200 million.
However, many on social media are claiming that they have not received their tests, even if they submitted their requests on the website's first day of operation. In response to a popular Twitter post made on February 10, many Americans aired their ongoing grievances with how long they've been waiting on their COVID-19 tests.
"Lol I forgot about those. I ordered mine on the first day as well. I think Wish has faster delivery," wrote one Twitter user on February 16.
"Is this the Fyre Fest of Covid tests?" another person tweeted on February 12.
"Ordered 1/18. Hasn't even processed yet," said another Twitter user, who provided a photo of the tests still being processed after almost a month.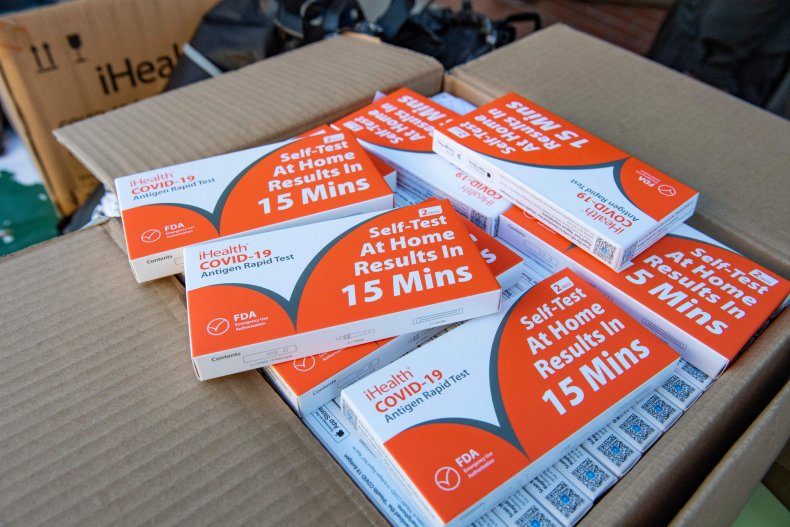 The distribution of at-home COVID-19 tests is being handled by the U.S. Department of Health and the United States Postal Service. According to the official ordering website, the tests are supposed to be shipped within "7-12 days of ordering," with every order being "sent through First Class Package Service."
Despite the grievances currently being aired by those who haven't received their COVID-19 test, a sizable amount of Americans have not even requested a test. Newsweek previously reported that around 70 percent of unvaccinated Americans do not plan to request at-home COVID-19 testing kits, while 40 percent of vaccinated citizens answered the same.
Some people are even getting scammed out of receiving kits. The Better Business Bureau issued a notice in January that websites promising the same tests being issued by the government could be scamming Americans out of their identities.
"These scams continue to pose a significant risk to consumers as scammers take advantage of the rapidly changing landscape," said BBB Director of Communications Sandra Guile in a statement to Newsweek at the time. "What often happens with online purchase scams is people lose money to counterfeit products because they are looking at availability and price of the product instead of researching the finer details such as the credibility of the retailer, customer reviews, and carefully looking at the image on the website."
Newsweek has reached out to the USPS and the HHS for comment, but neither entity responded by publication.
Update 2/16/2022 at 1:39 p.m. EST: This story has been updated with further information regarding the at-home COVID-19 testing kits, as well as information on those not requesting a kit and kit scams.