Trump White House Corrects Transcript After It Was Altered to Omit President's Insult to Female Reporter
President Donald Trump's insult of a female reporter during a White House press conference on Monday did not go unnoticed.
Despite this, the official White House transcript released later that evening altered the president's exchange with the reporter to falsely appear as though the insult never occurred. Then Tuesday morning, the White House issued a "corrected" transcript to include the remark.
"She's shocked that I picked her. She's, like, in a state of shock," said Trump of ABC News reporter Cecilia Vega. There was a brief pause between the time Trump first called on her and when she was able to respond because the wireless microphone was being passed to her.
"I'm not, thank you, Mr. President," Vega said after receiving the mic.
"That's okay, I know you're not thinking. You never do," Trump said.
Some murmurs could be heard at the president's insult, to which Vega responded with, "I'm sorry?"
"No, go ahead. Go ahead," said Trump, with Vega then going on to ask a question about Supreme Court nominee Brett Kavanaugh.
The official White House transcript issued Monday evening altered the president's back-and-forth with the reporter. Instead of Trump saying, "I know you're not thinking. You never do," the transcript falsely claims Trump said, "I know you're not thanking. You never do."
The White House's altering of official transcripts of Trump's remarks at a televised event to omit a personal insult levied against a reporter appear to be consistent with his repeated narrative that the press is the "enemy of the people." Speaking at a July Veterans of Foreign Affairs conference in Kansas City, Missouri, Trump told supporters to not "believe the crap you see from these people, the fake news."
Less than an hour after Newsweek reached out to various White House spokespersons Tuesday morning about why Trump's words were changed, the White House published a corrected transcript, which represented the president's true exchange with the reporter. The White House did not respond to Newsweek's initial inquiry.
Monday's press conference was about Trump's new trade deal struck with Canada and Mexico that will replace the North American Free Trade Agreement (NAFTA). Trump was visibly frustrated with reporters after multiple questions were asked about the FBI's reopened investigation into sexual assault allegations against Kavanaugh rather than the new trade deal, dubbed the United States-Mexico-Canada Agreement (USMCA).
Trump, who refused to answer questions about Kavanaugh until he was finished responding to inquiries about the new trade deal, referred to the press as "loco" and wagged a finger at CNN reporter Kaitlan Collins as he said "don't do that" when she asked a question about Kavanaugh.
A White House transcript and livestream video in July was also called into question after the president's international press conference in Helsinki with Russian President Vladimir Putin, which followed a one-on-one meeting between the two leaders. Both the White House video and the transcript failed to include a question asked by an American reporter to Putin about Russian meddling in the 2016 election.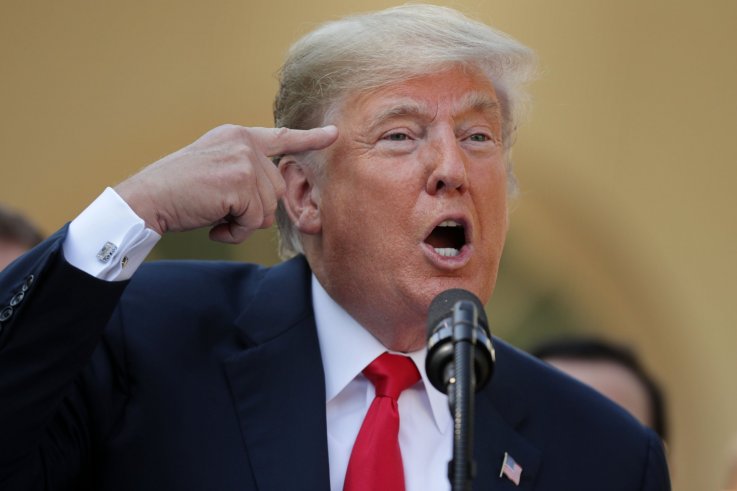 Trump White House Corrects Transcript After It Was Altered to Omit President's Insult to Female Reporter | U.S.