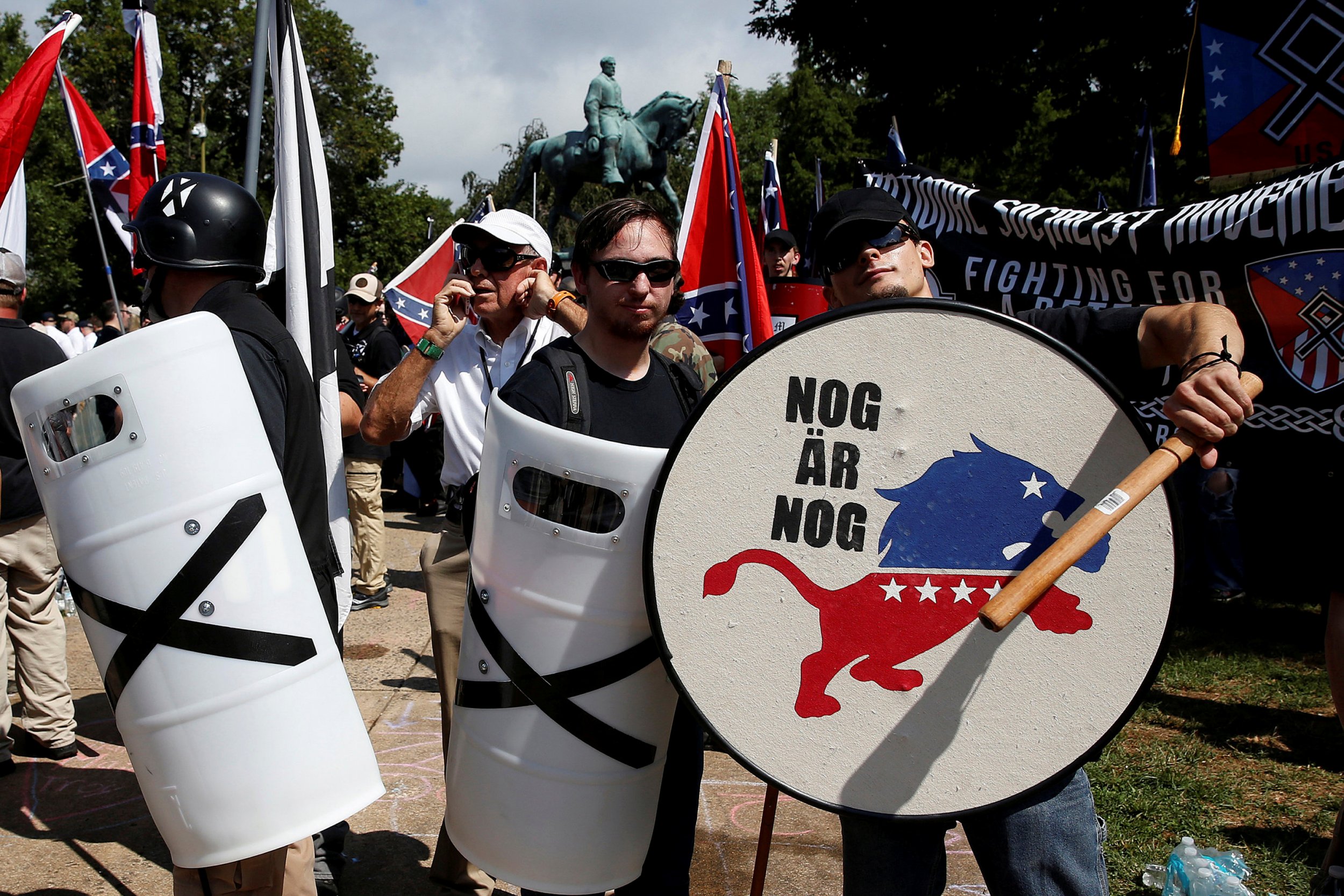 League of the South, a neo-Confederate, white nationalist group, is holding their first major rally of 2018 tomorrow at the old Florida State Capitol building in Tallahassee.
Michael Hill, president of the group, announced the rally on their website earlier this month. These rallies have become flashpoints for violence in recent years, due largely to the growth of the kind of street-level politics that followed the rise of President Trump.
Here's what you need to know about it: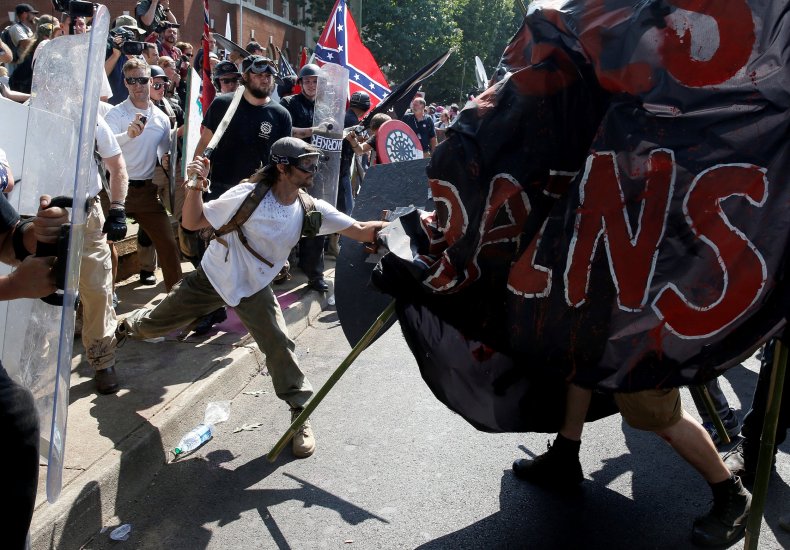 League of the South has been gaining younger recruits since "Unite the Right"
Southern Poverty Law Center (SPLC) keeps a close watch on League of the South, and told Newsweek that the group has evolved from having an older membership that spent a good amount of time worrying about preserving Confederate monuments to gaining new members after the deadly "Unite the Right" rally that took place in Charlottesville, Virginia in August of 2017 captured national headlines. That being said, SPLC told Newsweek that they don't expect more than 40 or so people to appear at Saturday's event. Recently, attendance at "alt-right" events has been down, and the movement has shown some signs of fracturing.
League of the South remains superficially interested in preserving Confederate heritage, but the influence of the youthful "alt-right" has made the group more overtly anti-Semitic and helped to give it a harder edge that more closely resembles straightforward white supremacy. To be clear, they believe that the South should be a separate and autonomous country, controlled by white men.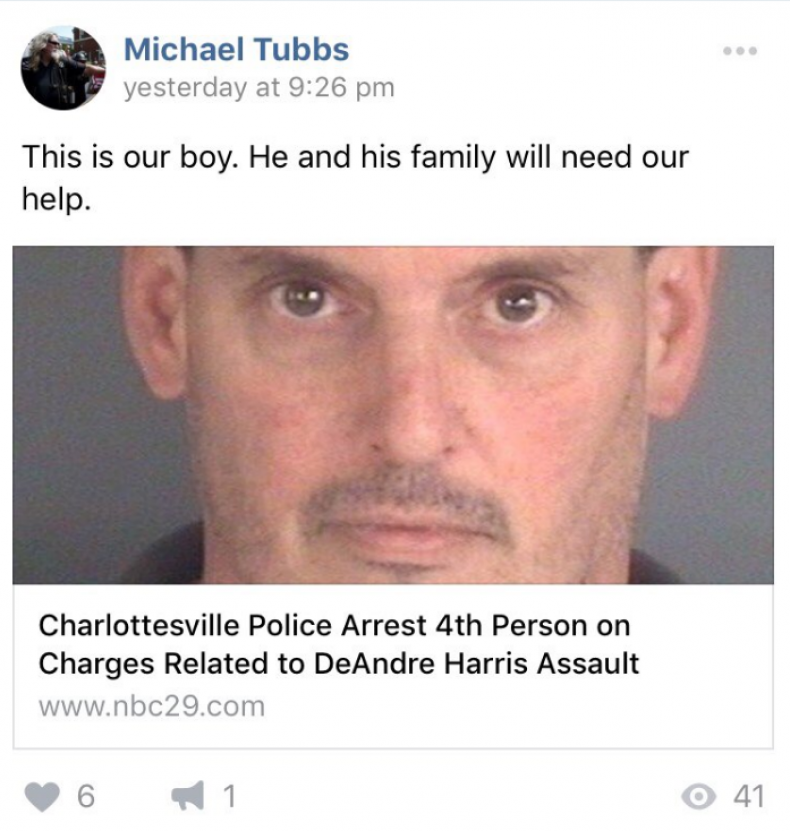 The group is no stranger to violence
Florida chairman of League of the South, Michael Tubbs, is an ex-Green beret that was believed to be involved in a number of brawls during "Unite the Right." SPLC suggested that Tubbs's influence was to make the group much more of a militant street brawling gang, although it's unclear that they will do anything on Saturday other than hold a public demonstration.
Tyler Watkins Davis, 49, a member of the group, was charged on Wednesday of this week by the FBI for beating 20-year-old DeAndre Harris at the Unite the Right rally. Harris was brutally beaten in a parking garage with pipes during the ordeal. Harris himself was charged in October with attacking a League of the South member from their North Carolina chapter. Harris's attorney made an appearance on CNN in October and suggested that authorities were muddying the waters surrounding the story of his client's beating. League of the South is supportive of Davis, regardless of the arrest.
"This is our boy," Tubbs wrote of Davis on social media. "He and his family will need our help."
"Antifa" call them "LOSers"
As you might imagine, there is no love lost between leftists and League of the South, given the violence that took place in Charlottesville, Virginia. Leftists refer to the group derogatorily as "LOSers" on social media, a term that warps their initials into an insult.
It is unclear right now whether or not counterprotesters will be out in force to mobilize against League of the South, but if history is any indication, some antifascists or "antifa" will likely be present.
Police will be monitoring the rally
Jeremy Burns, a PIO for the Florida Department of Law Enforcement, told Newsweek that police will be monitoring the event.
"Yes, we have received information that the League of the South has planned to come to Tallahassee tomorrow," Burns said in a statement. "Local and state law enforcement partners have met to discuss public safety precautions."
Tallahassee police told Newsweek that they will also be monitoring the event, but that it is first and foremost an issue for state police due to the fact that the demonstration is taking place at the capitol building.