White Nationalists Praise Donald Trump for Spreading White South African Farmers Conspiracy Theory
President Donald Trump included the word "Africa" in one of his tweets for the first time during his presidency Wednesday night, leaping to the side of white South African farmers. Now it has white nationalists praising him anew.
After watching a Fox News segment by Tucker Carlson, the president tweeted that he ordered Secretary of State Mike Pompeo to study the "South Africa land and farm seizures and expropriations and the large scale killing of farmers."
Carlson said government land seizures of white farmers "should be getting worldwide attention because they are immoral." He accused U.S. "elites" of being silent on the issue and claimed South African President Cyril Ramaphosa "is one of Barack Obama's favorite leaders in the world."
Trump responded within hours, tagging and quoting Carlson in his tweet.
What Carlson and the president were referring to is Ramaphosa's announcement August 1 stating the government still plans to amend the constitution to allow the land seizures of white farmers without financial compensation. Currently, 72 percent of South African farmland is owned by white farmers, who account for 8 percent of the country's population. Whites owned 85 percent at the end of apartheid in 1994, a stark reminder of the racial disparities still in place between white and black South Africans more than 25 years after the end of legal racial segregation. The controversial land redistribution issue has been referred to a parliamentary committee and must report back to lawmakers August 30.
In some cases, the South African government has reportedly already begun confiscating land from white farmers where negotiations have stalled.
Violence has been an issue in South Africa, with the number of attacks against farmers increasing from 478 in 2016-17 to 561 in 2017-18. The claim that there is currently "large-scale" killings of white farmers is, however, false. The murder rate of white farmers is at a 20-year low, with 47 killed in 2017-18 so far, according to AgriSA.
The South African government rejected Trump's stance shortly after he tweeted, saying it was a "narrow perception which only seeks to divide our nation and reminds us of our colonial past."
Since Trump's tweet, white nationalists, far-right activists and radical conspiracy theorists have publicly praised the president for directing Pompeo to take action on the topic.
Former Ku Klux Klan Grand Wizard David Duke thanked the president, suggesting the U.S. should allow large amounts of white South Africans to immigrant to the U.S. and take them in, much like Russia has.
White nationalist and president of the white supremacist think tank National Policy Institute Richard Spencer issued a series of tweets, claiming Trump has always been "the white man's champion." He accused the Republican establishment of "conveniently [ignoring] the plight of White South Africans." Spencer said Trump has now given his base the "permission to seriously discuss White dispossession—a monumental achievement."
Alex Jones's conspiracy theorist radio talk show Infowars aired a segment Thursday morning to address the topic. Hosted by David Knight, the segment was titled "South Africa The Land of Communism, Theft & Murder."
The Daily Stormer, a neo-Nazi and Holocaust-denying website that marched with white nationalists in Charlottesville's deadly Unite the Right rally last year, penned an article Thursday morning in praise of Trump's comments. Titled "IT'S HAPPENING: Trump Tweets About WHITE GENOCIDE in South Africa," it blamed former President Nelson Mandela for the "communist revolution" that ended apartheid, labeling him as "terrorist bomber Nelson Mandela."
"It is never the focus of major news coverage, so no one realizes the absolute brutality of this situation," the Daily Stormer wrote. "Well, that just changed. You see, there is this gigantic man."
Below that sentence was a large picture of Trump smiling in front of a microphone with the stars of the American flag behind him.
"His name is Donald Trump, and he is the President of the United States of America," it went on to read. "And he tells people about things."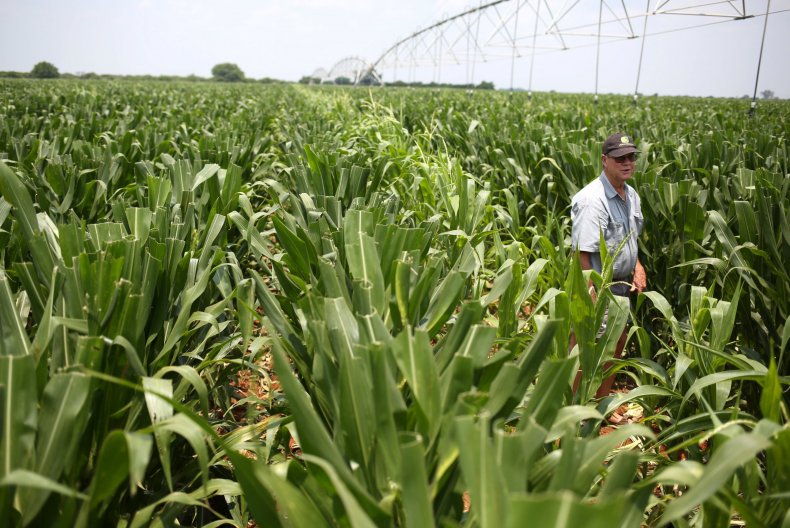 The lobbying group AfriForum, which calls themselves a civil rights group fighting for the rights of white South Africans but is labeled by some as a white supremacist group, came to Washington back in May to lobby U.S. lawmakers. Leaders from the organization met with Trump's national security adviser John Bolton, staffers of Republican Senator Ted Cruz and were on Carlson's Fox News show. As a result of Trump's tweet, AfriForum's CEO Ernst Roets said the group is "making progress" and plans to "visit Washington again in the months to follow."
"I think our lobbying has certainly had an impact because we have spoken with a lot of people who have had contact with President Trump, and we have spoken with many think tanks, one of them, for example, the Cato Institute, which has taken a very strong stance shortly before this statement now by President Trump," Roets told News24, an African news outlet.