White Nationalists Warn You Can't Trust Police After Seeing Video of Daniel Shaver Being Shot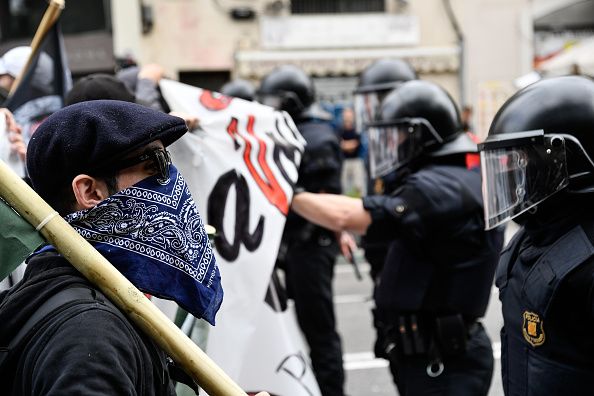 A video of Daniel Shaver, 26, sobbing and begging police not to shoot him before being killed by former Arizona police officer Philip Mitchell Brailsford shocked and outraged many Americans after it went viral last week. Adding to the shock was the news that Brailsford, who used a gun inscribed with the words "You're fucked," was acquitted of a murder charge on Thursday in the 2016 shooting.
Now police, who are accustomed to being on the receiving end of criticism from social justice advocates, have a whole new set of detractors to face. Brad Griffin, one of the organizers of a "White Lives Matter" event that took place in Tennessee in late October, argues on his well-trafficked blog that the shooting, which took place in a Mesa, Arizona, hotel, was "worse than any of the Black Lives Matter cases."
According to Griffin, the death of Shaver, a white man who worked in pest control, should serve as a wake-up call to police-sympathetic white nationalists that the government is not on their side.
"If you are under the impression that cops are your friends (the Alt-Right chanted Blue Lives Matter in Charlottesville)," Griffin wrote, "you probably haven't heard of Daniel Shaver."
While the statement might seem surprising to some, a mistrust of the police has been brewing in the white nationalist movement following the violence in Charlottesville, Virginia, this past August at a "Unite the Right" rally. Participants in that event, which included neo-Nazis and members of the Ku Klux Klan, accused police of sympathizing with anti-fascist counterprotesters.
The Southern Poverty Law Center has noted that white nationalists blamed the death of anti-fascist protester Heather Heyer on police. VDARE, a white nationalist blog, for example, wrote about a recently published independent review of the protests and implicated the police in the violence that occurred.
"The police were more malevolent, sadistic and evil than even the most unhinged conspiracy theorist could have imagined," a poster named "Charlottesville Survivor" mused on VDARE. "Charlottesville police deliberately and consciously created an environment where Antifa would be free to attack Alt Right demonstrators, thus providing an excuse to shut down a rally they (and/or their political masters) never wanted to allow anyway."
The video of Shaver's death has sparked outrage from nearly all parts of the political spectrum, including liberal, socialist and libertarian commentators. In the past few years, white nationalists, who have struggled to recruit mainstream conservatives, are separating themselves from the brand of pro-police, "Blue Lives Matter" advocacy that has become popular as a reaction against Black Lives Matter and other influential social justice movements. President Donald Trump, who received vocal support from white nationalists and many others, campaigned as a pro-police, "law and order" politician in the 2016 presidential election.
Griffin, it should be noted, has not voiced any solidarity with the concerns of black and leftist activists who have campaigned against police violence, preferring to focus only on Shaver, a white victim. Rights groups and those who monitor the far right frequently point out the degree to which a narrative about black-on-white crime fuels a sense of justification for the movement among its proponents.
"Walter Scott was running away from police," Griffin wrote of the shooting of an unarmed black man that resulted last week in a 20-year-sentence for his killer, South Carolina police officer Michael Slager. "Daniel Shaver is on his hands and knees, complying with law enforcement, sobbing and begging for his life."