White People Given Special Instructions When Entering George Floyd Square in Minneapolis
White people are being given special instructions upon entering George Floyd Square, a memorial area for the Black victim of former Minneapolis police officer Derek Chauvin, who was convicted of murder and manslaughter this week.
Photos posted across social media show a sign on the outskirts of the square. The memorial area is located at the intersection of East 38th Street and Chicago Avenue, which is where Chauvin was seen on camera kneeling on Floyd's neck for more than nine minutes before he died last May. The square is described in the sign as "a Sacred Space for Community, Public Grief, and Protest."
"This is where George Floyd took his last breath under the knee of a Minneapolis police officer, under the watch of three other officers," the sign reads at the top.
The sign urges visitors to enter the memorial area "with reverence, humility, and openness." Lower down, it has a bolded heading that reads, "For White people in particular."
Under the heading, the sign lists a number of instructions for white people entering the square.
"Decenter yourself and come to listen, learn, mourn, and witness. Remember you are here to support, not to be supported," one bullet point says.
"Seek to contribute to the energy of the space, rather than drain it," reads another bullet point. "Bring your own processing to other white folks so that you will not harm BIPOC [Black and Indigenous people of color]."
The instructions for white people also encourages visitors to "be mindful" of whether their "volume, pace, and movements are supporting or undermining" efforts to "decenter" themselves and urges them to not take pictures of people without their consent.
"If you witness white folks doing problematic things, speak up with compassion to take the burden [off of] Black folks and our siblings of color whenever appropriate. Seek to engage rather than escalate, so that it can be a learning movement rather than a disruption," the final bullet point reads.
It is unclear who wrote the sign or posted it outside the memorial area. Fox News' Matt Finn, who posted one of the pictures on Twitter, reported that similar signs are in the area.
The posting of photos of the sign follows Chauvin's jury conviction Tuesday on all three charges—second-degree unintentional murder, third-degree murder and second-degree manslaughter—in Floyd's death.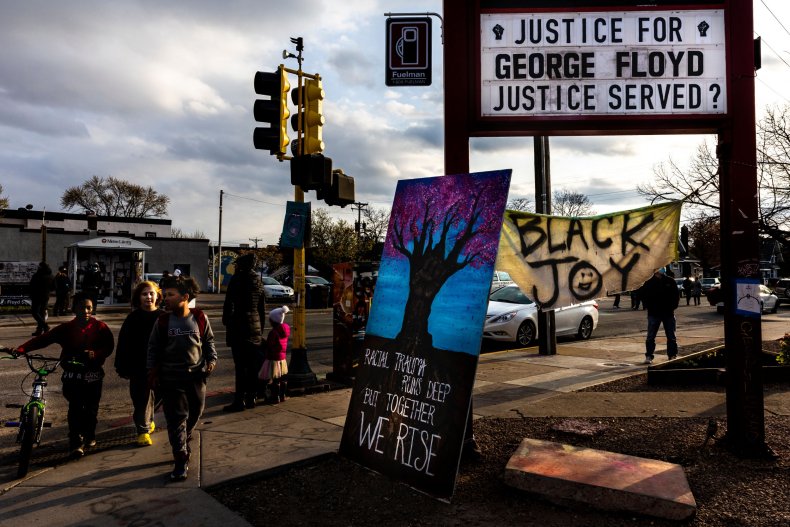 The area where the sign was posted has been referred to as an "autonomous zone," with people in the area opposing entrance by local police.
During press conference in March, Minneapolis Police Chief Medaria Arradondo called for an end to violence in the zone and said the city plans to increase police presence in the area.
"The current situation at 38th and Chicago is unacceptable and will not and must not be tolerated. Violence in any part of our city must be addressed, and those contributing to the harm of our neighborhoods have to be held accountable," Arradondo said. "Make no doubt about it, yes, I'm putting folks on notice. We're not going to tolerate folks feeling emboldened to harm and prey upon our community members."
Newsweek reached out to the Minneapolis Police Department for comment but did not receive a response in time for publication.