White Resident Hangs KKK Flag in Window Facing Black Neighbor's Home
A Michigan community is in outrage after a white resident hung a Ku Klux Klan flag in a side window facing their Black neighbor's home.
JeDonna Dinges told Fox 2 that she opened the curtains at her home in Grosse Pointe Park on Tuesday to see the flag in her neighbor's side window.
Officers from the Grosse Pointe Park Police Department later visited the home and urged the homeowner to take it down, according to the station.
Dinges said she was informed by officers that her neighbor said he had hung the flag in response to her putting a camera on her windowsill, which points in the direction of her neighbor's home.
She explained that she installed the camera after someone recently put a full gasoline container in her dumpster.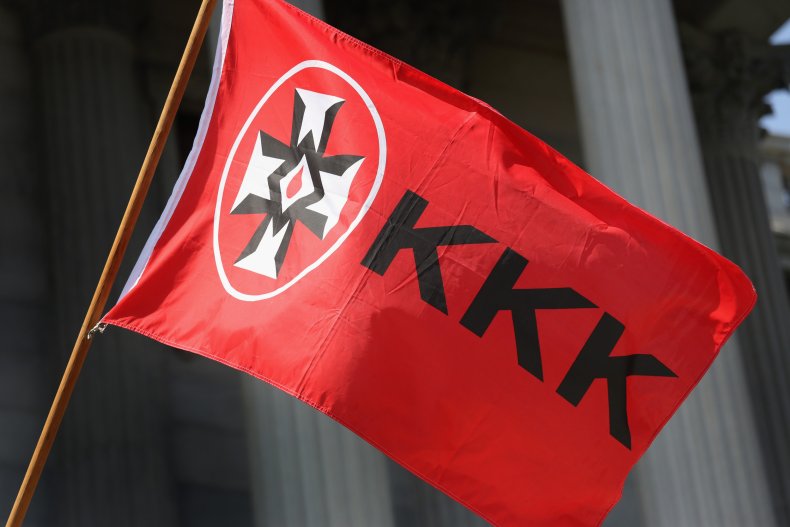 Dinges said the people who live next door to her told police that they wanted to avoid a confrontation about the camera and indicated they had never had an issue with her in the past.
"They made it clear with the police we never had any problem with her, but we're non-confrontational people. I don't know how you get any more confrontational than a Klan sign," Dinges said.
While the flag has been taken down, WE GP, a Grosse Pointe Park community organization, is organizing a rally this weekend in support of Dinges and her family.
"On Feb 15th the Dinges family, African American GP Park residents, discovered their neighbor was flying a KKK flag pointed at their side window," the group wrote on a Facebook page for the event.
"While the symbol of white supremacist terrorism has been removed, we are gathering to show support for the Dinges family and to make it clear hate has NO Home in GP."
The incident—which came during Black History Month—has been condemned by local officials as well as the area chapter of the NAACP.
"This long-time symbol of racial hatred has no place in our community. Thankfully, the offensive display was taken down by the homeowner," the NAACP's Grosse Pointes and Harper Woods branch said in a statement.
"The fact that a KKK flag was displayed at all is deeply disturbing. Grosse Pointe Park is arguably the most diverse city in the five Grosse Pointes and yet, someone felt comfortable enough to wave their racism in their neighbor's face with the oldest symbol of white, domestic terrorism perpetuated on Black Americans for over a hundred years."
Dinges took to Facebook on Wednesday to thank those who have sent messages of support and to urge people to attend Sunday's rally.
"Thank you so much! My heart is full! Please join my family as we rally against hated and intolerance!" Dinges wrote.
She and the Grosse Pointe Police Department have been contacted for additional comment.