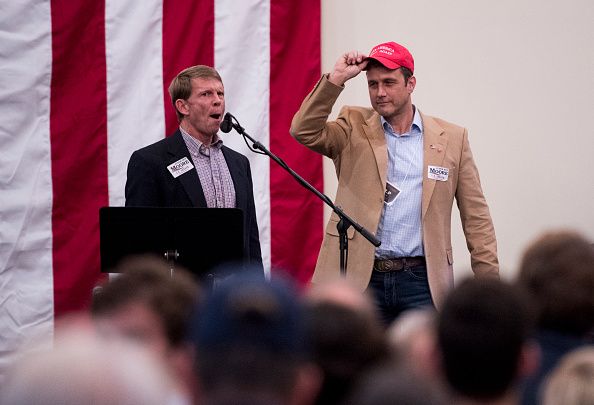 In the Republican primary race to see who will potentially replace Speaker Paul Ryan in Congress, white supremacist Paul Nehlen captured over 10 percent of the vote.
While the anti-Semitic candidate lost Tuesday's election in Wisconsin, Nehlen ended up finishing in third place among the five Republicans vying for the position. Bryan Steil, who received Ryan's endorsement earlier this year, won the race with over 50 percent of the vote. In second place was Nick Polce, a veteran who served in the Green Berets, who was able to win close to 15 percent of the vote.
Nehlen, a self-described "pro-White Christian American candidate," walked away from the primary with 6,635 votes in the state's 1st Congressional District. Just under 60,000 people voted in the Republican primary race on Tuesday. Counties in the district like Kenosha and Racine overwhelmingly voted for Donald Trump over Hillary Clinton in the 2016 election.
Nehlen was recently kicked off Twitter for his white nationalist and anti-Semitic views.
The candidate had posted an image of the then soon-to-be royal bride Meghan Markle and Prince Harry, but had superimposed a picture of a black ancient Briton onto Markle. The caption of the photo read, "Honey, does this tie make my face look pale?" Nehlen had defended the post, writing that he chose to "make a joke" out of the serious matter that white people are being dispossessed of their homelands.
On his campaign website, Nehlen has a section titled "#ShallNotCensor," which blasts social media sites for what he sees as discrimination against the "right-wing."
Last December, Nehlen was a guest on an anti-Semitic podcast called Fash the Nation and shared with the show's host that he once told a Jewish magazine editor to "self-deport" and "eat a bullet."
In an account created on Gab, a chat site that white nationalists have begun to use as Twitter and Facebook continue to crack down on hate speech, Nehlen reposted the slogan "It's okay to be white."
This is the second time Nehlen has tried to secure the Republican nomination in the district. In 2016 he went head-to-head against Ryan and secured 15 percent of the vote. Nehlen's candidacy came as a record number of white nationalists run for office, mostly on the Republican ballot.
The Wisconsin GOP had disavowed Nehlen and cut ties with the congressional candidate earlier this year, saying, "Nehlen and his ideas have no place in the Republican Party."
The Republican nominee Steil will face Randy Bryce in the general election this November to find out who will take Ryan's seat in the House. Bryce defeated his Democratic candidate Cathy Meyers by nearly 20 percentage points but had come under fire amid allegations that he had failed to pay child support as well as for his past arrests for marijuana use and driving under the influence.